A Member of the GSI Team, Tomasz Fechner, Records Eight New Videos for the GSI YouTube Channel!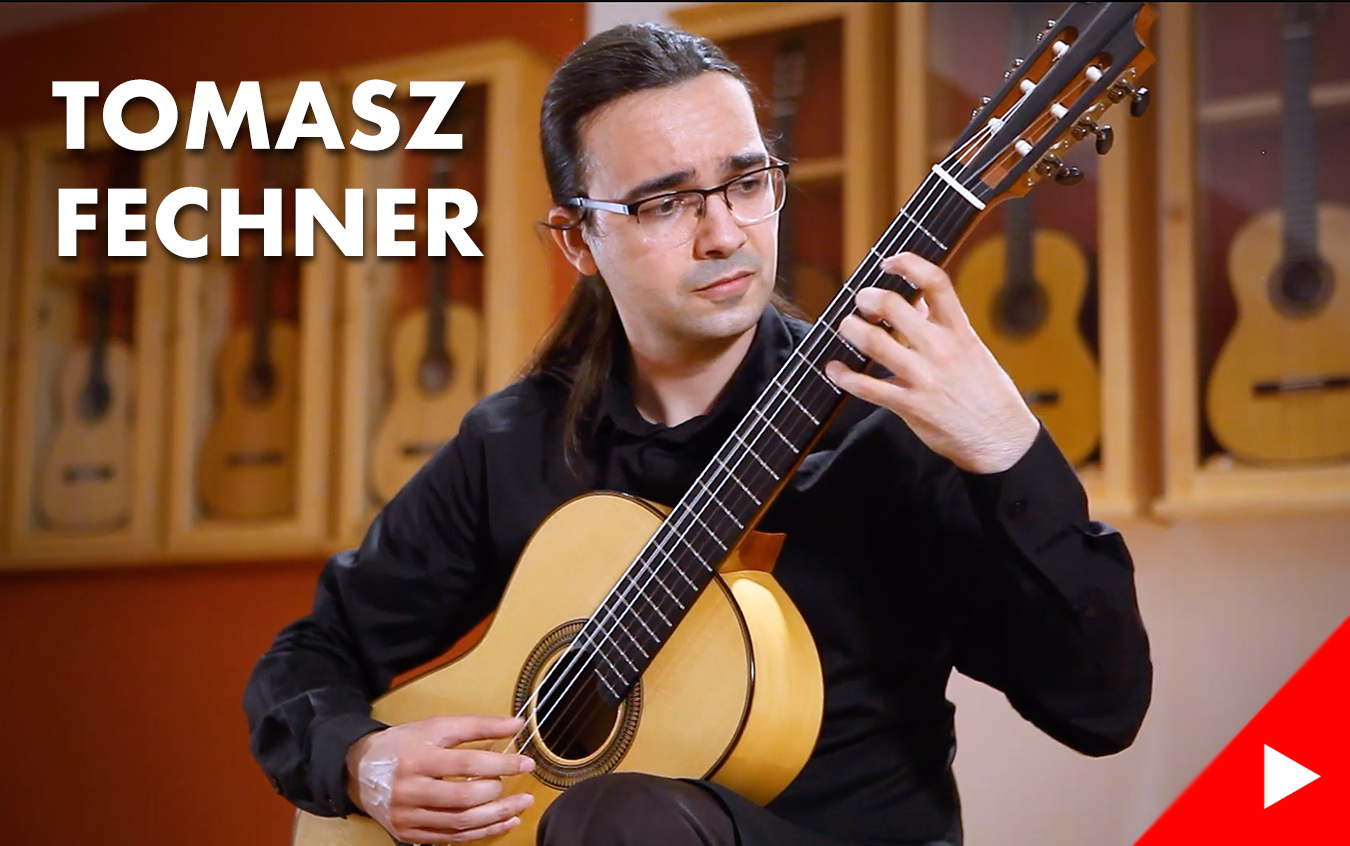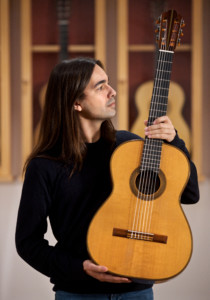 Our friend, a member of the GSI team and a former GSI Foundation Scholar, Tomasz Fechner, has recently recorded eight new videos for the GSI YouTube channel. We've known Tomasz since 2014 when he came to Los Angeles to study at the USC Thornton School of Music with Pepe Romero and William Kanengiser. In 2020, Tomasz received his doctorate from USC, as well as the "Outstanding Graduate" award, and right afterward started his work at GSI!
During his GSI session with our videographer Felix, Tomasz recorded eight videos on eight different guitars.
His session started with an extremely difficult and very rare Roland Dyens' arrangement of Piazzolla's "Primavera Portena." This is one of Dyens' arrangements that most likely was never performed on stage by Dyens himself due to his passing. If you heard it before, please let us know in the comment section. The score was also released post mortem in a beautiful set of Dyens' arrangements of Piazzolla's music titled "The Last Tango." This is Tomasz's second piece from this set. In the past, he also recorded "Libertango" in our showroom. This piece was performed by Dyens and recorded during his live concert at GSI! For the recording of "Primavera Portena", Tomasz chose a 2013 Antonio Marin Montero CD/IN. Even though this guitar has a slightly bigger scale (660mm), the neck shape is very comfortable and plays very easily. Tomasz chose this guitar for its rich and dark sound, as well as for its ultra-responsiveness even by Marin's standards.
The next piece, "El Choclo" was also arranged by Roland Dyens. In Spanish, the title means "The Corn Cob." It's a very famous tango by Argentine composer, Ángel Villoldo. This arrangement is extremely colorful showing a broad spectrum of colors that the guitar has to offer. Tomasz decided to record it on a 2018 Richard Reynoso SP/CY – a guitar with a very steady, bold, and well-defined sound with a large color palette that can be heard perfectly in this piece.
Tomasz's third video features a piece by a good friend of GSI, Chrystian Dozza. "Baião de Dois" is a motoric piece with a very popping bass theme, which just sounds amazing on guitars with maple back and sides. Tomasz recorded this piece on a 2016 Luis Fernandez de Cordoba SP/MP. Perhaps the most notable feature in the guitar is a partial wooden tornavoz fitted inside the soundhole. This helps focus the sound in its outward projection,
As a fourth piece, Tomasz recorded one of Heitor Villa-Lobos' most famous works, "Chôros No. 1.", from the collection of 14 Chôros – each written for a different set of instruments. Unfortunately, as of today, the scores to the last two chôros are considered to be lost, which makes the set incomplete. In addition to numbered Chôros, the set also includes rarely performed "Introdução aos Chôros: Abertura" (Introduction to the Chôros: Overture) for guitar and orchestra and "Dois Chôros (bis)" (Two Chôros encores) for violin and cello. Tomasz has already recorded quite a lot of works by Heitor Villa-Lobos at GSI, including all twelve etudes for guitar, and three movements from Suite populaire brésilienne. For the recording of "Chôros No. 1" Tomasz chose a 2021 Stefan Nitschke "Hauser" SP/CSAR, for its Hauser-like sound quality – a sturdy, dry and "woody" quality of tone with a strong fundamental to every note and controlled overtones. It has the "looseness" of an old guitar in its feel, and a wonderful, lyrical charm in the trebles.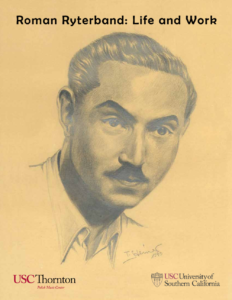 The three videos with Roman Ryterband's "Sonatina" are very special to Tomasz, as they are the outcome of a few years of research and work on publishing the performance edition of this composition. "Sonatina" was Roman Ryterband's only guitar composition written in 1978, several months prior to the composer's passing. This three-movement work is written in a neoclassical stylistic language. The piece was originally composed for guitarist, Byron Paul Tomingas, with whom Ryterband consulted performance issues. The final publication of the work was interrupted by the composer's passing and a hand injury of Byron Paul Tomingas who wasn't able to work and premiere this composition at the time. After many years the manuscripts of this piece, as well as previous versions edited by Tomingas, and another American guitarist, Gregg Nestor, made their way to the USC Polish Music Center, where Tomasz found it among other items from a collection donated by the composer's widow, Clarissa Ryterband. Seeing a guitar composition among the donated materials motivated Tomasz to develop a performance edition of this composition to make this work available for the larger guitar community. In late 2019, the piece was finally published by the Polish Publishing House (PWM).
The first movement of "Sonatina", marked Allegro Deciso, represents tonal gravitations that are abundantly interspersed with surprising modulation that frame the imitative linearity. For this movement, Tomasz chose a 1960 Hernandez y Aguado SP/CSAR – the initial attack of each note on this guitar is crisp and "snappy", almost like a snare drum, while the body of the note is airy and lightweight. This clarity gives the player a lot of precision, especially while playing busy music, like the first movement of "Sonatina."
Larghetto Semplice, the second movement, represents an aura of long-forgotten sagas, enhanced by the main theme's Phrygian mode. Tomasz chose a 1910 Hermann Hauser I "Vienna" SP/MP, a guitar with a vintage quality of sound, perfect for pieces that require a very mellow, old-world tone.
The last movement, Vivo, was written in the style of an Irish jig. It's a rondo full of syncopations, lilting melodies, and rhythmic and harmonic changes leading to a bravuroso finale. Tomasz recorded this movement on a 2015 Sebastian Stenzel SP/CO – a guitar with a crisp quality to the attack of every note. The body of the note that follows the attack is thick, full, and creamy. It's a great pick for this piece.
Tomasz finished his recording of Mario Castelnuovo-Tedesco's "Tarantella Op. 87a." Tomasz has loved this piece ever since he heard the recording of Andres Segovia playing this composition. Tomasz recorded this piece on a 1963 Ignacio Fleta SP/IN. The sound of this guitar is deep and complex with great dynamic range and balance. It also has a firmness in the fundamental which provides great projection and clarity in larger venues. It has unusually good separation of voices even when playing chordal passages.
Check out all of Tomasz's most recent videos below!
Write a comment