Looking for a Classical Guitar Christmas Album? GSI Presents: "In Dulci Jubilo" by EVA BENEKE and SCOTT TENNANT!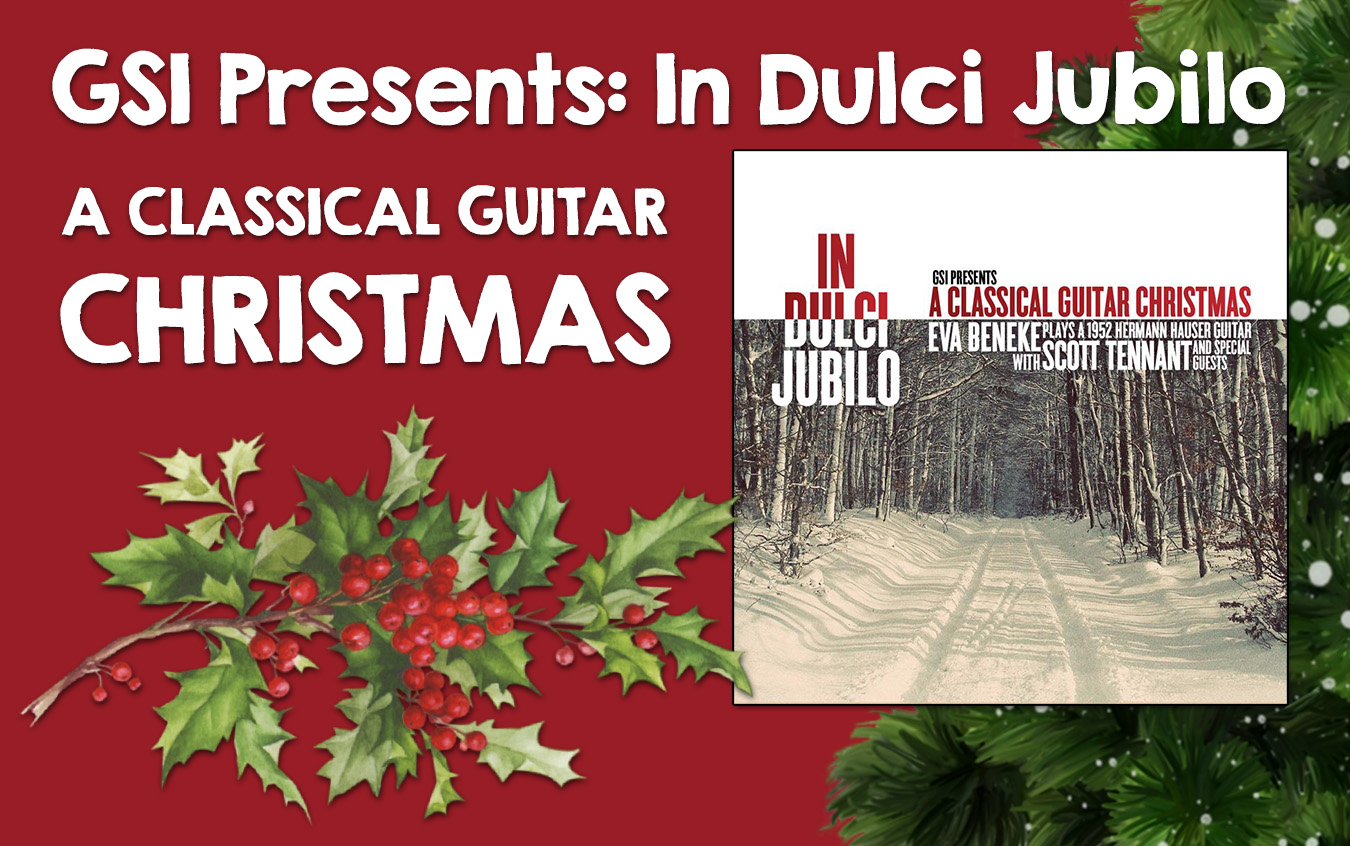 If you're looking for a gift for a guitar lover or you'd like to listen to Christmas music performed on a classical guitar, check out "In Dulci Jubilo", a Christmas album by Eva Beneke & Scott Tennant! 
When Eva Beneke first played a 1952 Hauser that was here at GSI, she told us it would be a dream to record a CD on it. Thanks to the generosity of the new owner who had just purchased it around this time, we were able to borrow the guitar long enough to record this very album. Eva decided it would be fitting to do an all-Christmas music album and assembled a fantastic group of musicians including Grammy-winner Scott Tennant and arranger Mark Small (who arranged for LAGQ's Grammy-winning Guitar Heroes). GSI produced and recorded the CD.
The CD features guitar solos, guitar duos and several chamber pieces arranged for guitar, cello, violin and oboe/English horn. In addition to traditional German and English Christmas songs the CD includes holiday music by Bach, Haendel, Holst, Schubert and more.
Tracks:
1. Friedrich Silcher: Alle Jahre Wieder
2. G.F. Haendel: Hallelujah Chorus
3. after M. Praetorius: Es Ist Ein Ros' Entsprungen
4. Franz Schubert: Ave Maria
5. Joy Medley
6. J.S. Bach: Wie Soll Ich Dich Empfangen (BWV 248)
7. J.S. Bach: Ich Steh An Deiner Krippen Hier (BWV 245)
8. J.S. Bach: Siciliana (BWV 1001)
9. In Dulci Jubilo
10. Franz Gruber: Silent Night
11. Maria Durch Ein Dornwald Ging
12. O Tannenbaum
13. Gustav Holst: In The Bleak Midwinter
Write a comment