Romanian Guitarist, Dragos Ilie, Records Five New Videos - Including His Own Composition!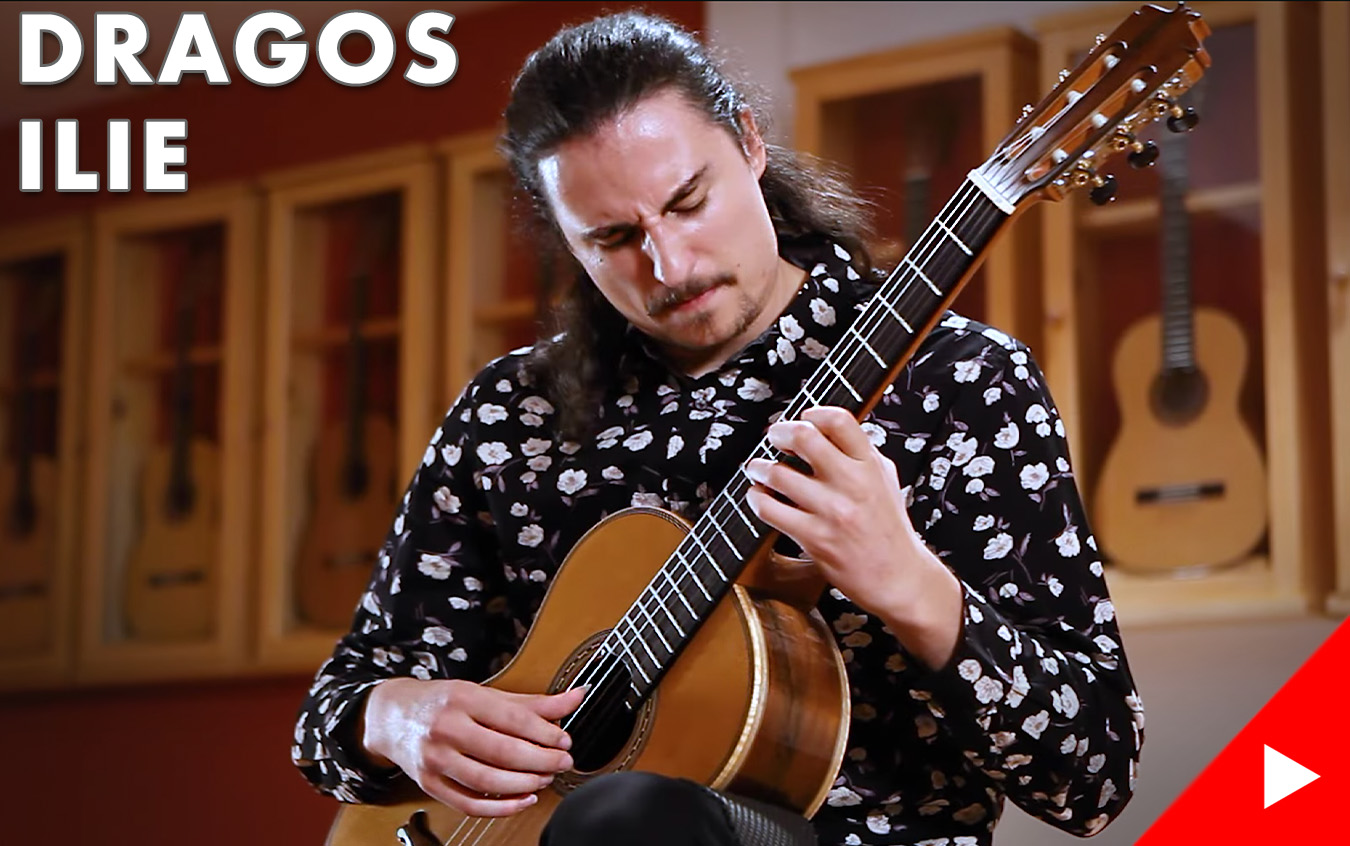 Romanian guitarist, Dragos Ilie, initially moved to the United States when his exceptional guitar skills were noticed by Professor Andrew Zohn who visited Romania at the time. Dragos became Andrew Zohn's student at the Schwob School of Music at Columbus State University. Currently, he is living in Texas where he is pursuing his master's degree at the University of Texas at Austin with Professor Adam Holzman and works as a teacher's assistant. Despite his young age, Dragos is a prize-winner of over 30 national and international competitions (including the Indiana Guitar Festival, the Columbus Guitar Symposium, ECU Guitar Festival, Texas A&M Guitar Competition, Florida Guitar Foundation Festival, and Guitarlab International Guitar Competition).
During his second visit to GSI, Dragos recorded five videos on five different guitars. As the first piece, he recorded Jorge Cardoso's "Milonga" on a 1985 Ricardo Sanchis Carpio 1a. This guitar was built by the grandson of Ricardo Sanchis Nacher who was trained by Manuel Ramirez and Domingo Esteso (for whom he also worked). Nacher also founded the Sanchis workshop in 1915. It's a great instrument with a colorful tonal palette and plenty of volume for any concert setting.
In these new videos, we have a chance to hear Dragos not only as a performer, but also as a composer! He recorded his own composition, "Prelude 1 - Indecis" on a 1998 Jose Ramirez "1a Especial". This piece beautifully highlights a broad range of colors that Ramirez guitars offer. This Ramirez guitar also has a great seperation between the voices and clarity of the sound that allows the listener to clearly hear every single note in each chord.
Subsequently, Dragos recorded "Etude II" by Romanian composer, Adrian Andrei. For this piece, Dragos picked a 2002 Rafael Moreno Rodriguez "Sueno" guitar built in cedar and CSA rosewood. This guitar was inspired by a guitar made by 19th century guitar maker, Joaquín Ruiz, which Moreno Rodriguez had in his possession many years ago for some restoration work. He quickly fell in love with its unique and incredible craftsmanship and style, and decided to incorporate some of its decorative elements into this "Sueno" model as a tribute to the memory of this instrument and its maker. It has a great volume without being boomy.
For the fourth piece, Dragos picked a 2009 Manuel Contreras II "Double Top" guitar - perhaps Contreras' best-known and most sought-after design. On this particular guitar, Dragos played William Kanengiser's arrangement of all three movements (I. Bagpipers, II. Bear Dance, III. Finale) of Béla Bartók's "Sonatina, SZ. 55".
Finally, Dragos finished his recording session with a beautiful and emotional performance of the famous candenza from the second movement of Joaquin Rodrigo's "Concierto de Aranjuez". This is the most iconic cadenza in all classical guitar concertos. For this short video, Dragos chose a 2020 Asturias "Double Top" CD/IN guitar. This double top uses a modified Gernot Wagner system, in which between two thin sandwiched pieces of ceder you can find Nomex, and the inside is braced with a modified Torres 5 fan system. This bracing produces a sound with added power and yet a balanced, more "traditional" quality at the same time.
Check out the videos below!
Write a comment