A Young Talented Guitarist, Frank Wendelin, Visits Our Showroom for His First GSI Recording Session.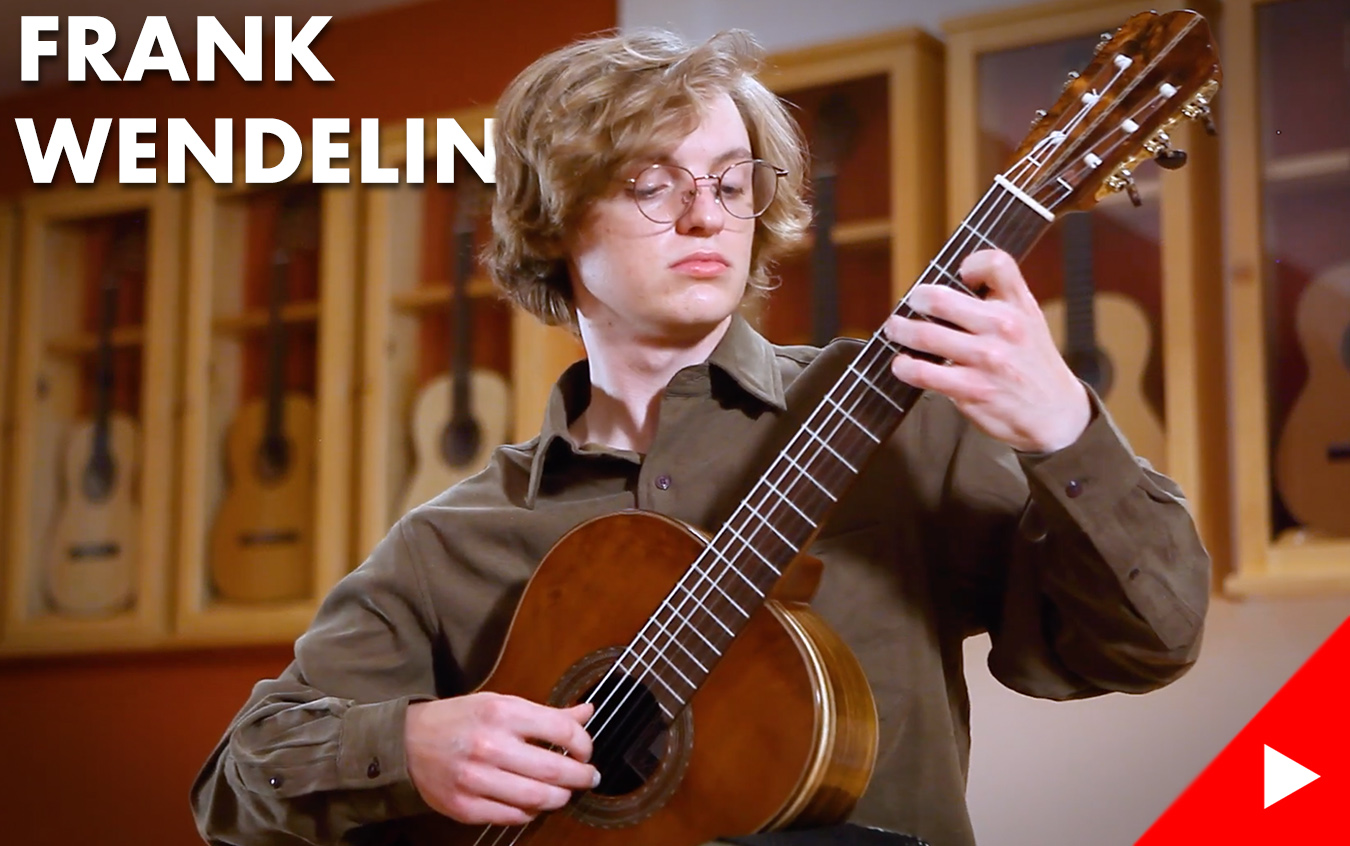 Frank Wendelin, an undergraduate student from the USC Thornton School of Music, has recently visited our showroom for his very first GSI recording session. Frank is a very talented young player. At USC, he studies guitar with Scott Tennant and Pepe Romero. During his session, Frank recorded four videos on four different guitars.
As the first piece, Frank recorded Roland Dyens' arrangement of a popular French song, "Brave Margot." This song was composed and written in 1953 by a French poet, Georges Brassens. It is one of his most well-known, and controversial songs. The lyrics tell a story of a young shepherdess, Margot, who finds a young lost kitten and adopts it. When the kitten gets hungry, she decides to breastfeed it. This brings a lot of onlookers to the previously quiet village and angers many people. Roland Dyens' solo guitar arrangement perfectly captures the comical character of the song. Frank decided to perform this piece on a 2021 Moonseok Choi SP/KW – a guitar strongly inspired by French makers, Robert Bouchet and Daniel Friederich.
Frank's second piece, was the first movement, "Adagio Ma Non Tanto" from J. S. Bach's "Flute Sonata, BWV 1035." Originally this piece was written for a traverse flute and basso continuo. It was arranged for solo guitar by Robert Brightmore. Bach composed this piece in the 1740s as a result of his visit in Potsdam to the court of Frederick the Great. Frank recorded this piece on a 2021 Jose Vigil CD/CSAR. This is a fantastic guitar made by one of Granada's top makers. It has a very nice, "dark" quality to the sound which gives it an alluring mystique.
Frank finished his recording session with the first two movements from Manuel Ponce's "Sonata III" – Allegro Moderato and Canción, Andante. This sonata was composed in 1927, during the time when Ponce, as a student of Paul Dukas, was inspired by the local musical scene in Paris. The first movement is very pianistic and abundant in romantic themes, while the second movement is more Spanish in character. Frank recorded these movements on a 2021 Ariel Ameijenda "Centenario" AL/BW (a guitar with great projection, built by Ariel to commemorate his father's 100th birthday) and a 2013 Kathrin Hauser SP/IN – an instrument with all classic Hauser qualities.
Check out Frank's GSI videos below!