Ana Vidovic & Xuefei Yang's visit to GSI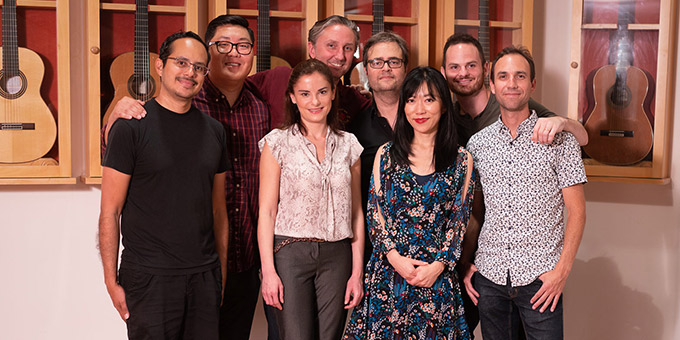 We were super thrilled to have the better part of the day to spend with both Ana Vidovic and Xuefei Yang on September 26th, two days before their "Virtuosas of The Guitar" concert, which was presented by our friends at EDM Services and the James Hunley Guitar Studio. During their visit to our showroom, the ladies recorded some amazing performance videos on several of our guitars and hung around for some fun and candid interviews conducted by our very own Jaxon Williams. The crew from the James Hunley Guitar Studio and EDM Services were present as well, so it was a great time for us all.

Special thanks to Roy for the great photos he took of the entire weekend – Ana and Xuefei's stay in Southern California lasted for several more days… the following day there was a masterclass and after-party, then their concert on Saturday night. A memorable weekend for us all!
no images were found
During their visit with us in the showroom, we were able to film Ana playing on a brand-new 2019 Richard Reynoso guitar (Richard actually joined us to hang out during their session) for a masterful interpretation of the "Allemande" from 'Partita in A minor (BWV 1013)' by J. S. Bach. Her second video was a fun, cheerful rendition of Federico Moreno Torroba's "Sonatina – I. Allegretto" played on a historic 1926 Domingo Esteso. Xuefei delivered a gorgeous performance on a 1925 Santos Hernandez – playing the "Eterna Saudade" by Dilermando Reis followed by a suprise "flamenco" rendition of Juan Martin's "Zambra Mora" played on the 1925 Domingo Esteso we acquired from the Russell Cleveland Collection. Xuefei fell in love with this guitar and actually borrowed it for part of her concert on Saturday evening!
Stay posted for more… interviews coming soon!