Apogee 'Mic' Review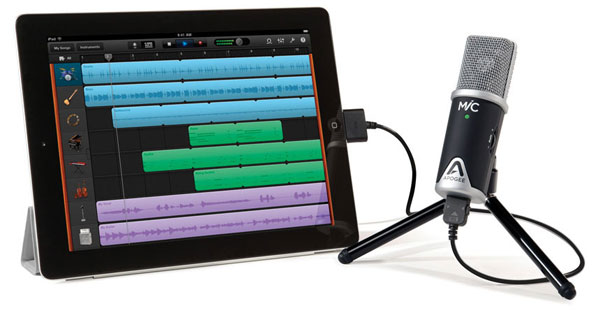 Apogee Mic Review
I finally bought an iPhone. I'd been on the fence for a while, and in the end it was not so much the iPhone itself that convinced me (I really like my Android, which has a few features the iPhone would do well to copy) as it was the fact that I needed one in order to use Apogee's new 'Mic'.
Apogee Electronics is one of the best known makers of high-end studio converters and interfaces around. (That means they make the hardware that allows audio to get into a computer, be manipulated in the digital realm, and then come back out again as audio). So when they announced that they were making a USB microphone I sort of thought 'cool', but when I heard that it also worked with the iPad/iPhone I knew I'd be looking into it. I've used the Blue Mikey with my iPod for years now, and while it's incredibly convenient, and amazing for the money, the audio I get is only really useful for the audio equivalent of jotting down an idea – it's much better than the internal mic in a digital camera, for example, but not nearly as good as a decent microphone.
Apogee's 'Mic' (the name is a wee bit generic) is a cardioid mic made to work with Apple products –iPad/iPhones and Mac computers – and it comes with a USB cable and a 30-pin cable that plugs directly into your iPhone or iPad (the mic end of both cables is a proprietary connector, so don't lose it). Plugged into your mac it'll work like any other USB microphone, and with Mac's aggregate driver (which I just learned about), you can actually plug two of them into your computer and record a stereo track or two separate mono tracks in Garage Band or any other DAW. Plugged into you iPhone or iPad You can actually make good, useable recordings wherever you are.
If you look at the photo you'll see that the form factor of Apogee's mic is a little on the cute side, but not in a bad way. It's a small diaphragm mic housed in manner of a large diaphragm mic, so that it looks like a miniature large diaphragm mic. The mic comes with a mini tripod that screws into the back of the mic, and you can also buy a little adapter that will allow you to connect the mic to a regular mic stand to give you more placement options. There's a gain control wheel on the mic itself as well as a single blue/green/yellow/red light that signals connection/signal/peak. The mic is made out of metal and actually feels reassuringly hefty for its size.
The fact that the mic attaches via a cable and not directly to your device allows you to actually consider mic placement when recording. This is also really useful when shooting videos (if you plug the mic into your iPhone it automatically becomes your audio input for any videos you shoot), as your mic can now be separate from your phone. The mic ships with a 1 meter USB cable and a .5 meter 30-pin cable and you will be able to buy a 3 meter cables separately.
Most mic's (if not all) that work with iPod/iPad/iPhone only work with those devices, and not as a USB mic that'll interface with you computer as well, so it's pretty handy that Apogee's 'Mic' does both, as there are times you'll want to use Garage Band or some other DAW on your laptop, even though recording apps for the iPhone are starting to have more and more features. The ability to turn your iPhone into a full -blown high-quality field recorder is kind of a game changer, though, and what sets the 'Mic' apart at the end of the day is the sound quality.
Most USB mics and iPod/iPad/iPhone mics are a compromise of some sort: How do you make a good microphone that is also a good D/A converter and a USB device without having it cost more than the iPad/iPhone? Apogee has been so good at making converters for so long that it seems like an obvious choice for them, and the only thing they could have screwed up was the capsule or the mic's electronics before it hits the converter. Fortunately, they didn't screw it up, as you can hear in the MP3s at the bottom of this review.
I'm not going to tell you that this little $199 mic is going to replace all of your studio mics, but even without considering the price and functionality this is a clear, natural sounding mic, and the fact that you can play with placement means that you can get some proximity effect if you want it. It doesn't feel hyped at the top or the bottom. It just sounds like a good mic. For someone like me who is constantly recording video lessons for students, location recordings, interviews and rehearsals this is huge. It's a little like how excited a lot of us were when portable mini disk recorders came out with that Sony stereo mic – except now it syncs to video and you can email or ftp audio files directly from your phone. And it sounds even better.
In the MP3s I recorded I decided to make a patently unfair comparison: a Neumann U89 through a custom-made preamp into a Digidesign 192 interface against Apogee's $199 mic plugged straight into an iPhone. See what you think.
We also shot some really cool videos at Apogee's studio in Santa Monica with guitarist Yury Nugmanov using a stereo pair of Apogee mics, and I'll post those as soon as they're edited.