Enjoy a FREE Download of Chesky's España on us, with your purchase!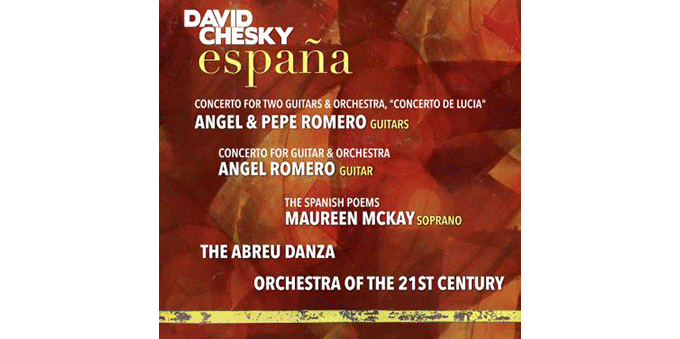 Looking for some stocking stuffers for loved ones or running low on strings? Spend $100 or more at the GSI store, and you'll receive an email with a code for a FREE download of the new album of guitar concerti recorded by Angel and Pepe Romero and composed by American composer David Chesky!
"What I have to say about David Chesky is that he is a composer that covers so many different emotions in his music. Within one piece, he covers the elements of rock, classical, romantic, and flamenco. He has the ability to move through all of these emotions so quickly and efficiently. This is what makes these two concertos so special to me. As a performer I always need a vehicle in which I can let my emotions free and at the same time enjoy the technical aspects which most of the time are very challenging. This is all united by the beauty of these concertos." – Angel Romero
"David Chesky has written a fantastic concerto for two guitars and orchestra in the tradition of the great double concertos by Bach, Vivaldi and Rodrigo. Chesky is true to himself and in this piece, he uses flamenco elements in a contrapuntal fashion that celebrate and challenge the guitarists, exploring the possibilities of guitar technique and expression." – Pepe Romero
About the composer: American pianist, arranger, producer, and composer David Chesky (b. 1956) is celebrated for his many operas and concert works inspired by jazz and American popular music. But, his musical reach extends as well to Latin America and the Iberian Peninsula. Evidence of that versatility is at hand on this remarkable recording, which features concertos, songs, and an orchestral tone poem with a decidedly Hispanic flavor.
THE MUSIC
Concerto for Guitar & Orchestra (2002): For the first time in his extensive catalogue of concertos, Chesky here assayed a work grounded in the music of Spain, particularly Andalusian flamenco. But, to say that this is merely a sunny evocation of flamenco would be to misrepresent both his creations and flamenco itself. Rather, Chesky has here adopted many of the gestural mannerisms of flamenco, especially its modality and idiomatic guitar figurations, in the context of a harmonic language and rhythmic structure that are very contemporary. Specifically, he makes highly expressive use of subtle orchestral colors, advanced harmony bordering at times on atonality, and a complex rhythmic organization that is well outside the traditional metrical patterns (compás) of flamenco.
Concerto for Two Guitars & Orchestra (2011): Subtitled "Concerto de Lucia," in honor of the great flamenco guitarist Paco de Lucia (1947-2014). "Concerto de Lucia" breaks new ground in the guitar repertoire. The first movement immediately piques our interest with propulsive rhythms that hurtle forward with colorful instrumentation here features pizzicato strings, harp, and celeste, which are soon joined by the guitars, firing off the sorts of blisteringly fast scales for which Angel and Pepe Romero are justly renowned.
The Spanish Poems (2004): This collection offers us three distinctive settings of poems by a wide variety of poets, all wonderfully interpreted by soprano Maureen McKay. Though it rarely offers a clearly stated tonal center, Chesky's musical style relies on lively rhythms and a strong beat sense to supply a sense of direction and continuity. Poem No. 9 ("The Girl from Guatemala") utilizes a text by José Julián Martí Pérez (1853-95).
The Abreu Danza (2019): José Antonio Abreu (1939-2018) was one of the transformative musical figures in twentieth-century Latin American music. This energetic piece harkens to the circum-Caribbean rhythms of salsa, in particular the mambo, and recalls not only the artistry of Machito and Tito Puente but also Bernstein's music for West Side Story. Its relentless rhythms are enhanced by a wide palette of orchestral colors, especially winds and percussion.