From GSI to Japan & back – Andrew's Special Visit to Masaki Sakurai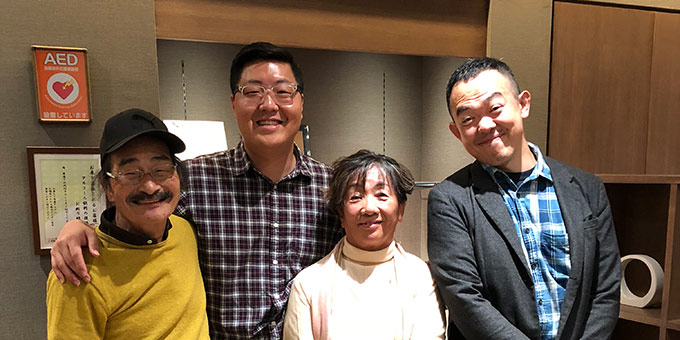 Recently, while Andrew was vacationing in Tokyo, he had the privilege to visit the iconic workshop of Maestro Masaki Sakurai. In 1988, Sakurai was awarded first prize at the prestigious International Guitar-Making Competition in Paris, France and has continued to elevate his guitar making to the highest degree. There is an incredible amount of history behind this hidden gem workshop in the Saitama prefecture, just down the street from the 3rd busiest train station in the world. For the last 21 years, the guitars built since Sakurai took over the workshop (from his uncle Masaru Kohno) have maintained the quality, precision craftsmanship, meticulous attention to detail and beautiful sound that have made Kohno and Sakurai's guitars world-renowned. With careful planning and some luck, Andrew was able to spend an incredible day picking wood for the next GSI guitars and to take a look at the inner workings of the shop to see how it all happens. We'd like to extend a personal thanks to Takuya Kawauchi from Aria & Co. for setting up the introduction!
Believe it or not, approximately 300 guitars are made per year at the workshop by a handful of highly skilled luthiers, including Sakurai and his late uncle's grandson, Mr. Kimishima. The spruce and cedar used for the soundboards are cured for a minimum of 5 years, thinned to 3mm then cured for another 5 years before being used. The custom made machines used to build the guitars were converted from old furniture making equipment from the 1950's and work flawlessly due to a strict schedule of regular maintenance and meticulous tuning. Walking into the final storage room after finishing you can hear a faint sound reverberating from a select few guitars. These guitars are the top models Sakurai makes which spend one month resonating to the sound of classical, Spanish, and a select assortment of music to start their life.
At 74, Mr. Sakurai is still heavily involved in the guitar making process, fine tuning every soundboard that comes out of the shop and selecting then grading every single piece of wood. Sakurai, an avid guitar enthusiast, drew inspiration early on from his uncle's work starting at the young age of 22. That's 52 years of guitar building experience! He was able to examine instruments from some very important luthiers including Hauser I, Hauser II, Fleta, Hernandez y Aguado, and Francisco Simplicio – of which he possess guitars that reside in his personal collection. Mr. Kimishima, Masaru Kohno's grandson pictured in the photo below, will continue the legacy if Sakurai ever decides to retire to pursue his other passion in life: golf with his lovely wife!