Get Ready for the Next U.S. International Guitar Series Event – Featuring Antigoni Goni and Amy Norrington!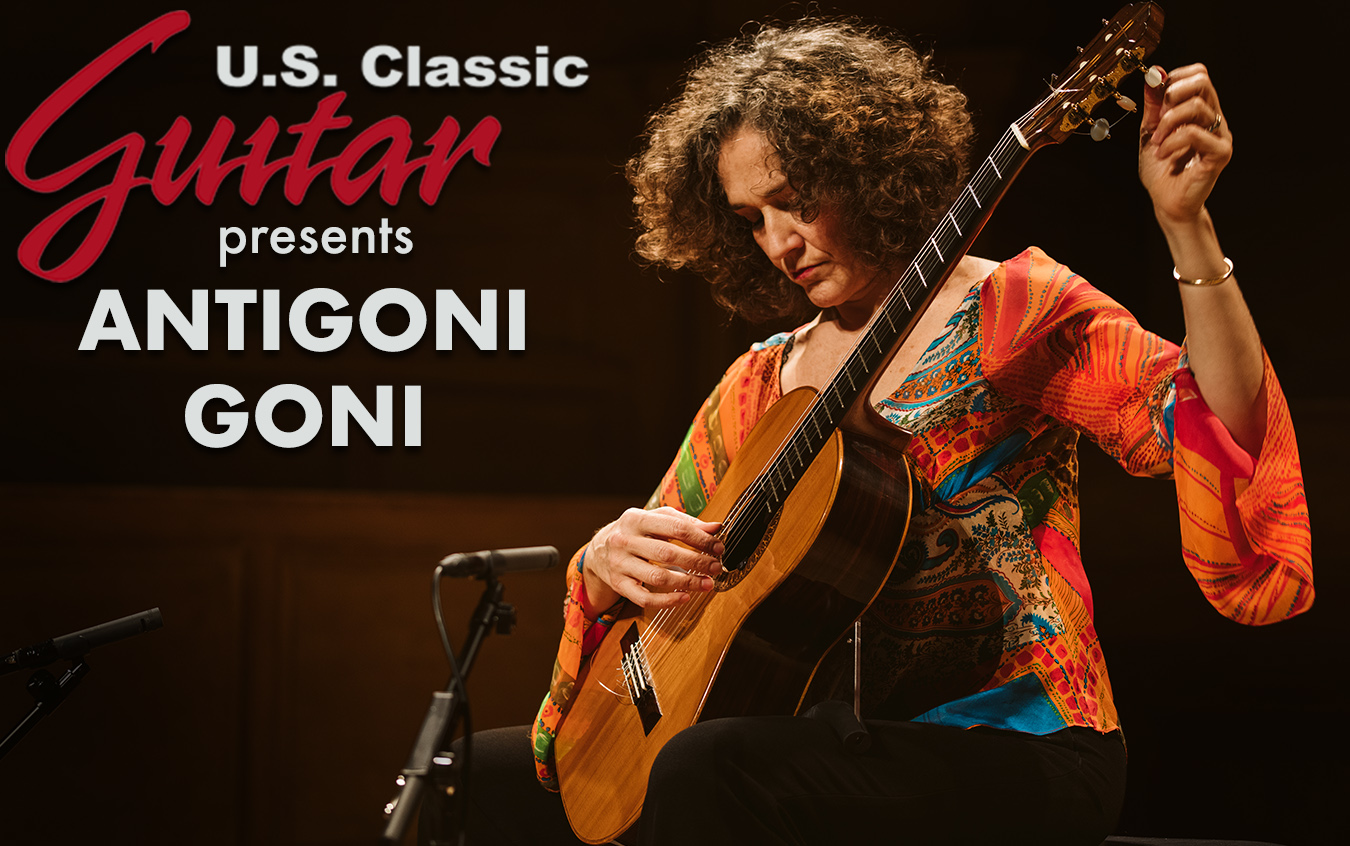 U.S. Classic Guitar President William Jenks is thrilled to announce the fourth presentation of the U.S. International Guitar Series Season 2021 featuring guitarist Antigoni Goni in a master class on Saturday, April 17, 2021 at 11 AM P.D.T. and a solo concert on Sunday, April 18, 2021, at 3 PM P.D.T. where she will be performing from the gorgeous Sint-Truiden Academy of Arts Main Concert Hall in Belgium. In this special performance, Ms.Goni will also be joined by internationally acclaimed cellist Amy Norrington where they will perform two works by de Falla and Piazzolla. This will be an exclusive program for those who have purchased their tickets at usclassicguitar.org. All ticket holders will also be invited to the Zoom reception with her directly following the performance. The majority of the ticket sales go directly to the artist.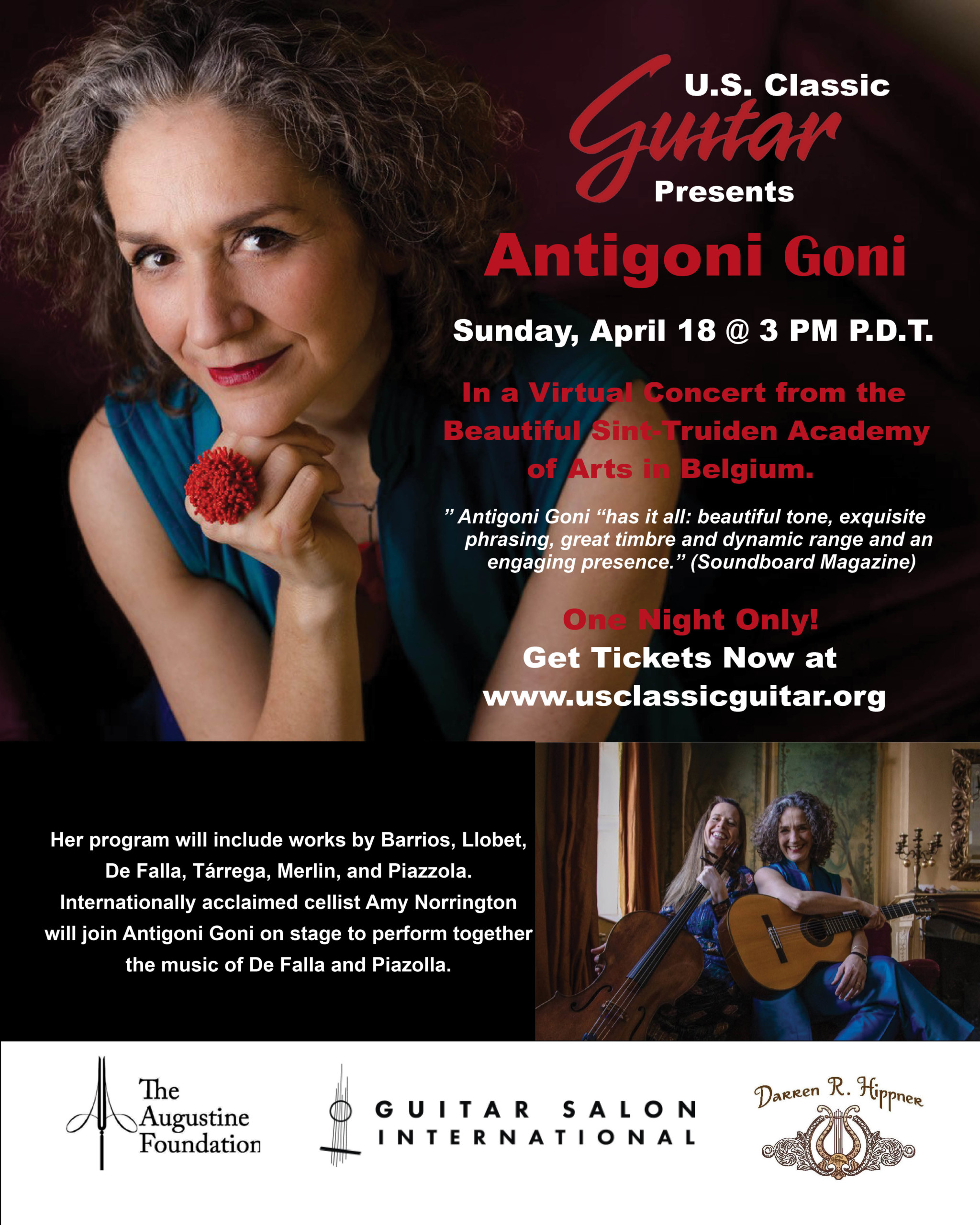 The Greek guitarist Antigoni Goni is a British council, Royal Academy, and Juilliard School, scholar. Notably, she studied with Julian Bream, Sharon Isbin, Oscar Ghiglia, John Mills, and Evangelos Assimakopoulos. As the founder of Classical Guitar magazine Maurice J. Summerfield has put it, Antigoni Goni is today an internationally acclaimed soloist and recording artist, sought-after pedagogue, and festival organizer, whose artistry and expertise is in great demand internationally. Her long list of competitions and awards includes the prestigious Julian Bream prize (assigned by Julian Bream himself and received from Lady Diana), and the 1st prize and NAXOS prize of the 1995 Guitar Foundation of America Competition (GFA). The latter launched her international career as a concert and recording artist.
Antigoni Goni is the founder of the Guitar Department at the Juilliard Pre-College Division at the Juilliard School in New York City (USA) that she chaired and taught for 10 years. She also was an adjunct professor at Columbia University (New York City, USA), an honorary Associate Professor (ARAM) at the Royal Academy of Music in London, and a member of the Board of Advisors of the Guitar Foundation of America. Since 2005 Antigoni Goni is the head of the Guitar Department at the Koninklijk Conservatorium in Brussels (KCB). In this capacity, she organized a large number of successful international events. In 2015 she was nominated "professor of the year" and was presented with the "Madame de la Hault" prize. Between 2013 and 2018 she was a member of the Artistic Committee (Artistieke Raad) of the conservatory. In 2007 Antigoni Goni founded the Volterra Project, Summer Guitar Institute, a successful international workshop that Classical Guitar Magazine has defined "Groundbreaking" and has become an internationally undisputed point of reference in the field of the classical guitar.
Since the 65-concert tour following the 1st prize at the Guitar Foundation of America Competition in 1995, Antigoni Goni has played in practically every guitar society and guitar series all over North America and Canada as well as many prominent guitar Festivals in Europe and Russia, South America and the Far East.
Some of her career's highlights include her 1993 New York debut at Carnegie's Weill Recital Hall, her 1995 appearance at the "Bolshoi" Hall of the Moscow Conservatory (thus becoming the first guitarist since Andres Segovia to perform in that hall), her 2002 London Debut at Wigmore Hall and her 2005 appearance at the Odeon of Herodes Atticus, the magnificent amphitheater under the Acropolis of Athens: a unique and outstanding honor for a native Greek.
The long list of her performances includes yearly tours in the USA (in over 15 States) and Canada, and tours in Japan, Malaysia, and several concerts in a variety of locations in Russia where she returned many times performing solo or with orchestras from Novosibirsk to Kazan and from Moscow to St Petersburg. Music festivals, Guitar societies, Summer Workshops, Subscription series all over the world have become her artistic office.
Finally, her many European tours brought her to a very wide array of locations, including, most recently to play a concert on the beautiful stage of King's Pace in London in celebration of the 100 years of John W. Duarte.
In case you're wondering about the video quality of the U.S. Classic Guitar concerts, here is an excerpt from David Russell's spectacular performance for the third concert of the U.S. International Guitar Series – Click here

---
Antigoni Goni Concert – Sunday, April 18, 2021, at 12 PM Hawaii Time, 3 PM P.D.T, 6 PM E.D.T.
Antigoni Goni Master Class – Saturday, April 17, 2021, at 8 AM Hawaii Time, 11 AM P.D.T., 2 PM E.D.T.