Guitarist and Arranger, Rafa Soto, Records Traditional and Popular Music at GSI. See the Videos!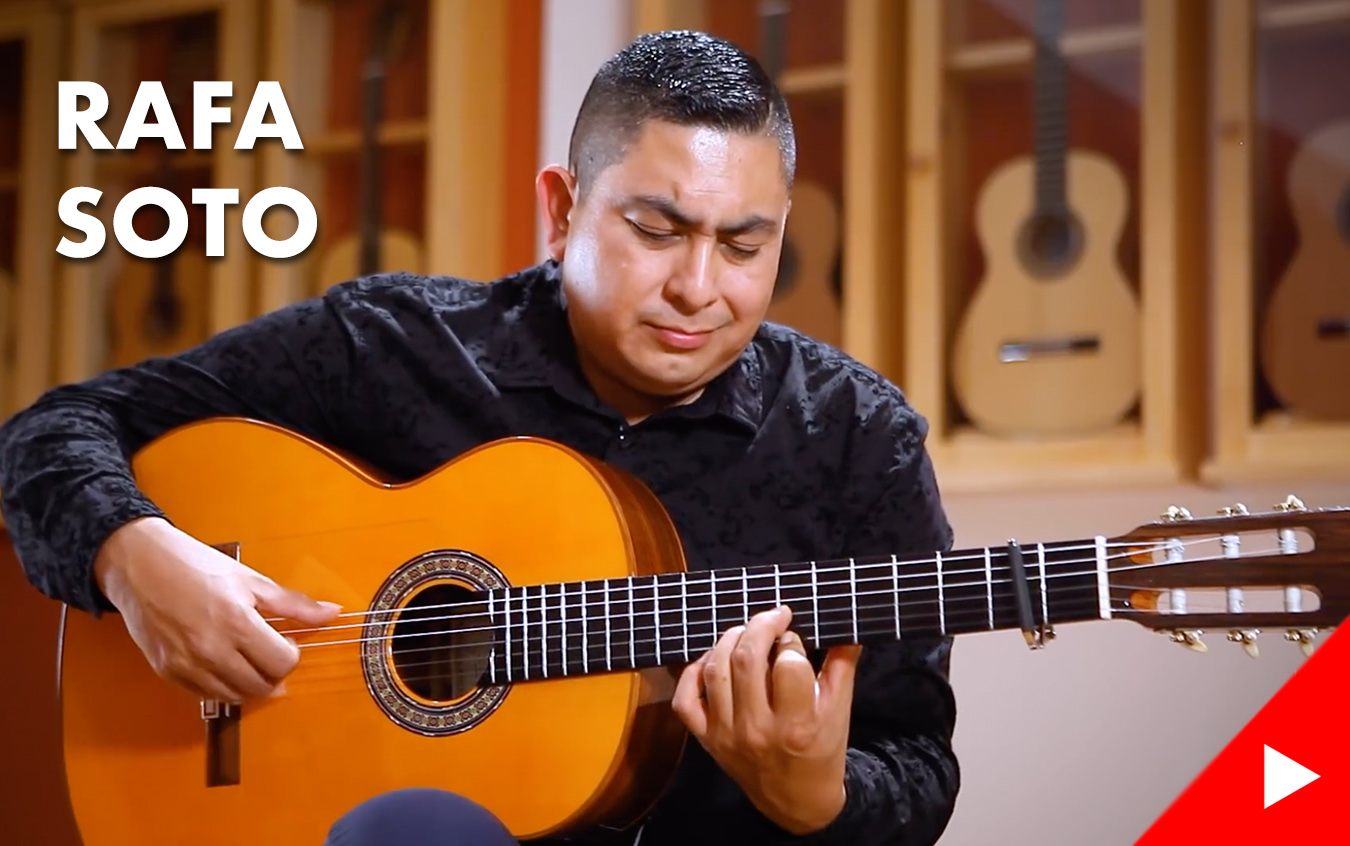 We had the pleasure of having a new guest artist recently visit our showroom for a recording session. Guitarist Rafa Soto stopped by GSI and recorded four of his own arrangements of traditional Mexican music and popular songs.
Rafa started his recording session with the hit song, "Hotel California", by The Eagles. Rafa's arrangement of this piece became very popular on our YouTube channel. It combines the punchy sound of the flamenco guitar with a pop song known by almost everyone. Rafa recorded this on a 2020 Felipe Conde "Reedicion 1975" SP/PF, a tribute model to the iconic flamenco negra played by Paco de Lucia for the majority of his career.
Rafa's second arrangement of "La Llorona" (The weeping woman) is a traditional Mexican folk song popularized in 1941 by composer, Andres Henestrosa. For this recording, Rafa also picked a Conde guitar, but a different model – 2017 Felipe Conde "FC 28" SP/AR.
The third piece is a traditional Oaxacan waltz titled, "La Zandunga." This piece serves as the unofficial anthem of the Isthmus of Tehuantepec, in the state of Oaxaca in Mexico. This music has Native American, as well as Spanish jota stylistic elements. The song tells a story of a woman who is mourning the death of her mother. For this performance, Rafa chose a flamenco blanca, 2012 Henner Hagenlocher SP/CY. This guitar has a very rich, old-world sound with a very fast response.
Rafa finished his recording session with a performance of "La Bikina," a Mexican song composed by a classical violinist and composer, Rubén Fuentes, who is widely known for his contributions to mariachi music. Rafa recorded this piece on a 2005 Marcelino Lopez "Blanca" SP/CY. This is a flamenco blanca with a more compact body shape, with old-school maple tap plates, gold frets, and a lovely, thick maple strip in the back.
Watch all of Rafa's GSI videos below!