Guitarist and Composer Shane Parish Visits GSI to Record Duets with Saxophone and Solo Pieces.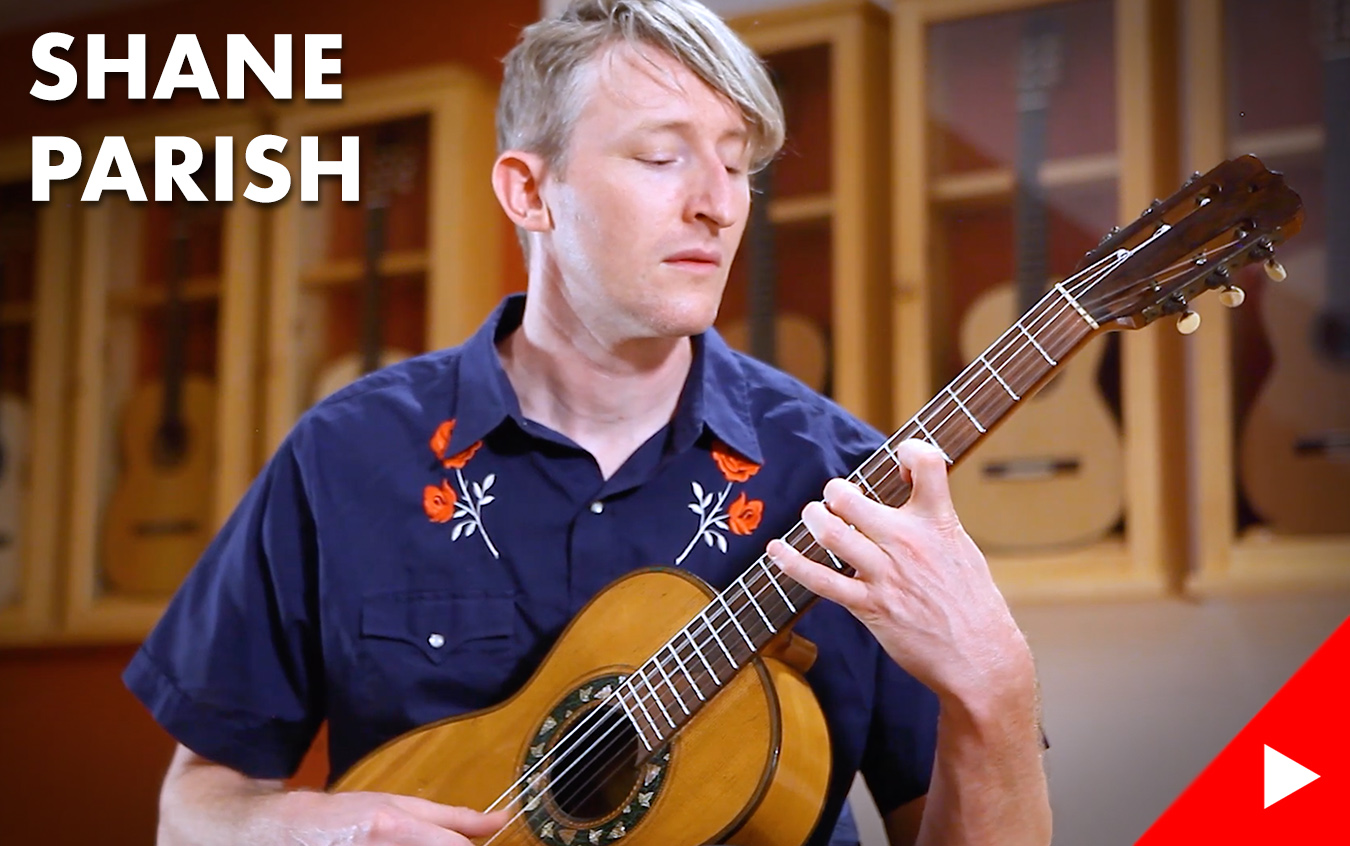 Shane Parish, a guitarist, educator and composer from Athens, Georgia, has recently visited our showroom for a recording session at GSI.
Shane has a very expressive, and unique style of playing. He is a self-taught musician who plays classical, acoustic and electric guitar. His playing demonstrates a rich timbral variety presented in modern, eclectic repertoire. As a guitarist, Shane is a member of the electric prog-punk band, Ahleuchatistas, that blends punk, jazz, non-Western, improvisatory and progressive music. Shane's guitar skills are very well-rounded. He performs often on electric guitar, and his finger-style playing is very impressive as well!
During his visit to GSI, Shane recorded five videos – two duets with a saxophonist, Patrick Shiroishi, and three guitar solos. For his ensemble performances, Shane picked a 2010 Masaki Sakurai "Maestro RF" SP/CSAR and a 2014 Sakurai-Kohno "Professional-J" SP/CSAR. The first piece, "A Tear For Every Empty Seat" is a very spacious and pensive-in-character composition, while the second piece, "Getting There is Being There", sounds more mysterious, partially thanks to multiple "echo" effects performed on both instruments.
The next piece is Shane's arrangement of Charles Mingus' Jazz piece, "Pithecanthropus Erectus", originally performed in a jazz ensemble. For the purpose of recording this arrangement, Shane picked a 2021 German Vazquez Rubio "Divina" SP/PE – a top-of-the-line student/entry-level instrument from German's workshop.
"Cohesion" is a piece from The Minutemen's album "Double Nickels On The Dime", written by D. Boon. For this composition, Shane chose a vintage guitar – 1897 Jose Ramirez I SP/CY. It's an absolutely charming and wonderful instrument in every way with an old-world sound.
The final piece recorded by Shane was Mark Steven Brooks' arrangement (revised by Shane) of "One Red Rose That I Mean" by Captain Beefheart (Don Van Vliet) from "Lick My Decals Off, Baby". Shane recorded this on a very interesting 2021 Jake Fuller "Purnell" SP/YW guitar with the back made of both Yew and Ebony wood.
Check out all of Shane's GSI videos below!