Jacob Cordover plays Houghton's 'Ophelia'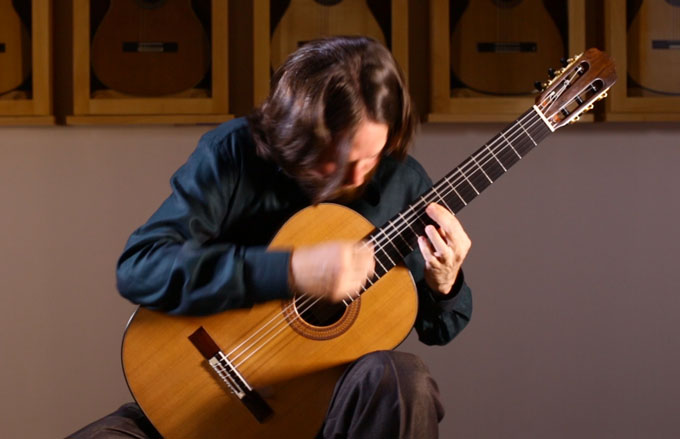 Jacob Cordover was back in town on his way to a music festival and he came by to record all five movements of the late Phillip Houghton's 'Ophelia… a Haunted Sonata' on five different guitars for us including a 1983 Manuel Contreras 'Carlevaro' model in spruce and CSA rosewood (one of the more interesting-looking guitars you'll see anywhere), a 2018 Stephen Hill in cedar and ziricote, a 2018 Andy Culpepper in cedar and cherry, a new Teodoro Perez Estudio C650 in spruce and Indian rosewood, and a new 2018 Teodoro Perez Antigua' model in cedar and Indian rosewood.
Jacob has been playing the piece as part of his program lately and wanted a good recording of it in its entirety, so we were very happy to oblige. Houghton has contributed greatly to the guitar repertoire and will be very much missed. Jump the bottom, below the videos, to read Houghton's own notes and thoughts on the piece (thanks to Jacob for providing these).
Programme notes : Ophelia … a haunted sonata
The mythic stereotype of the beautiful, lonely maiden who goes mad and kills herself is as old as myth itself. The most famous example in literature is the legend of Ophelia which was established by Shakespeare when he included Queen Gertrude's description of Ophelia and her death in 'Hamlet' (act IV). Another powerful influence on me – and also inspired by Shakespeare's magnificent text – was the painting 'Ophelia' (1852) by Pre-Raphaelite artist John Millais. It shows Ophelia drowning in a river, surrounded by a garland of wildflowers … a strangely calm, otherworldly scene.
Looking beyond the "beautiful" maiden aspect of the legend, I was drawn to the person who was Ophelia and to what she symbolised: the struggle, at an intimate spiritual and psychological level, of what it means to be human. In this light, the music may be seen to be a journey through an emotional / spiritual "landscape" – through the forest of the mind / ocean of the heart.
Ophelia took her own life, after pain – through lack of love and identity – drove her to madness. Strip away the myth and we see not "mad Lady Ophelia" but someone who suffered depression and mental illness – dislocation within, and a dislocation from the world and nature … a tragic figure who led an inauthentic life. I felt compassion and empathy for Ophelia, and this was my starting point … the only point … into the "black light".
Ophelia gave in to her loss and loneliness … 'am I but a dream of a shadow?' she may have cried, clawing at reality. In the music, I have tried to convey Ophelia's pain and suffering and the sadness of her tragedy … where it all cries out as a yearning for healing and peace. It is also about death … of Ophelia, slowly sinking into the cold palm of the unknown.
The work requires the 6th string turned to Eb and the 5th to G. I did this as it seemed to evoke sonorities and colours – a sweet dissonance – in the sound of the guitar which I felt related to the emotion of Millais' painting and Ophelia's plight. The work is dedicated to composer Lili Boulanger (1893 – 1918 … am thinking, especially, of the beautiful last movement of her Theme et Variations for piano) and poet Federico Garcia Lorca (1898 – 1936). Both great artists who pursued what I'll call the "black light" (duende) … the journey into the depths of the human psyche.
~ Phillip Houghton
Sydney, Dec 12th 2004