Postponed: LA International Guitar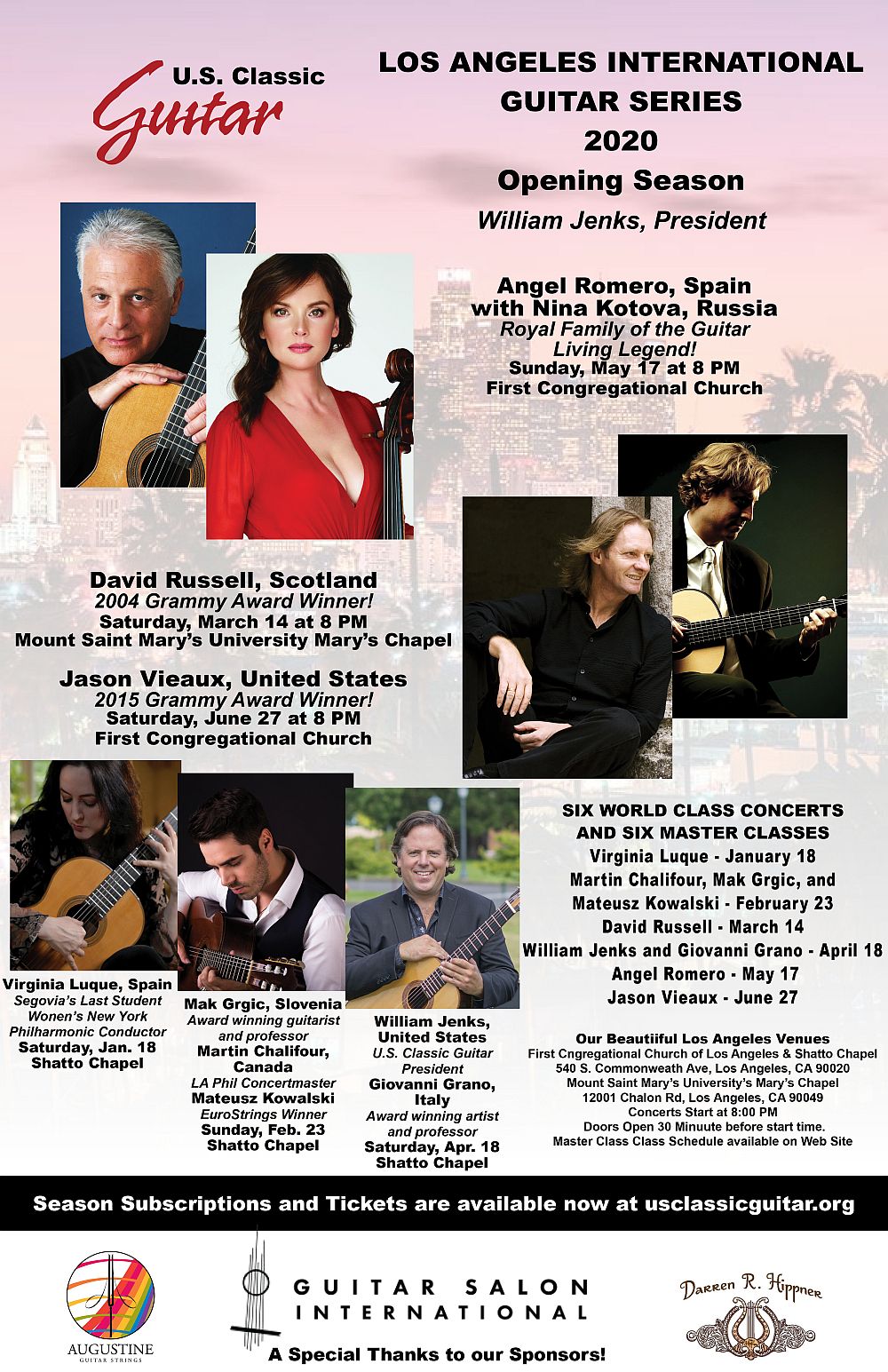 *View this as an email! – Check out our Special Edition blast that goes out to our esteemed subscribers. Sign up for the GSI Mailing List for more exclusive content like this directly in your inbox.
---
Update, May 4, 2020:
Due to the COVID-19 pandemic and extended stay at home order for the states of California, Oregon, and Hawaii, which will very likely be in effect through the end of May, U.S. Classic Guitar has made the decision to postpone the Angel Romero and Nina Kotova concerts scheduled for May 15 in Portland and May 17 in Los Angeles.
As of now, U.S. Classic Guitar's plan is to move all the concerts that were postponed this spring to this summer beginning in late June with Grammy Award Winner Jason Vieaux in Los Angeles and the remaining rescheduled concerts will continue through August and possibly September. Stay tuned for the rescheduled dates of the 2019-2020 season this summer and the announcement of the exciting upcoming 2020-2021 series beginning next fall. New dates will be contingent on orders and conditions of local governments. All plans are subject to change as new developments and recommendations for resuming business and events arise.
As with all concerts that are being rescheduled during this pandemic, U.S. Classic Guitar is providing the following options for you if you bought individual tickets:

Hold on to your tickets and they will be valid for the new rescheduled date for the same artist.
Exchange your ticket for another performance once the new schedule has been posted. (email:

[email protected]

)
Donate the value of your ticket and receive an acknowledgement letter for your tax deductible donation. (email:

[email protected]

)
For those that bought season tickets, U.S. Classic Guitar will be satisfying the value of your tickets through the rescheduled concert dates this season.
We're informed that they are not offering refunds at this time because they have made a financial commitment to the artists to reschedule their concerts and secure the venues for their performances.
Original post:
U.S. Classic Guitar President William Jenks is honored to announce the opening season of the 2020 Los Angeles International Guitar Series which will feature six outstanding concerts of the top classical guitarists in the world which will run between January 18, 2020 and June 27, 2020. Over the last fourteen years, William Jenks has established himself as a premier leader in the industry presenting the Portland International Guitar series which is one of the most important and celebrated classical guitar presenting and educational organizations in the nation with the presentation of over 150 concerts of the greatest classical guitarists in the world including the Romeros; John Williams; Manuel Barrueco; Roland Dyens; the Assad Duo; Grammy award winners Sharon Isbin, David Russell, Jason Vieaux, the Los Angeles Guitar Quartet, and many more. Among the featured performers in the series was famed guitarist Ana Vidovic, who predicted that Jenks's series would become "one of the most prestigious in the country"—a prediction now fulfilled.
To open this eminent series on Saturday, January 18 at 8 PM will be Spanish guitarist Virginia Luque who is returning back on popular demand after dazzling our Portland audience two years ago. She plays classical and flamenco music in a Spanish romantic style, combining extraordinary technical virtuosity with beautiful tone and musicianship. She is a former private student of Andres Segovia and holds a Master's degree from Julliard School of Music. She is also the music director and conductor of the New York Women's Philharmonic. She has been awarded First Prize at several international competitions, including the "Manuel de Falla" Competition for Classical Guitar in Granada, Spain, and has received the Lincoln Center Scholarship among other awards. The opening concert will take place in one of LA's most gorgeous venues the Shatto Chapel of the First Congregational Church of Los Angeles (FCCLA) featuring high arching Gothic architecture and outstanding acoustics.
Next, on Sunday, February 23 at 8 PM also at the Shatto Chapel of FCCLA will be an exciting concert featuring Mateusz Kowalski of Poland who recently won first prize in the prestigious EuroStrings Guitar Competition held in London (July 2019) which is a competition only open to first prize winners of 17 European Guitar festivals held in 2018 and 2019. In addition to the EuroStrings competition, he also won first prize in numerous other competitions and recorded his debut CD in 2018 distributed by NAXOS. This concert will also feature LA's very own concertmaster of the LA Phil, Martin Chalifour, playing duets on a historic Stradivarius violin with Slovenian guitarist Mak Grgic who is emerging as a star on the world wide stage and is touted as a "gifted young guitarist" by the New York Times, and "a guitarist to keep an eye on" by the Washington Post.
On Saturday,March 14 at 8 PM will be the legendary Scottish guitarist David Russell who won a Grammy Award in 2004 for his CD Aire Latino in the category of best solo instrumental classical album and he was inducted into the Hall of Fame of the Guitar Foundation of America in 2018. Classical guitarist David Russell is one of the leading guitarists of our time and is world renowned for his superb musicianship and inspired artistry, having earned the highest praise from audiences and critics alike. In recognition of his great talent and his international career, he was named a Fellow of The Royal Academy of Music in London in 1997. Mr. Russell has a vast repertoire and has recorded 27 albums. He has performed throughout the globe in the major concert halls of the world. This concert will take place at the serene St. Mary's Chapel located at the Chalon campus of Mount Saint Mary's University.
The next concert on Saturday, April 18 at 8 PM at the Shatto Chapel of FCCLA will feature Hawaii and Portland based U.S. Classic Guitar President William Jenks with internationally renowned Italian guitarist Giovanni Grano. William Jenks has toured extensively throughout the United States, Europe, South America, and Mexico and has recently returned from a tour to Spain, Austria, and Macedonia in May of 2019 where he performed solo concerts, taught master classes, and served on the jury for several international guitar competitions. Giovanni Grano also performs and teaches internationally and has recorded a series of CDs dedicated to romantic and contemporary music for guitar. His most recent CD called Phantasia was recorded and produced by the Italian label Symposium. This will be the annual U.S. Classic Guitar benefit concert which will help support a local need or charity in our community.

The next exciting concert of the season on Sunday, May 17 at 8 PM located at the First Congregational Church of Los Angeles Main Sanctuary which features an incredible ambiance and the largest pipe organ in the world will be the legendary Spanish Guitarist Angel Romero of the Royal Family of the Guitar with world renowned cellist Nina Kotova.Their recent sold out performance at Carnegie Hall was a tremendous success and they continue to dazzle audiences across the globe with their thrilling performances.
Considered to be one of the greatest guitarists in the world, at the age of sixteen, he was the first guitarist to ever perform with the LA Phil where he premiered Joaquín Rodrigo's Concierto de Aranjuez at the Hollywood Bowl. After an extremely successful career as a soloist, recording artist, conductor, and member of the Romero Quartet, he returned to the Hollywood Bowl in 2016 where he premiered another concerto written for him by the Argentinian composer Lalo Schifrin. This performance in front of a sold out audience of 17,500 with the LA Phil conducted by Gustavo Dudamel was recorded live and is now available on a Blue Ray disc called Tango Under the Stars.
The final grand finale concert of the series on Saturday, June 27 at 8:00 PM also at the FCCLA Main Sanctuary will be Jason Vieaux who won a Grammy award in 2015 for best solo instrumental classical album. He has been described by NPR as, "perhaps the most soulful classical guitarist of his generation" and by Gramaphone as, "among the elite of today's classical guitarists." Just recently on October 27, 2019 he held a captivated Portland audience spellbound with his interpretations of a wide repertoire from Johann Sebastian Bach to Pat Metheny.
In addition to six outstanding concerts, U.S. Classic Guitar remains committed to education and there will be master classes to accompany each performance. The master class schedule and information will be posted on the usclassicguitar.org web site.

Season Ticket Holders get great benefits including savings per individual ticket or savings for a group of 4 tickets, the best seating in the house, early entrance to each performance, discounts on additional tickets for their guests, and invitations to private events such as artist receptions. Season Ticket holders also receive an audit ticket to each master class. Season ticket holders may transfer their ticket to another person of their choice by emailing us at [email protected] or texting us at 971-715-8097.

Thank you for your support!

---