Marc Teicholz at GSI – Chopin on a 1971 Friederich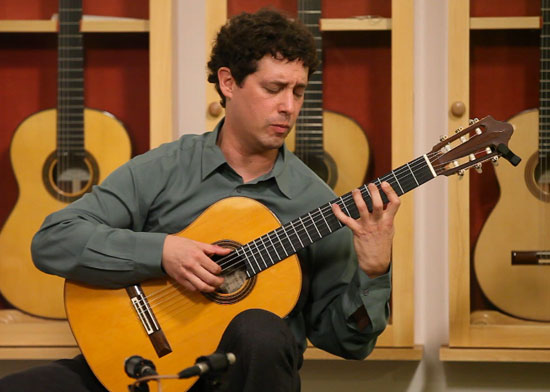 Last Sunday we held our 'Valseana Live' concert, which featured guitarist Marc Teicholz playing 8 amazing guitars – a 1921 Santos, a 1930 Esteso, a 1952 Hauser I, a 1971 Friederich, a 2007 Blochinger, a 1936 Fleta, a 1969 'Churchdoor' Rodriguez and an 1867 Torres. The evening turned out even better than expected, and it was a serious treat to hear Marc playing all of these guitars.
As promised we recorded the concert, and here is the first video – Marc playing Chopin on that 1971 Friederich. Here's the YouTube link, in case you have trouble viewing the video. We'll put up a new video each week so you can hear all of the guitars.
Our good friend Jurgen Reisch shot the concert for us.