Parkening Guitar Competition in Photos plus Our VIDEO Picks of Finalists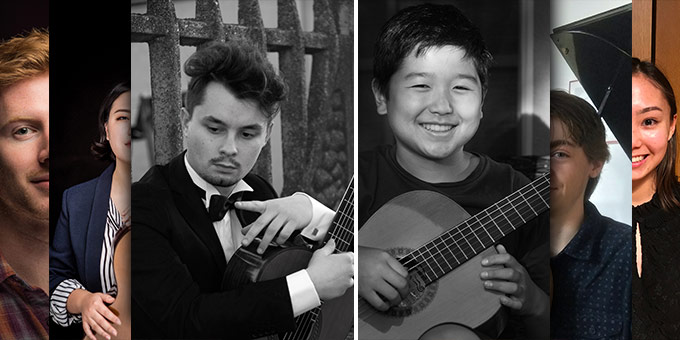 Our friends at Pepperdine University tell us that the 2019 Parkening International Guitar Competition was a great success, and we sure can tell it was a grand time by the photos the Parkening Competition team shared with us (check them out below!). As you may know, the Competition took place this past weekend in the beautiful facilities of the Lisa Smith Wengler Center for the Arts at Pepperdine University from May 28 – June 1. The closing ceremonies for the Young Guitarist Competition and the main division of the Parkening Guitar Competition took place on May 29th and June 1st respectively, and we're thrilled to share the list of 2019 Parkening International Guitar Competition finalists with you here. You may recognize some of these names as regulars in the showroom:
2019 Parkening Competition Results
Andrea Roberto – Gold Medal
Alec Holcomb – Silver Medal
Sergey Perelekhov – Bronze Medal
Bokyung Byun – Fourth Place
Junhong Kuang – Fifth Place
Riccardo Calogiuri – Sixth Place
2019 Parkening Young Guitarist Competition Results
Eric Wang – First Place
Nikolas Rejto – Second Place
Garrett Podgorski – Third Place
Hui Chan Yun – Fourth Place
Joseph Malvinni – Fifth Place
We're glad to have contributed to the Competition and its participants, as well as work with the great team at the Lisa Wengler Center, this year. We absolutely look forward to continuing to support future holdings of the Parkening Competition in our own way. These players are all so talented, and it's great that the classical guitar has a bright future ahead in the hands (albeit with caloused fingers) of each of these young artists.
To help you celebrate alongside this year's 2019 Parkening International Guitar Competition finalists, we've brought out our four video picks of those who have performed in our showroom over the years. Below, you'll see Alec Holcomb, Bokyung Byun and Garrett Podgorski on some of our finest guitars. To all the other Parkening Competition participants and finalists, you're all extremely welcome to stop by GSI, play some guitars and record some of your favorite music whenever you'd like!
no images were found