Performance Practice, Period Instruments and Italian Caprices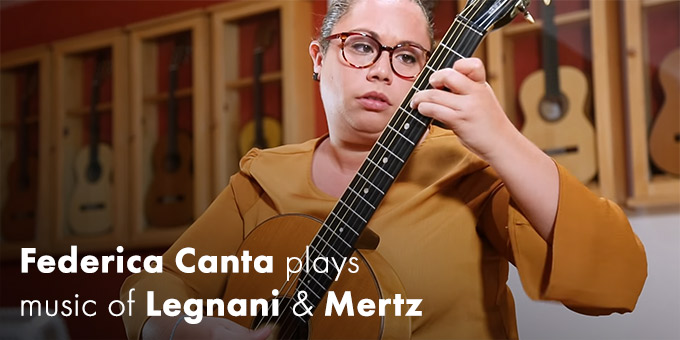 We were recently visited by the amazingly talented Italian guitarist Federica Canta who left us with four great performance videos, which you can view below. She specializes in performing Italian "Capricci" – indeed, in 2016 her thesis written while at the "G. Verdi" Conservatory in Milan was called "Italian Capricci through the Centuries", and so naturally, she left us with 3 performances of some great caprices by Legnani and Mertz on guitars by Geza Burghardt, John Weissenrieder and Edmund Blöchinger. Another of her specialties is performing music of the Romantic era on historical instruments – a passion she learned from Francesco Biraghi, one of her earlier teachers. So for her fourth video, we're treated to a stunning performance of the "Hungarian Fantasy" by Johan Kaspar Mertz on a 1924 Hermann Hauser guitar built with several "Viennese" style features from the previous era – borrowing many structural ideas particularly from Stauffer instruments, and we're delighted to hear that "period" sound comes across beautifully under her fingertips.
Although still quite young, Federica has many impressive accomplishments already behind her. In June 2017, she received her Masters in Performance Practice with High Distinction at the Koninklijk Conservatorium of Brussels, where she studied with Antigoni Goni. Between 2010 and 2013 she attended the prestigious "Giulio Regondi Guitar Academy" in Milan with Andrea Dieci and Bruno Giuffredi, where she was chosen as most promising student of the year 2013. Federica has attended masterclasses given by Andrea Dieci, Lorenzo Micheli, Matteo Mela, Carlo Marchione, Giulio Tampalini, Antigoni Goni, Elena Papandreu, Margarita Escarpa, Pavel Steidl, Marcin Dylla, Leo Brouwer, Sergio and Odair Assad, Francesco Molmenti, Marco and Stefano Bonfanti and Piero Bonaguri. In recent years, Federica has been dividing her attention between performing aspects and music research, with main focus on the interaction between performance practices and methodical strategies to reach goals. Her thesis "Through your comfort zone", aims to spread the importance of time management and other techniques to exceed our limits as musicians. Her most recent studies have been in a postgraduate program in Music at the Koninklijk Conservatorium of Brussels, with her research focusing on chamber music repertoire with guitar, which included the role of Chamber Music Coach as assistant teacher of Antigoni Goni.