Relive the Antonio Rey Concert in Performance VIDEOS & PHOTOS!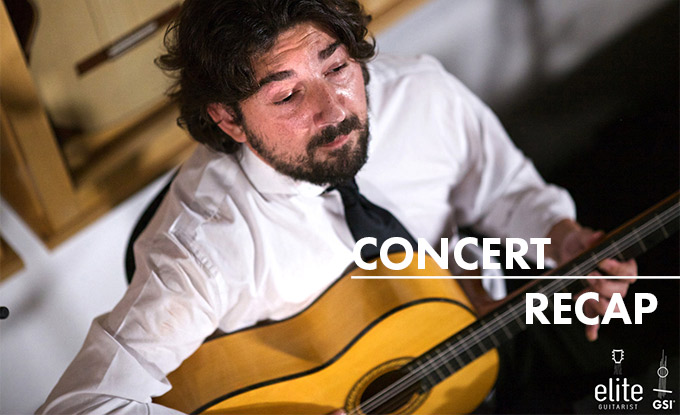 Our second event of the 2019 GSI Concert Series took place early this year in March, and it was another full house event with flamenco great Antonio Rey taking the showroom stage. In hindsight, this event was not underestimated, and correctly so – even after following the great success of the "Scott Tennant and Friends" show – since this show packed quite a punch of its own.
Antonio Rey spectacularly performed many of his own tunes that night, and you can now watch our selected portions of the recorded performance below in 3 parts. It's interesting to note that he chose to perform with one guitar that particularly caught his interest: the 2007 Manuel Reyes in spruce and cypress, which he chose from our selection at the time. He loved it so much that he decided to take it home! At times, Antonio was joined on stage by cajon player Diego Alvarez, who is one of the biggest names in flamenco percussion over the last 25 years. The two greats proved to make a fiery combo.
"The intimacy of the concert was reminiscent of a performance in a nestled garden in Seville Spain. Where the appreciation of the audience, the quality of sound and brilliance of the performance fuse to leave all involved with a special and cherished memory." – Armand Arnazzi of G.V. Rubio Guitars
Our friends Tavi Jinariu and Taso Comanescu joined us for the night (they were ecstatic as you can see below!), representing EliteGuitarist as the co-sponsoring entity of the concert. As part of EliteGuitarist's efforts to promote quality online flamenco instruction, they have released a flamenco guitar track on May 1, 2019, which features lessons by Antonio Rey, Amir John Haddad, Jose Tanaka, Vahagni and many others.
We have seen many great audiences in past events, still this audience had a special energy to it; perhaps because there was flamenco in the air by a special performer on a special instrument, or perhaps because Adam del Monte, Jose Villegas as well as guitar duo Strunz and Farrah joined us. At the end of it all, it was nice to see everyone enamored by the art of flamenco, and we're glad you all made it as much of a success as it was!
Leave a Comment