Roland Dyens in Concert & Masterclass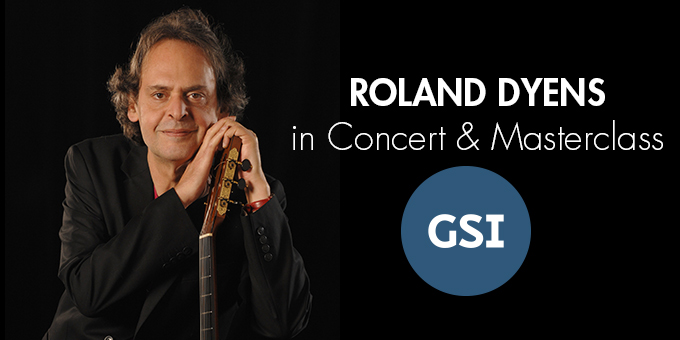 GUITAR SALON INTERNATIONAL PRESENTS VIRTUOSO ROLAND DYENS IN CONCERT AND MASTERCLASS ON JUNE 27TH AND JUNE 28TH
(Dyens will perform on Classical Guitars by French makers)
Santa Monica, CA – On Saturday June 27, 2015, Guitar Salon International (GSI) will present French master guitarist and composer Roland Dyens live in concert at the GSI Showroom in Santa Monica, CA. The concert will start at 7:30pm, with doors opening at 7pm and tickets priced at $22. Mr. Dyens will perform his evening concert on a selection of collectible classical guitars made by legendary French luthiers such as Daniel Friederich, Robert Bouchet and possibly others, provided courtesy of GSI and friends of GSI. To purchase concert tickets, please visit the GSI Store. The day after his concert, the virtuoso will teach a masterclass with five student participants on Sunday June 28th in the same location. The masterclass will begin at 12pm noon and is free for public viewing.
For years, Dyens' compositions have been an integral part of the guitar's repertoire, placing him at the heart of a small group of living guitarists and composers who continually contribute to the body of contemporary compositions for the classical guitar. Mr. Dyens' program is unlikely to be announced in advance as the maestro is known for his spontaneous performances of a wide selection of repertoire ranging from pieces of the standard repertoire to his very own compositions as well as creative and tasteful interpretations of popular French songs and ballads.
Those who attend the Saturday evening concert will enjoy Roland Dyens' sensitive and colorful approach to guitar playing and an unfailing open-mindedness that bring together various forms of music to every performance. Those who watch Mr. Dyens' masterclass will notice his keen sense of quality and emotional strength as well as his natural ability to communicate with younger generations of guitarists in order to transform the formality of a masterclass into a joyful experience for all.
Guitar Salon International is located on 1455 19th St., Santa Monica, CA 90404. For additional information regarding both events, guitarist Roland Dyens and/or anything in question that was mentioned above, please contact us. To purchase concert tickets, please visit the GSI Store.