Scott Tennant – 1919 Santos Hernandez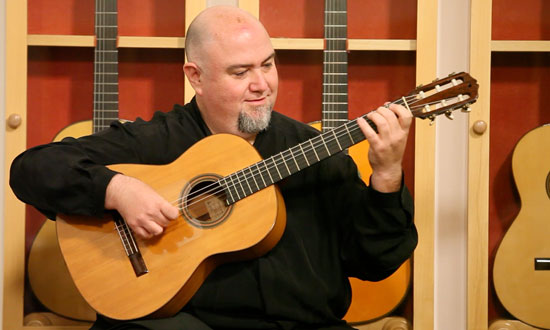 Here's the first video from our June 1st event featuring Scott Tennant playing guitars from the Pepe Romero collection that inspired Pepe Romero Jr. as a luthier. The first guitar we have, which was the first guitar of the evening, is a 1919 Santos Hernandez cypress guitar (though as Pepe Jr. points out, being a cypress guitar doesn't necessarily make it a flamenco). Scott played three renaissance pieces – Galliard by Alonso de Mudarra, 'Welscher Tantz Wascha Mesa' by Hans Neusidler and 'Fantasia que contrahaza la harpa en la manera de Ludovico' by Alonso de Mudarra.
Special thanks to Pepe Romero Sr. for letting us hear these fantastic guitars, to Bodegas M for providing amazing Tempranillo and Albariño wines, to Carlos Flood of recorditlive.com, who recorded audio for us on an A.I.R. console, and to Jurgen Reich for his beautiful photography.