Scott Tennant and Segovia's Ramirez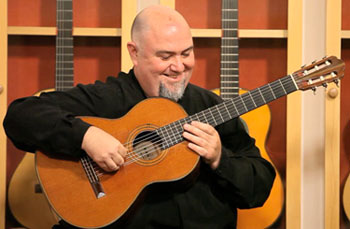 When Scott Tennant came by to play some of the Cleveland Collection guitars late last year he more or less fell in love with the 1969 Ramirez that Segovia had owned and played from 1969 to 1980. When he told us he was about to record a CD of Segovia's compositions we all had a Eureka moment and realized he had to record the CD using this guitar. The CD will be produced by the Guitar CoOp in Brazil (which is headed by our friend Marcelo Kayath) but we will record it here in Santa Monica.
Back in January we went with Scott to Apogee Digital's Berkeley St. Studios to play with their new flagship Symphony I/O MkII interface and mic pres and record Scott playing the Segovia Ramirez. As you can see, we also had some help from our friends at AEA Microphones, who lent us their amazing R44ce and a pair of N22 active ribbon mics for the session.
The videos we shot were more by way of teasers and to show off the new Apogee Symphony, but they'll give you a taste of what to expect from Scott on this amazing and historic guitar. Scott is still in pre-production for the CD and we don't have dates yet, but we're very excited to be able to provide this great guitar for Scott's next project which just happens to be so very appropriate.