Staff Video Picks – Saad Siddiqi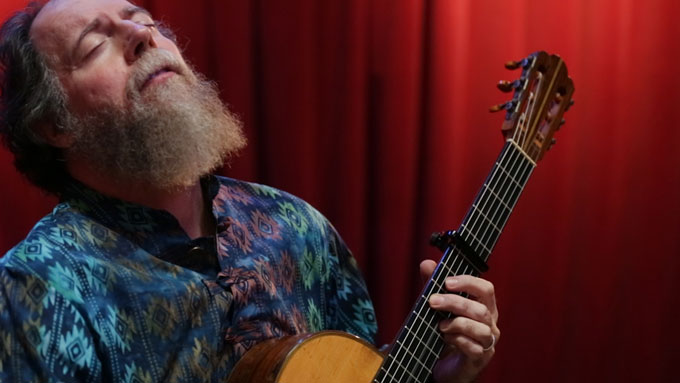 Check out Saad Siddiqi's top-five list of favorite GSI videos to date. Saad is GSI's social media manager, so he's spent a lot of time with these videos (and apparently obsessed over more than one of them!).
5. Jaxon Williams on Hauser 1 'Vienna'
I loved this performance for three reasons. Firstly, it was the first time we experimented with Facebook Live as a potential platform for GSI and thanks to Jaxon's skill as a performer as well as his outgoing personality, it was a huge success. Secondly, it was my first encounter with this particular piece and It was just enjoyable to watch somebody having fun playing a piece that is simultaneously so musical and technically challenging. Thirdly, I know from personal experience that the 1910 Hauser that Jaxon performed on isn't exactly an easy instrument to simply pick up and play if you're anything like me and are used to modern neck profiles and huge projection with minimal effort. Jaxon handled it beautifully, making this my number 5 most favorite video.
4. LA Duo play Debussy 'Reverie' on Fritz Ober and Ober/Blochinger
This is probably one of our most underrated performances here at GSI. I've always been an admirer of Debussy and I remember doing some pretty extensive harmonic analysis of his work back in college, needless to say its not an easy thing to perform his work on the guitar. This piece in particular struck a chord with me (no pun intended), I've been a little obsessed with it ever since it was used as a plot device in HBO's newest original series 'Westworld'. I love the tone colors these two played around with in this performance, as well as the melodic dialogue they are having. Overall a great performance that earned a spot on my top 5.
3. Tavi Jinariu plays 2013 Reynoso "danza brasilera'
I love this video for one main reason: Its one of my favorite guitarists playing one of my favorite pieces on a guitar by one of my favorite luthiers. Tavi really did an excellent job of showing off this guitars best sonic characteristics with all of the different timbres he uses. The groove is incredibly tight here, and I'd argue that this is the best interpretation of this piece on the web right now. And did I mention that the 'style' factor is just off the charts in this video? Tavi really puts the icing on the cake with the Travolta-esque harmonic at the end, a bold statement for a boldly crafted instrument.
2. Duo Deloro- 'El Choclo' on Luigi Locatto and Carbonne Torres
I have to admit: I've watched this video about a thousand times. Having said that, its one the few performances we've had here at GSI that I just cannot seem to get enough of. The ensemble factor is impeccable, Mak and Adam have such wonderful synergy and it really shines through in their playing. And everything sounds just sounds so good on a Torres, even replicas and inspired recreations such as these.
1. Andrew York "The Equations of Beauty" Movement VI, 'c'
This is one of those magical moments where artistry, history and music intersect to create something wonderful. This was my favorite movement from Andy's suite "The Equations of Beauty" (which I'll mention, is absolutely gorgeous as a whole). Watching Andy play is mesmerizing, like watching the whirling of a dervish. This piece is just so different in the scope of what's out there in the classical guitar world today, which is one of the reasons why I love it so much. And to hear it on Julian Bream's Hauser II just makes it all the more special. Probably the only video we've made that I can never watch without grinning and getting goosebumps, every single time.