Teacher Spotlight: Benjamin Johnson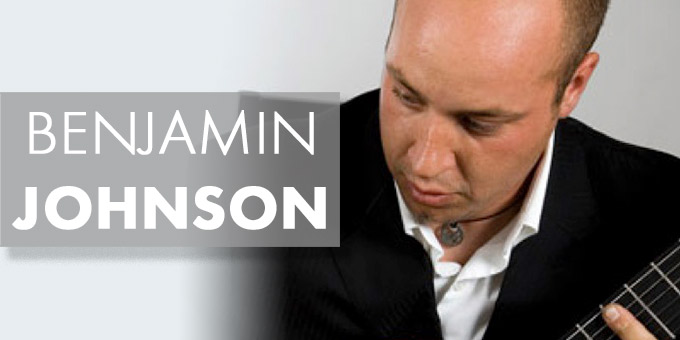 As an active performer and teacher Mr. Johnson currently serves as the Head of the Classical Guitar Department, Director of Classical Guitar Ensembles, and Professor of Music Theory at Colorado State University in Pueblo. He also teaches outreach programs for the Colorado Springs Conservatory. As an ambassador of the guitar, Benjamin Johnson is dedicated to performing works for the guitar from all eras of music in many venues both conventional and unconventional. As an avid chamber musician, he has recently performed the chamber works of Astor Piazolla in collaboration with other chamber musicians.
Johnson has worked with several composers as well, such as Stephen Goss, Chappell Kingsland, and Nicolas Deyoe. He performed the world premier of two guitar preludes by Nicolas Deyoe and assisted Chappell Kingsland and Safonia, a women's vocal ensemble, on a Christmas album in 2006. He also released a solo album entitled Art of Guitar in 2003. His guitar duo, Duo Soledead, took home the top prize for professional ensembles at the Guitar Ensemble Competition at the University of Texas, Brownsville in 2008. Johnson has had the opportunity to perform in many masterclasses with some of the most renowned guitarists in the world including Paul Galbraith, Judicaël Perroy, Nikita Koshkin, Simone Fontanelli and Wulfin Lieske. Benjamin Johnson received his undergrad training under the internationally renowned guitarist Jonathan Leathwood and his graduate training from Ricardo Iznaola, one of the most sought-after guitar pedagogues in the world. When he is not performing or teaching, he enjoys his time with his wife and three children.