The Most Romantic Guitar Videos on the GSI YouTube Channel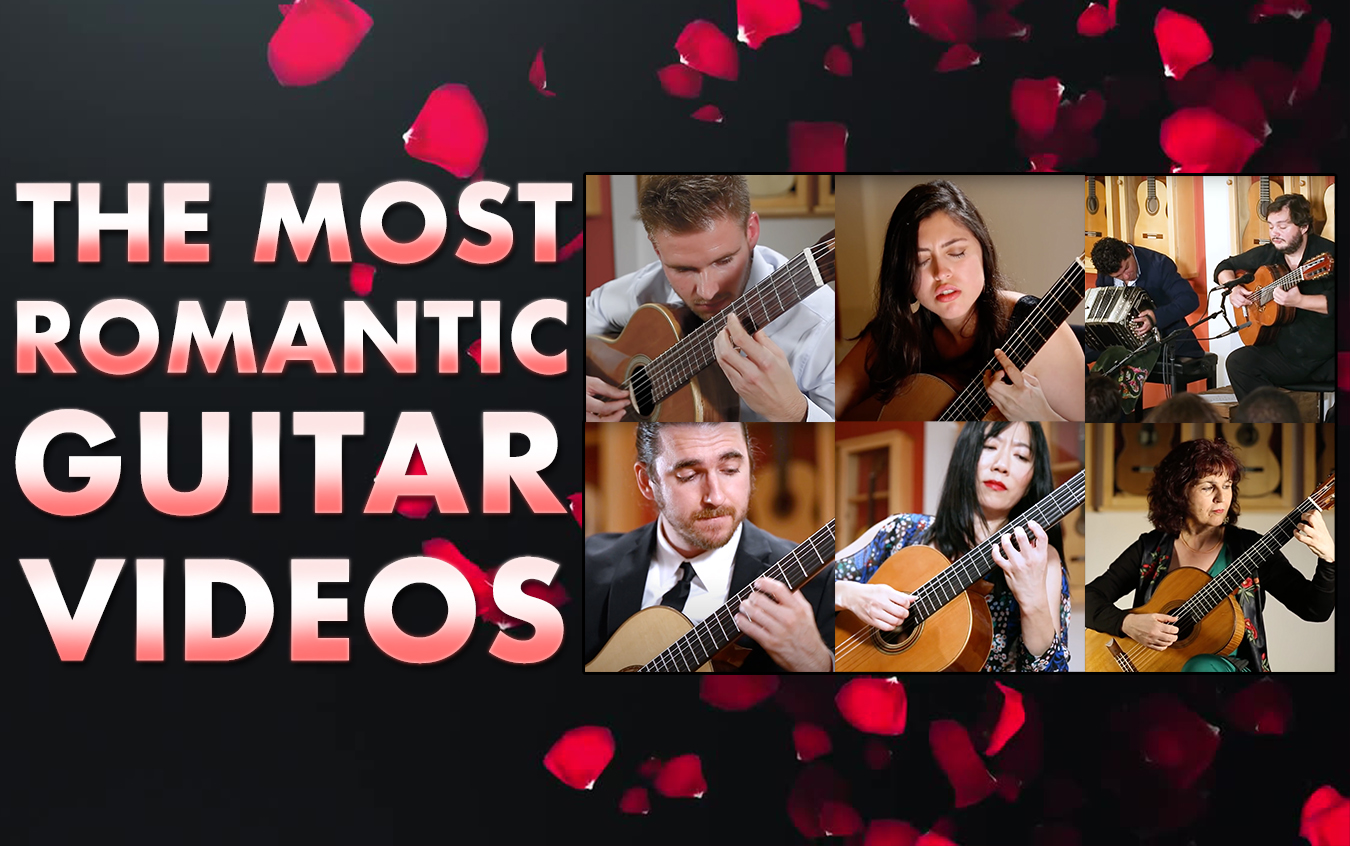 Valentine's Day is just around the corner! To celebrate this day, we've prepared for you our picks of the most romantic performances on the GSI YouTube Channel!
Guitar is known to be one of the most, if not the most, romantic instrument. A confident guitarist can win over many hearts, no matter whether he or she plays a song alongside a campfire or performs in a great concert hall. Guitar, has this unique ability to always sound very intimate and beautiful. Our short list was very difficult to assemble, since we've had so many great performances that could be included in this list. However, we decided to pick six performances, and each one was selected for a slightly different reason.
Sebastián Yradier's "La Paloma" was written around 1860 after the composer's visit to Cuba. It is a habanera, a form which became extremely popular in both Spain and Americas. La Paloma was a particularly successful example of this dance. In fact, this piece was one of many inspirations for George Bizet to write the famous "Habanera" from his opera "Carmen", written in 1875. We've included on our list Florian Blochinger's guitar performance of Yradier's "La Paloma", not only because it's one of the most romantic piece ever written, but also because there is something very special about luthiers performing on their own instruments.
---
Even though it's quite rare among classical guitarists to sing and play at the same time, guitar is an ideal instrument to combine with human voice. In 2019, Alexandra Iranfar moved all of us with her beautiful singing and guitar playing when she recorded "Aguas Da Montanha (Passou o Verao)" by Christopher Tin on a 2019 Sebastian Stenzel CD/WN – an incredibly warm and rich in sound guitar perfectly suited to this song.
---
The next position on our list belongs to Yamandu Costa and Richard Scofano and their performance of their own composition, "Manhanera". This is piece is a tango written for bandoneón and guitar. Combining the sound of a guitar and bandoneón provides a truly romantic sound. Yamandu also is an absolute master of timing and rubato in his playing.
---
Of course, this list wouldn't be complete without a piece by Agustín Barrios Mangoré! We decided to include Taso Comanescu's performance of "Julia Florida" which is arguably the most popular piece written by Barrios. According to Rico Stover, a guitarist and the author of Six Silver Moonbeams: The Life and Times of Agustín Barrios Mangoré, "Julia Florida" was written for one of Barrios's students – Julia Martinez de Rodriguez who was the niece of his friend, Francisco Salazar. Taso recorded this piece on a 2019 Richard Reynoso SP/IN – a guitar with a robust sound, a rich palette of colors and almost a "cathedral-like" reverb sound which emanates from the box. This type of instrument gives Taso's performance of "Julia Florida" a truly rich, yet subtle sound.
---
We decided also to include Xuefei Yang's performance of "Eterna Saudade" a beautiful melancholic and romantic waltz written by Brazilian guitarist and composer, Dilermando Reis. Xuefei recorded this piece on a 1925 Santos Hernandez SP/MH – a guitar with particularly rich, deep and almost "pensive" quality of sound.
---
"Love Waltz" is one of the most popular tunes by Ulrik Neumann who was a Danish guitar player, actor and composer. Sometimes, all one needs is a simple melody played with a beautiful tone on a great guitar! Therefore, we had a to include on our list this great performance by Eleftheria Kotzia recorded on a 1930 Hermann Hauser I "Llobet" SP/MP. This is a guitar with a truly timeless grace. Being a maple guitar, it has a rich, deep texture that gives it a unique lyricism and great beauty of tone.