Tomasz Fechner teaches and performs at EliteGuitarist.com. Sign-up today and receive your 30-days FREE trial.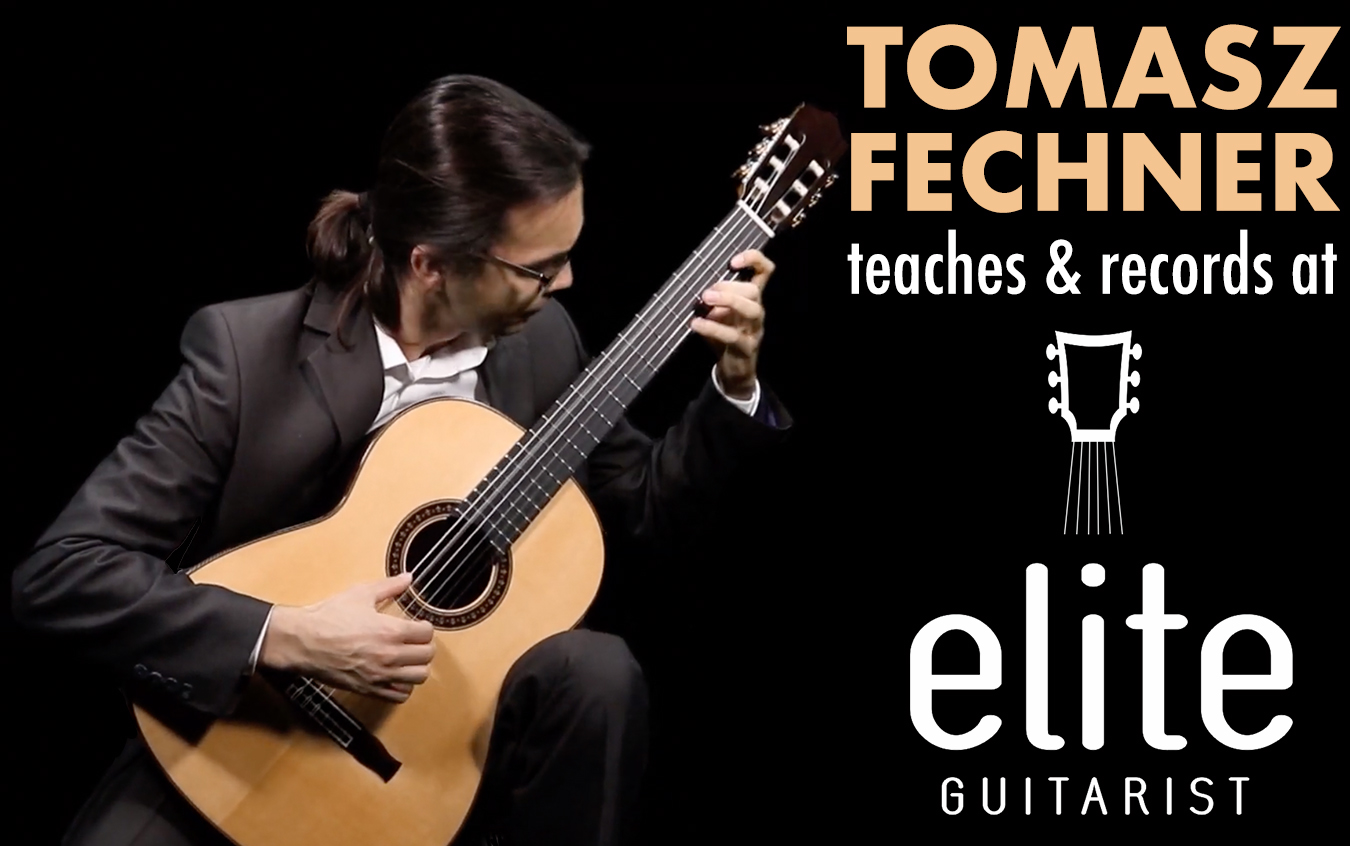 Our very own Tomasz Fechner has recently recorded a series of tutorials for EliteGuitarist.com on several GSI guitars. Tomasz's first tutorials have already been published and there are several more to come! You can sign-up today and still receive a 30-day FREE trial to access all Elite Guitarist tutorial videos as a part of the Round 2 Lessons Stimulus Package.
Tomasz started recording tutorials for EliteGuitarist.com a few weeks ago, featuring a different GSI guitar in each video. Just like all other Elite Guitarist videos, his lessons include tutorials, performances and fast-tracks. During his first recording session Tomasz recorded lessons teaching Francisco Tarrega's "Danza Mora" which is geared towards advanced players. For this lesson Tomasz played on the 2020 Francisco Munoz Alba "Homenaje" guitar. He then conducted another lesson for beginners, teaching and performing the famous piece, "Spagnoletta" from Codice Magliabec.XIX, 105 by an anonymous composer. For this tutorial, Tomasz played on the new 2020 Vicente Carrillo "India Estudio" CD/IN guitar.
In the upcoming weeks EliteGuitarist.com will feature more of Tomasz's videos, including tutorials to pieces by Heitor Villa-Lobos, Fernando Sor and Mauro Giuliani.
For those of you who don't know, Tomasz initially came to the United States from Poland in 2014 as a Fulbright scholar to study with William Kanengiser and Pepe Romero at the USC Thornton School of Music. Tomasz has recently graduated from his doctorate degree and became USC Thornton's Outstanding Graduate and the recipient of the GSI Scholarship awarded by the GSI Foundation. Prior to coming to the United States, Tomasz participated in numerous guitar festivals throughout Europe and has received many international prizes and awards. Since January 2020, Tomasz has been working for GSI as the marketing coordinator and foundation consultant.
Check out the classical guitar extensive tutorial library. Want to develop your technique or learn a specific piece? Now you can! Knowledge of music theory and/or classical guitar technique is not required.
Check out these flamenco guitar lessons taught by today's greatest flamenco artists. From flamenco guitar technique to rhythmic patterns. It's all taught here! EliteGuitarist offers the most authentic and comprehensive flamenco courses today!
Get your feet wet in jazz or go for a deep plunge! EliteGuitarist has one of the most complete jazz courses online today! Check out the full library of resources.