VIDEOS: Jose Carlos Cabrera plays 3 Barrios Mangore pieces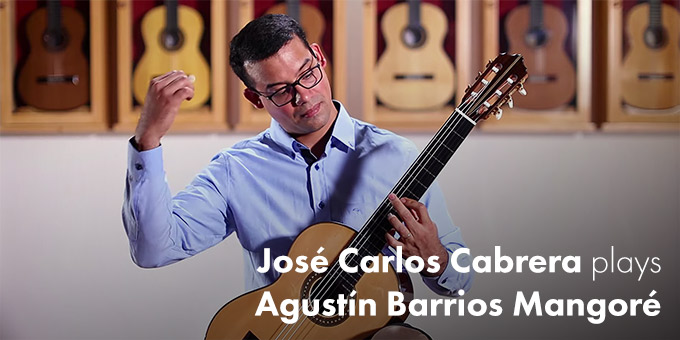 Paraguayan guitarist José Carlos Cabrera was a recent guest of ours in the Salon, and totally floored with some incredibly clean and sensitive performances! José recorded 3 pieces by none other than fellow Paraguayan Agustín Barrios Mangoré. José, who is known for his authentic performances of Barrios' traditional Paraguayan music, actually recently released an all-Barrios album titled Oración (see it here!), in which he plays some of the classics and many lesser-known but incredible works. It's available on the Contrastes record label. He has been performing all over Spain, and South America since 2016 and is currently known as one of most sought-after performer of Barrios' music. José was in Los Angeles to perform a concert and we are super excited he was able to make some time to stop by and record some of his program and album tracks with us.
To start off, José plays a wonderful, brand new 2019 Erez Perelman SP/CSAR on "Danza Paraguaya" (track #20 on his CD). Next, he plays an extremely charming 1928 Hermann Hauser I, whose spruce top has aged very finely and which appropriately expresses the sentiment in "Caazapa" (track #19 on his CD). To close off, José plays "Preludio en Sol menor" (not found on his CD) on the exciting 2003 Jeffrey Elliott guitar that plays with clear articulation and suits the prelude very well. Here, we get a special treat to hear two previously unheard pieces on our YouTube page: "Caazapa" and "Preludio en Sol menor", and it's nice to hear a champion of Barrios' music play at least one piece he has not yet recorded, especially on GSI guitars and exclusively for us (and you)!
Enjoy!