WATCH: Jennifer Kim plays Scarlatti & Llobet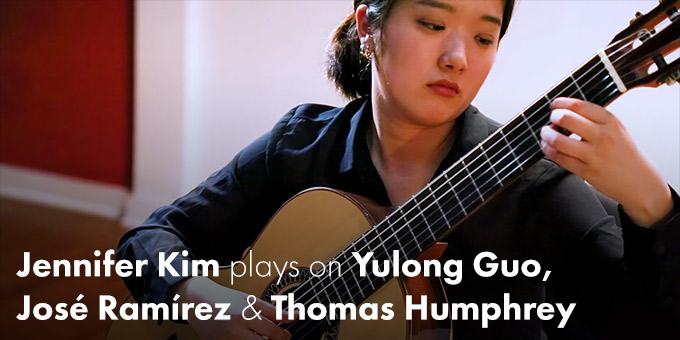 To those of you regularly following our YouTube channel, you'll know Jennifer Kim, who has been coming in and doing videos for us the past few years. She's now a student of Manuel Barrueco at the Peabody Institute Of The Johns Hopkins University. She was recently in town and stopped by the showroom to perform some of her current repertoire. Here she is playing 3 dazzling pieces: two Sonatas by Domenico Scarlatti – Sonata K.32/L423 on a 1986 Thomas Humphrey "Millenium" and Sonata K.27/L449 on the award-winning 2019 Yulong Guo "Granada" guitar. She also played a the highly virtuosic "Scherzo Vals" by Miguel Llobet with ease on a 2018 José Ramírez "Tablao".
Enjoy Jennifer Kim's great playing from her most recent visit, and we look forward to seeing her again, hopefully soon!