Frequently asked questions
How to buy a guitar
Buying advice
Purchasing a guitar is an important and very satisfying experience, particularly when the selection process is done with full knowledge of all available options. At GSI, it is our pleasure and duty to ensure that all relevant information about the instruments we represent is made readily available to our customers. There are a couple of simple steps that can be taken to help reduce the number of options to a manageable quantity.

Does it fit the Budget? – First off, what price range are you comfortable with? What are the limits you've set – low and high – for your ideal instrument, and how much are you willing (or not) to stretch those limits if the instrument of your preference falls under a different price range? Whatever your choice, be sure you feel comfortable with the dollar amount you are about to invest in your instrument.

Type of "Sound" – The great thing about the world of fine instruments is that they all sound and play differently from one another. Many luthiers build instruments with tonal characteristics that are uniquely their own. Many players looking to buy a guitar have a particular quality of sound in mind – oftentimes because they have been inspired by the sounds they've heard in a recording done by a favorite artist, or because they need an instrument with certain performance qualities (for example an instrument that projects clearly in ensemble settings without getting 'lost' in the mix). Some basic categories to think about that are always helpful are: Bright vs dark/warm? Clear vs. full? Dry vs. 'wet'? Rich/complex vs. focused/clear? The list goes on, but having a sense of what you're looking for will be very helpful in the narrowing down process of selecting the right guitar for your tastes and needs.

Guitars are built with a variety of materials, bracing patterns, thicknesses, body shapes and sizes, and these all affect the way they sound in the end. Our sales staff are trained and experienced in knowing how to traverse this complex terrain of tonal possibilities, and we are here to help you make the selection process of your next guitar an easy and enjoyable experience.

We'll continue to update this post with more details and advice, but in the meantime, feel free to contact us with any questions. It's what we're here for!
Auction
How it works
We strive to provide a top quality auction feature where buyers get the chance to buy a world class guitar at a price they are personally comfortable with. After working to determine a minimum reserve, bidders who have a GSI Auction account can enter their offer for the guitar. At the end of the countdown, the highest bidder above the reserve wins the guitar. Please be careful when bidding, as all bids are considered final offers on guitars, and the winning bidder will be responsible for purchasing the guitar.
How long do auctions last?
Auctions typically start and end on weekdays, with regular listings live on the site for 2-7 days depending on the auction.
What is a reserve?
A reserve is the minimum price that a guitar will sell for. While we do show list prices, reserve values are not explicit on the listing. Instead, bids indicate whether the reserve has been met or not. A guitar will not be sold below the reserve price.
How do I register to bid?
You can register to bid by entering your information on this page. You will receive an email asking you to verify your email address and doing so is required in order to place a bid. If you don't see the email, make sure to check your spam or junk folder as these emails often are labeled incorrectly as spam.
How does bidding work?
You simply type in the amount you would like to bid. If it's higher than other bids and there is still time on the clock, you become the high bidder. Bidding advances immediately to your entered amount. The bid you place in the bid box will become the new high bid and the amount you will be responsible for paying should you win the auction.
How can I sign up for auction updates?
You can subscribe to receive email auction updates by clicking into an auction listing and selecting the HEART button at the top. If you no longer want to receive auction updates from a particular auction, you can click the HEART button again to un-watch it.
I want to bid on a listing. Where can I find all of the relevant details?
We encourage all potential bidders to read the entire listing on the page, which includes important specs, a detailed description, photos, and an embedded video with a high quality recording of the guitar being played by a professional guitarist.
What happens if I win an auction?
If the timer ends and you are the highest bidder, you have won the auction. You will be contacted by representatives from Guitar Salon International who will work out payment and shipping details with you.
How does shipping work?
Shipping costs are the responsibility of the purchaser, and not included in the bid. Depending on your location, we offer UPS Ground or Overnight options. Feel free to contact us for help with best shipping options.
Are there any other costs besides purchase and shipping?
Unlike some other auction sites, we do NOT charge a buyer's premium. However, depending on your location, you may be responsible for paying applicable sales tax or import duties.
Financing
Finance your guitar with Affirm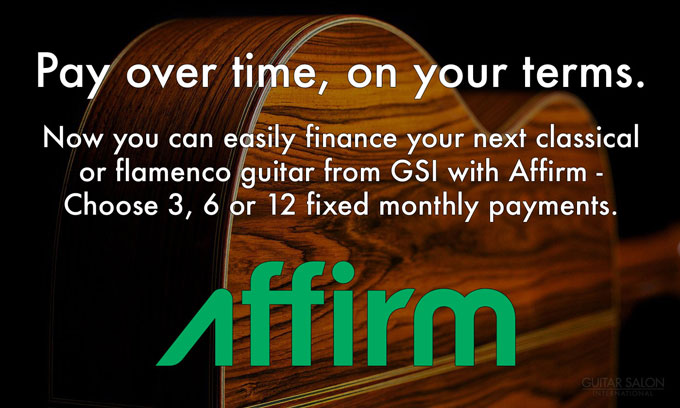 Now you can finance your guitar purchase at GSI through our partnership with Affirm Financing! Take up to a full year to pay for your guitar with no hidden fees and simple interest (not compound) so you know exactly how much you are paying and what your monthly payment will be. The process is easy:

-Choose your guitar and add it to your GSI shopping cart.

-Select Affirm as your payment method during the checkout process.

-You'll be sent to Affirm's secure website where you'll apply. Provide your basic information. Get instantly approved. Choose to pay over 3, 6 or 12 months.

-Once you've been accepted, you will be sent back to our website to see your completed purchase.

-Start playing your new guitar!

If you have any questions call us at 310.586.1100 to speak to someone from our sales team.
Sell your guitar to GSI
Three Flexible and Easy Options:
If you're selling a classical or flamenco guitar, we're likely very interested in working with you. Depending on the details of the instrument, as well as your cash needs, we have a few options to accommodate virtually any situation:
Sell Outright – We may simply offer to buy your guitar outright. This would likely be the quickest way to get paid for your instrument.
Sell on Consignment – We would agree on a fixed payout price to you up front for your guitar, then list the instrument for sale on our site. Payout to you is 30 days after your guitar has sold.
Trade-in – Should you wish to use your guitar as currency towards the acquisition of a different guitar from us, we would be happy to discuss a trade-in option for your instrument.
Whether you sell outright, on consignment or as a trade-in, we're here to help you find a new home for your instrument. We'll continue to update this post with additional details and information, but if you've got an instrument you're considering parting with, contact us today!
How to care for your guitar
Strings
A common question among players is "how often should I change my strings?". That ultimately depends on how often you practice: if you play every day for an hour or more, re-stringing once a month will usually do the trick. If you play less, you can do it less often, and vice-versa. Lightly wiping the strings after each practice session may slightly prolong their longevity. But make sure you use a different cloth than the one you use to wipe your guitar. For a step-by-step guide to restringing a guitar, see "How to Properly Restring Your Classical or Nylon String Guitar" in the FAQ section.

Re-stringing is a fairly straight forward process. But there are a few steps you can take which may help prolong the life of your guitar. The most important one is to avoid taking off all of the strings and then immediately installing the new set and tuning it to pitch.

The strings produce a considerable amount of tension on the soundboard and bridge, and releasing all of that tension suddenly, only to re-apply it a few minutes later can take its toll on the wood. Instead, remove one or two strings at a time; replace these 2 strings and then move on to the next two, and so on. This minimizes the "shock" that the wood encounters. Doing so reduces the risk of the bridge lifting off of the soundboard.

It is also a good idea to put a small piece of plastic or cardboard behind the bridge, in case the strings slip and slash against the soundboard. Finally, when you are done, use a pair of nail clippers to remove the excess string at the headstock. Planet Waves offers an 'all-in-one' string winder/clipper.

Like all material goods, wear and tear are factors that all guitars are exposed to. While it is obviously important to take good care of your instrument, it is also important to remember that guitars are built to be played, and therefore a few dents and scratches will undoubtedly occur over time. But as long as you are reasonably careful with your instrument these will be minor and should not affect your guitar's performance.
Woods
The most critical factors with respect to wood care concern humidity, dryness, and temperature. As we mentioned in part one of this article, 40-70% relative humidity is the safe range for storing your guitar. For more detailed information, see the section of FAQ about humidification.

There are a few important measures you can take to further preserve and prolong the life of your guitar: a good case is essential; and a sturdy guitar stand is a good way of keeping your instrument safe when it's out of its case or your cautious hands.

When it comes to normal wear and tear, a quick way of protecting your guitar's wood (and finish) is by using a soft cloth as a right hand arm-rest to protect the edges of the guitar. Many players find it comfortable to use an old sock with the toes cut off to cover their elbow/forearm when wearing short-sleeved shirts. This not only protects the wood and finish but it makes it easier to slide your arm while playing. Also, remember to be mindful of shirts with buttons and metallic pens in your shirt pocket: you could add some nasty scratches to the back of your guitar.
Also, if you are "heavy-handed", a Kling-On may be of great value: it consists of a removable plastic film that works as a tap-plate. Do be careful to remove the Kling-On and wipe the guitar with a soft cloth when you've finished playing. Otherwise, a small cosmetic mark may be left on your soundboard. If you wish to install a permanent tap-plate, be sure to find one as thin as possible so that your soundboard's vibration is not restricted. Ideally you should have a luthier install it for you to avoid any air bubbles from becoming trapped between the soundboard and the tap plate.
Finishes – French Polish/Lacquer
Two common questions guitar owners have on this subject are:

"Should I always use guitar polish when cleaning my guitar?"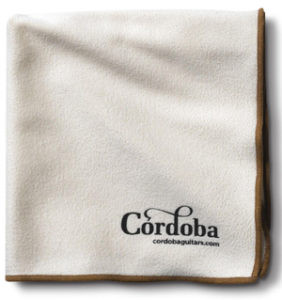 and "What type of polish should I use?"

There are a couple of important things to remember regarding this. First, wiping your guitar regularly greatly minimizes the need for polishing. When you do find it necessary, consider that certain types of polish may not be well suited to your type of finish.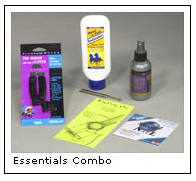 The finish on a guitar serves many different purposes: not only does it make the instrument visually appealing, but more importantly, it prevents dust, excessive moisture and oils from entering the wood. It also protects against scratches, and in some instances it may even prevent fine cracks from spreading. For these and other reasons it is important to keep the finish in good shape.

Fortunately, protecting the finish is a fairly easy thing to do. First of all, it is recommended that you lightly wipe your guitar after every practice session. This type of cleaning requires nothing fancy: a soft cloth is sufficient; although if you want to do a more thorough cleaning, a leather chamois works wonders: it is extra soft, and it easily removes fingerprints or sweat.

Lacquer
Two inherent characteristics of lacquer are its strength and durability, making it generally safe for polishing. Make sure that you use formulas specifically designated as 'Guitar Polish'. While some people like to use car or furniture polish, many of these products contain abrasives and other ingredients which may scratch or otherwise damage your instrument. Guitar polishes are specially formulated to be gentle on lacquer finishes. GSI recommends Planet Waves' "Polish Spray" and "Polish/Conditioner". Remember: Always apply the polish to the cloth, never directly to the guitar.

French Polish (Shellac)
People who own guitars with shellac should be particularly mindful of polishes and conditioners. In general, it is usually safer to use a soft cloth lightly dampened with plain water. If you absolutely need to use polish, then STAY AWAY FROM SOLUTIONS THAT CONTAIN ALCOHOL. Shellac dissolves in alcohol; which means that along with any unwanted blemish, you may be removing your beautiful French polish. If you do find a formula that is alcohol-free, use it sparingly and be sure to spray it onto a cloth, and never directly onto the instrument.
Humidification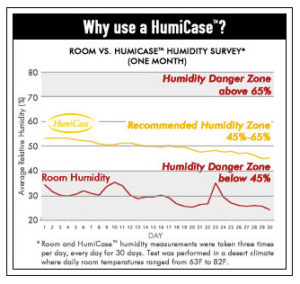 Classical and flamenco guitars tend to be more susceptible to improper humidity than their steel-string and electric counterparts. With a little bit of knowledge and common sense a guitar can be kept in good shape, preserving not only its playability, but its aesthetic beauty and value as well.

The worst threats to a guitar's 'good health' are: excessive dryness, excessive humidity, and sudden changes in temperature/humidity. However, it cannot be emphasized enough that excessive dryness is the most dangerous of the three.

Excessive dryness is a condition that can be caused by natural atmospheric conditions. However, living in a region with high humidity does not necessarily mean the guitar will not be exposed to dryness, because both air conditioning and heating systems can dry out the air.

Most high-quality classical and flamenco guitars are built in workshops where the relative humidity is maintained at approximately 50%. It is therefore recommended that your guitar be stored at this level. Storing your guitar in 40%-70% humidity is generally safe. But anything below 40% can potentially be dangerous. If humidity falls below 40% it is very common for the fingerboard to shrink, causing the frets stick out. If humidity drops below 30% warping and cracking could occur. Depending on the extent of the damage these problems can usually be fixed. If dryness is detected early enough, moving the guitar to a more humid environment will solve the problem. On the other hand, if damage is too advanced the frets may need to be filed down and/or the cracks repaired. The worst case scenario is when the damage is so advanced that the structural integrity of the instrument is compromised. At this point the best option is to take the instrument to an expert repair person to determine whether the instrument is salvageable.

As with all problems, prevention is the best medicine. There are two simple ways of preventing this type of damage from ever occurring. The first is using a humidifier in the room/house the guitar will be kept in. Humidifiers of this kind are sold by most department stores and they come in all shapes and sizes. The second, less intrusive method, is to humidify the case where the guitar will normally be stored. This not only is easier to monitor, but it is also more practical for people who travel with their instrument. If this is your method of choice the Humicase is a great option: it consists of a case with 2 built-in humidifiers, strategically placed to distribute humidity evenly throughout the interior and maintain it at the optimum level.
If you already own a good case you might consider using a case humidifier such as the Oasis Guitar Humidifier or the  Oasis Plus Guitar Humidifier. These products for musical instrument cases work with a humidifier solution; this special liquid, together with the humidifier, helps regulate the humidity level much better than if you were to simply use a sponge with water inside your case. Do be careful to make sure the humidifier does not directly touch the guitar: direct contact with water could damage the wood/finish, or the humidifier itself could scratch the finish.

Hygrometers
Regardless of the type of humidification you employ, you should also consider a good dial or digital hygrometer to monitor humidity levels. GSI offers the Humicase Kit, which includes two custom-designed compact humidification units specially adapted for installation in your own guitar case (previously only available with the HumiCase), a mini digital hygro-thermometer, and an 8 oz. size of specially formulated HumiCase Activation Solution for use in the humidification units.

As stated earlier, two other conditions to avoid are excessive humidity and sudden changes in temperature/humidity. Damage from either of these circumstances is much less common, and usually less severe. The most common problem associated with excessive humidity is a slight loss in volume and quality of tone. This can be easily remedied by bringing the instrument back to the appropriate level of humidity. But, DO NOT TRY TO DO THIS QUICKLY OR OVERCOMPENSATE. Some people have tried to remedy this loss of volume/tone by 'drying out' the guitar in direct sunlight, only to pay a steep price for the sudden change in temperature and humidity the guitar experiences.

Simply put, avoid any extremes and use your common sense. Do not leave your guitar for long periods of time in direct sunlight; avoid car trunks (which can fluctuate from very hot to very cold quite quickly); do not hang your guitar on a wall (walls have much lower temperatures than the air around them), especially during winter months in cold areas; do not set the guitar next to sources of heat, etc. Very important: if your guitar is exposed to freezing temperatures, do not open the case immediately after going into a heated room! Let the guitar warm up to room temperature while it is still inside the case.

All this may sound like a great deal of trouble for a guitar, but given the size of your investment and the agony of discovering a crack in your fine instrument, we believe that a bit of effort in maintenance will be very much worth the time. If you follow these steps and take good care of your instrument, you should get a lifetime of enjoyment from your guitar.
How to Properly Restring Your Classical or Nylon String Guitar
At the bridge, it is essential to create a "locking" loop to ensure against slippage. It is common to loop the plain nylon treble strings under two times and the wound strings at least once. This will ensure that as tension is applied to the string so it securely locks in place.
The locking hold – The most secure method of wrapping around the tuning peg is to bring the extra string back around and under the string as it winds around the peg. This is especially critical on strings that have no windings (plain steel or classical nylon treble strings, for instance).
Use thumb and forefingers to gently stretch each string across its entire length. Tune the string to pitch and repeat the stretching procedure two or three times on each string. This will help stabilize your nylon strings more quickly. Care must be taken not to stretch the strings too aggresively. In general, nylon strings need more stretching time before they "settle in."

Note: It is common for classical plain nylon treble strings (1st, 2nd,& 3rd) to last longer than the wound bass strings (4th, 5th & 6th). Most professional classical guitarists will go through two to three sets of wound bass strings for every set of plain nylon treble strings.

Reprinted by permission of J. D'Addario & Company.
Purchase Policies
Product Returns
Before any items may be returned, a Return Authorization must be obtained by contacting GSI. Items returned without proper Return Authorization will be refused by GSI. Returned merchandise is the responsibility of the buyer until received and inspected by GSI.
Accessory Exchange
Exchanges (store credit only) on unopened accessory items are allowed within 30 days from the date of purchase.
Used or "vintage" guitars are sold "as is."
We recommend that the buyer or buyer's advisor inspect the instrument before purchasing to assess its condition, value, and authenticity. Although we have inspected each instrument, and believe its description to be accurate, neither GSI nor its employees, agents or contractors provide any warranties or guarantees, either express or implied.
ExchangePlus
Any guitar purchased from GSI is eligible for a one-time exchange, under either policy below. Limited to one exchange per initial purchase.
30-Day Guitar Exchange: Within 30 days from the date of purchase, GSI will exchange any guitar toward the purchase of any other instrument of equal or greater value. Providing the instrument is returned in original condition, the full purchase price will be credited.

2-Year Guitar Exchange: Within two years from the date of purchase, GSI will exchange any guitar toward the purchase of any other instrument of equal or greater value. Providing the instrument is returned in original condition (less normal wear), 70% of the purchase price excluding tax will be credited.

Please note that guitars originally purchased through a trade-in deal (or any method that does not involve payment of the full purchase price) may not be eligible for the 2-year exchange policy.
48 Hour Approval Policy
GSI will gladly send a guitar anywhere in the world for trial and approval. Our approval period is 48 hours from the time the instrument is received. It must be pre-paid by cashier's check, money order or any major credit card. If a return is requested within 48 hours of the guitar's arrival, a full refund will be issued (less shipping charges and assuming original condition), or another guitar can be sent on trial. In-store and eBay purchases do not qualify for the 48-hour approval period.
Payment Methods
Our webstore accepts all major credit cards and PayPal. Payments can also be made with cashier's checks, personal checks, money orders or wire transfers – please contact us for details.
Office Hours
Our normal office hours are from 8:30 a.m. to 5:30 p.m. PST, Monday through Friday. We are closed Saturday and Sunday. Weekend orders are processed in a timely manner beginning Monday morning.
Return policies
Product Returns
Before any items may be returned, a Return Authorization must be obtained by contacting GSI. Items returned without proper Return Authorization will be refused by GSI. Returned merchandise is the responsibility of the buyer until received and inspected by GSI.
Accessory Exchange
Exchanges (store credit only) on unopened accessory items are allowed within 30 days from the date of purchase.
ExchangePlus
Any guitar purchased from GSI is eligible for a one-time exchange, under either policy below. Limited to one exchange per initial purchase.
30-Day Guitar Exchange: Within 30 days from the date of purchase, GSI will exchange any guitar toward the purchase of any other instrument of equal or greater value. Providing the instrument is returned in original condition, the full purchase price will be credited.

2-Year Guitar Exchange: Within two years from the date of purchase, GSI will exchange any guitar toward the purchase of any other instrument of equal or greater value. Providing the instrument is returned in original condition (less normal wear), 70% of the purchase price excluding tax will be credited.

Please note that guitars originally purchased through a trade-in deal (or any method that does not involve payment of the full purchase price) may not be eligible for the 2-year exchange policy.
Shipping policies
Shipments to PO Boxes or International Destinations
Many items cannot be shipped to PO boxes – please contact us for details. If the order is destined for Alaska, Hawaii, Puerto Rico, APO/FPO bases and countries outside the continental U.S., GSI will contact the customer to confirm shipping charges and applicable special payment requirements. If you are an international customer, you may be required to pay via wire transfer or international money order before the items are released. All applicable duties and taxes are the responsibility of the customer.
Commonly asked questions about guitars
What is the difference between a factory guitar and a handmade guitar, and what are some examples?
While these are not technical terms (and there are always exceptions), guitar making can be broken down into four broad categories:

1. Single Artisan: Makers like Friederich, Field, Blochinger, Bruck, etc. who really work entirely by themselves. At this level, they buy raw wood, or sometimes even chop trees down themselves, or at least visit mills and hand-select their wood. With the exception of tuning machines and strings, they build or create all the parts, including necks, headstocks, veneers, stains, rosettes, etc. And finally they build and finish the entire guitar, completely by themselves.

2. Artisan Workshop: This is where there are multiple builders working together. This could range from the Fleta workshop (a guitar made in 1970 for example, would have been the combined effort of Ignacio, Francisco and Gabriel Fleta). No single guitar at that time can be proven to be built 100% by Ignacio (or either of his sons for that matter). They were likely all built with joint effort, but all the parts are built from scratch in the workshop by those makers. The labels at that time also said "Ignacio Fleta e hijos". The Romanillos workshop is another example (Jose and son Liam), Conde Hermanos concert guitars from the Felipe V address (brothers Mariano and Felipe Conde), Teodoro Perez (Teodoro and son Sergio), etc. These outfits are usually family-run and very small.

3. Production Workshop: This would include Kohno, Hill Guitar Company, Ramirez concert guitars, etc. It is a larger-scale outfit where you have highly-skilled craftsman who have typically been trained in guilds (at least in Spain), but the individuals don't build guitars with labels bearing their own names. In this environment, you have workers who are specialized at certain tasks (like varnishing or assembling the box, etc.). Sometimes at this level (but not always), "parts" (rosettes, purfling, etc.) are bought from outside sources but all construction is done in-house. Depending on the number of workers, outfits such as this often produce in the range of 20 guitars (or more) per month. Loriente guitars fall in this category.

4. Factory: This is certainly the broadest category, and is where you most often find the "assembly line" style of manufacturing. There are some factories like this in Spain and of course everyone knows that these are currently springing up in grand style in China. There is a higher degree of automation and greater reliance on machinery which insures consistency of the final product, which is being more "mass produced". Workers here are not necessarily skilled craftsmen – usually they are trained in putting pre-fabricated parts together, like legos, on an assembly line.

Again, there are always exceptions and category-blending, whether it's an individual maker who builds in batchs or buys his rosettes, or a "factory" with a dozen employees.
What does quarter sawn mean?
A quarter sawn board is cut along the radius of the log, from the center to the edge. The affect is to produce a piece of material with the greatest number of annular rings possible running across the edge of the board. It is the most structurally sound cut of wood and is best for transmitting sonic vibrations.
What is bracing and how does it affect sound?
Bracing consists of strips of wood arranged in a pattern and glued to the underside of the soundboard. Its function is to support the soundboard and to transmit vibrations across it.
What are the differences between rosewood and ebony fingerboards?
Ebony is much harder and denser than rosewood. It is also black in color, sometimes bearing light "flames" in the grain. Ebony is a bit more expensive and should last beyond the lifetime of the guitar. Some players prefer rosewood, claiming that being softer, it cushions the fingertips to some degree. Rosewood fingerboards are much lighter and more often used on flamenco models.
What are the differences between Indian and CSA rosewoods?
CSA Rosewood has more of a crystalline or glassy appearance, often exhibiting ornate grain patterns, which provide a feast for the eye. Indian Rosewood has straight grains and no pattern. It is currently illegal to export CSA Rosewood for the use of guitar building; hence, making it a rare commodity and more sought after. Some guitar makers such as Fleta, Simplicio, and Friederich insist that Indian Rosewood is the ideal choice. Neither is really superior over the other in terms of sound.
What other types of finishes are used?
Common lacquer and acid catalyzed finishes are the other choices among guitar builders. The common lacquer finish is obtained by spraying lacquer (usually nitro-cellulose) to the surface, allowing it to dry, sanding it, then repeating the process several times until a suitable coating is achieved.

An acid catalyzed finish (sometimes called "resin" finish) consists of two parts which are mixed just prior to application; a type of varnish and a hardening agent. The finish is quick drying and very durable. Since it is also not solvent soluble, it needs to be sanded away completely in order to be restored. Kohno and Jose Ramirez are two well-known makers who have utilized this method.
What is French polish?
French polish is actually a method used to apply varnish in which hundreds of thin coats of shellac (sometimes blended with other resins and oils, depending on the tastes of the varnisher) are applied with a solvent-damp rag. Although it is a rather delicate finish, more susceptible than other finishes to dings and scratches, French polish is considered to be the most desirable. Over time, when the finish becomes dull with wear, the shellac can be restored to its original luster by applying new finish to the old. It is wise to have an expert repairman who is familiar with the technique to do the job.
What are the differences between cedar and spruce soundboards?
The most noticeable and most obvious difference is in appearance. Spruce is light blonde in color, almost sometimes with a honey/amber tint, while cedar is darker and appears in various shades of brown. Cedar bears a distinct, pleasant odor and is slightly more porous, which may contribute to a faster responding sound. However, there are many more factors that contribute to the overall sound of the guitar. These include internal structure, thickness of material, pattern and shape of the instrument, type of finish, and type of strings. Spruce is the traditional wood that was used for centuries of guitar making. Cedar is much newer on the scene, having become popular and widespread in its use, starting in the mid-1960's.
How can one tell the difference between a student guitar and a concert guitar?
Price-wise, a decent solid-top student model starts at $300 whereas a concert model starts at about $2000. Upon inspection you'll find that superior building materials are used to produce a concert model – deluxe machine heads, real bone nut and saddle, rosewood with an often beautifully figured grain pattern, and soundboard material with a tight and uniform grain pattern from the finest quarter-sawn wood.

Looking at the label may also provide some clues. A concert guitar will often, but not always, bear the handwritten signature or initials or stamp of the master builder.
What are the differences between classical and flamenco guitars?
The differences between classical and flamenco guitars lie in their materials, construction and sound.

Materials: Classical guitars are generally made with spruce or cedar tops and rosewood or mahogany backs and sides to enhance sustain. Flamenco guitars are generally made with spruce tops and cypress or sycamore for the backs and sides to enhance volume and emphasize the attack of the note.

Construction: The body of a classical guitar is generally deeper and the woods are slightly thicker. Flamenco guitars have a flat or negative (before string tension) neck relief, making the action very fast at the cost of some buzzing. The strings are also closer to the body on flamenco guitars to facilitate tapping. Flamenco guitars often bear a "golpeador", which is a sheet of plastic mounted to the face of the guitar to protect its finish.

Sound: The classical guitar is designed to give the soloist the tools to perform poly-timbral music: "An orchestra in a box". The attack is soft with a longer and gradual decay. The flamenco guitar is designed to cut through the sound of dancers stomping their feet. The sound is a bit more percussive, a loud sonic burst followed by a swift decay