2018 Felipe Conde "Pepe Habichuela" SP/CY
| | |
| --- | --- |
| Year | 2018 |
| Top | Spruce |
| Back & Sides | Cypress |
| Scale Length | 664 mm |
| Nut width | 53 mm |
| Finish | Lacquer |
| Country | Spain |
| Condition | Like New |
| Exchange | ExchangePlus |
| Luthier | Felipe Conde |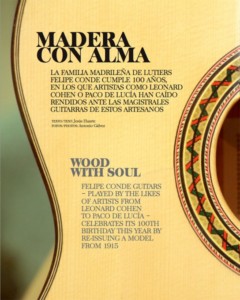 This guitar is an exact replica of the favorite guitar of the legendary maestro Pepe Habichuela to mark the 60th anniversary since he started playing the guitar. The original dates from 1986, and all details of the original have been meticulously replicated with the exception of the original wooden tuning pegs (this replica has "machined" Planetary pegs for improved ease of tuning). This is a true flamenco guitar, built with a spruce top, cypress back and sides, best ebony for the fret board and a Honduran cedar neck. Its lightweight build give it a noticeably immediate feel which is also very comfortable to play, especially for a longscale. It has a ringing sound but is still nicely percussive at the same time. Felipe has done an amazing job at capturing the sound of this vintage Conde. This guitar has explosive, and brilliant sound. This is guitar #7 of a limited edition of only 25 guitars that are being built in special collaboration with Pepe Habichuela as is attested by the label, which bears the signatures of both Felipe Conde and Pepe Habichuela.
Luthier bio: Felipe Conde and the Conde history
Felipe Conde in Iberia Magazine
Conde Hermanos
guitars have been the industry standard for Spanish flamencos for many decades now. Conde has been the guitar of choice for the vast number of great players for many generations from Nino Ricardo and Melchor de Marchena to Paco de Lucia (who has recorded and concertized for nearly his entire career on Conde), Moraito, Gerardo Nunez, Canizares, Rafael Riqueni and the present generation's Diego del Morao and many others. Click
here
to see a small sampling of such performances. They are famously known for a dry, "woody" and very firm tone, capable of retaining clarity and punch even when driven to the extreme limits of speed - whether in picado, tremolo or rasguedo techniques - these guitars can hold up and deliver a reliable and consistent quality of tone. Felipe Conde has been building these guitars for almost 40 years - first with his father and uncle and later with his brother. Now Felipe has established his his own workshop, and GSI is proud to be the exclusive US dealer for his guitars.
Videos