2017 Felipe Conde "FC 28" SP/AR
| | |
| --- | --- |
| Year | 2017 |
| Top | Spruce |
| Back & Sides | African Rosewood |
| Scale Length | 650 mm |
| Nut width | 52 mm |
| Finish | Lacquer |
| Country | Spain |
| Condition | Excellent |
| Exchange | ExchangePlus |
| Luthier | Felipe Conde |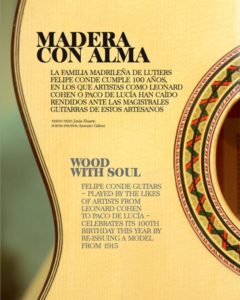 This negra is the same model as that made famous by Paco de Lucia. It has a driving, aggressive quality that makes it the ideal solo instrument for concert settings or the recording studio. This has been one of the most played flamenco models by professional guitarists since listeners first heard its sound on Paco's groundbreaking 1969 album "Fantasia Flamenca". Workmanship is the usual very high standard for this maker, very clean, precise and with a refined aesthetic, not just in the beautiful rosette but also by the instantly recognizable "media luna" headstock shape, which has become the symbol of the Conde name for over half a century. Although a used guitar, it is in mint/brand-new condition.
Felipe Conde in Iberia Magazine
Conde Hermanos
guitars have been the industry standard for Spanish flamencos for many decades now. Conde has been the guitar of choice for the vast number of great players for many generations from Nino Ricardo and Melchor de Marchena to Paco de Lucia (who has recorded and concertized for nearly his entire career on Conde), Moraito, Gerardo Nunez, Canizares, Rafael Riqueni and the present generation's Diego del Morao and many others. Click
here
to see a small sampling of such performances. They are famously known for a dry, "woody" and very firm tone, capable of retaining clarity and punch even when driven to the extreme limits of speed - whether in picado, tremolo or rasguedo techniques - these guitars can hold up and deliver a reliable and consistent quality of tone. Felipe Conde has been building these guitars for almost 40 years - first with his father and uncle and later with his brother. Now Felipe has established his his own workshop, and GSI is proud to be the exclusive US dealer for his guitars.
Videos