1890 Antonio de Torres PI/MP
| | |
| --- | --- |
| Year | 1890 |
| Top | Pine |
| Back & Sides | Maple |
| Scale Length | 650 mm |
| Nut width | 50 mm |
| Finish | French Polish |
| Country | Spain |
| Luthier | Antonio De Torres |
This guitar is no longer available in our inventory. If it interests you, click the "notify me when available button" to be notified in the event that we re-acquire this guitar for re-sale.
Description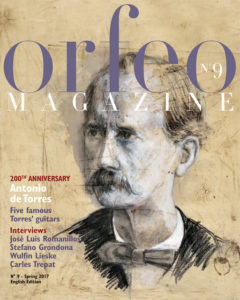 This particular instrument is a fantastic example of an incredibly well-preserved birds-eye maple guitar from 1890, numbered as SE 139 by the maker. We believe the guitar was originally made for more than 6 strings (exactly how many we are no longer able to tell) and converted down to a 6-string early in its life. The largest piece of evidence of this conversion is to be found in the head itself where there are traces of filled holes where wooden tuning pegs would have originally been fitted, and a previous attempt at cutting slots for machines that were re-done. Of notable interest - the soundboard is made entirely of pine. Torres was known to have used pine for the internal bracing materials (fans and lining for example) but there are few known instruments with pine tops like this one. One other notable pine top (also with maple back and sides) Torres is owned by Pepe Romero, who recorded an absolutely sublime album with it - guitar and piano duos of sonatas by Carulli and Diabelli. The quality of sound produced from SE 139 has the richness and harmonious quality found in other top examples from this incredible maker. Upon listening to this guitar one marvels at how beautiful the actual sound itself is, and of how the notes blend together and yet maintain their clarity and separation. The sensation of playing the guitar is unlike any other as it vibrates against the players body in a very deep way that is peculiar to Torres. It is a tremendous experience which is only possible with an instrument such as this in ones hands. This experience is confirmed over and over again with every Torres (especially in this kind of very original condition) that comes through our shop, by all who see and hear.
For more information on the life of Antonio de Torres, be sure to read this short biography and this excerpt about the Torres sound from the Jose Romanillos book, Antonio de Torres. We also have an interview between Pepe Romero and Kenny Hill about the master luthier.
Orfeo Magazine #9 - The 200th Anniversary of Antonio de Torres
Videos
Guitars by Antonio De Torres