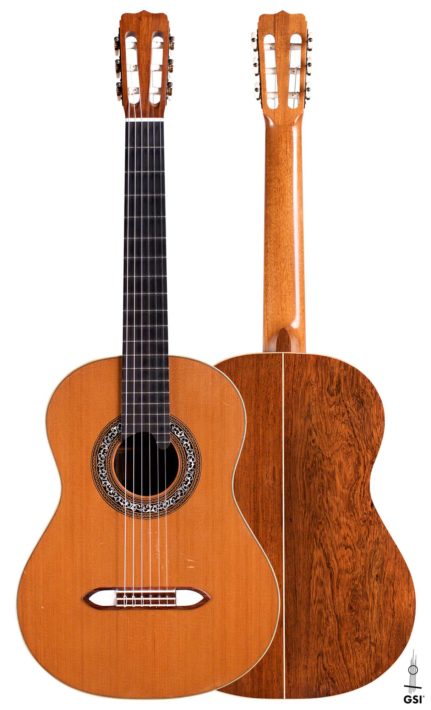 2014 Federico Sheppard "1911 Jose Ramirez - ex Barrios" RW/AR
Specifications
Year

2014
Top

Redwood
Back & Sides

African Rosewood
Scale Length

650 mm
Nut width

52 mm
Finish

French Polish
Country

Spain
Condition

Excellent
Case

Yes
Exchange

ExchangePlus
Luthier
Background
Born in Mexico City, luthier Federico Sheppard is currently living and building guitars between Spain and the US. In recent years much of his life's devotion has been to the study and examination of the life and work of the epochal figure Agustin Barrios Mangore (whom Sheppard refers to as "the complete artist: guitarist, composer, poet, calligrapher, and artist with pen and paper".) As a luthier, Sheppard has done a great deal of research on the 6 main concert instruments used by Barrios during his career as a performing artist. Sheppard has traveled the globe seeking out the originals and is possibly the only living person to have personally seen, inspected and measured each of them. Sheppard builds replicas (as authentically inside and out as possible) of each of these – 2 different Simplicios, a Morant, Jose Ramirez I, Sanfeliu and Esteso.
Federico Sheppard also has an instrument published in the book A Collection of Fine Spanish Guitars, 2nd Edition by Sheldon Urlik and is founder of 'Asociacion Caminoartes' with a workshop in Carrion de los Condes, Spain.
Description
The original 1911 Jose Ramirez I guitar (on which this copy is based) is one of the most significant instruments of the 20th century. Shortly after arriving in the Rio de Plata region, Barrios made the acquaintance of Carlos Trapani...
Learn more about the luthier