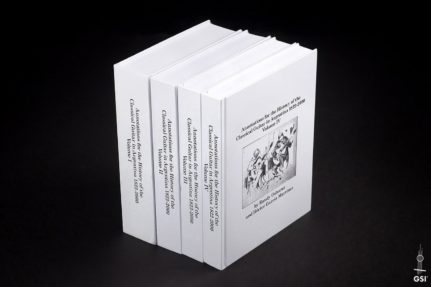 Annotations for the History of Classical Guitar in Argentina 1822-2000, Vol 1-4
in stock - SKU: BOARGBO-05279
Specifications
Author

Randy Osborne, Hector Martinez
Background
This is a history of the classical guitar when Argentina was the 6th largest economy in the world (a position now held by California). Virtuosos from Europe went there and their students were at times the Governor of a Province or his wife. These virtuosos arrived before the advent of the radio in 1920. The love of the guitar brought the importation of the most expensive instruments fabricated in Madrid and Barcelona. Some of these virtuosos had their photographs and eulogies in the Buenos Aires magazines more than 6 years before they ever gave their first concert in the "Paris" of South America.
Description
-2,630 pages about the World Center of Classical Guitar Activity
-77 page index by Jan J. de Kloe
-Foreword by Richard Bruné
-Over 175 biographies with 3,200 photos and images, 4 Volumes, 8 1/2" x 11", Hardbound, 8″ wide, 19.5 lbs...