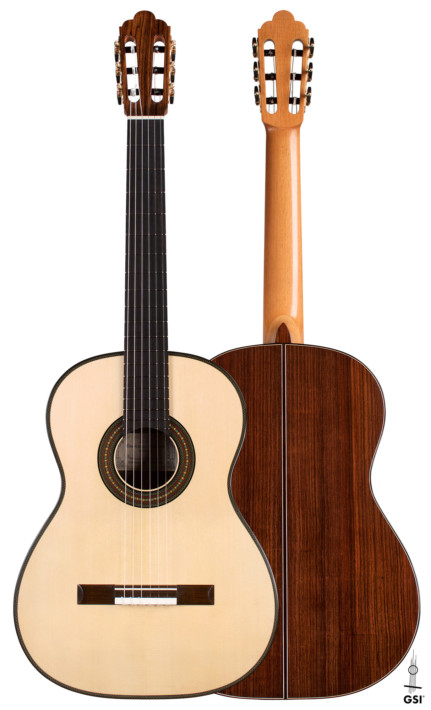 2021 Giancarlo Nannoni SP/IN
- SKU: GUCLNAN-07840
Specifications
Year

2021
Top

Spruce
Back & Sides

Indian Rosewood
Scale Length

650 mm
Nut width

51 mm
Finish

French Polish
Country

Italy
Condition

New
Exchange

ExchangePlus
Luthier
Background
Since 1994, Giancarlo Nannoni has dedicated his life to the continuous pursuit and passion of traditional classical guitar making. Since a young boy, he has studied and played the guitar and other instruments at an amateur level covering many different musical genres. While studying the violin, he had the opportunity to visit the violin maker Contavalli in Imola where he first became fascinated by the raw materials, tools and smells that filled his small workshop with atmosphere. Looking back, Giancarlo believes his first desire to build an instrument came from those visits.
His studies in lutherie included all topics related to physics and acoustics in the field of classical guitar construction, as well as visiting museums and collections to deepen his understanding of the work of the great luthiers of the past. Giancarlo has tirelessly attended many of the main exhibitions in various cities of Italy and he has lectured on violin making in public and private schools. His instruments are played in Italy and abroad by many conservatory teachers and young concert players who have won international guitar competitions.
Description
Giancarlo Nannoni credits Hermann Hauser I as his primary inspiration for his traditional instruments. He borrows heavily from the Hauser design, but with several small modifications of his own to make what he calls his "contemporary&;...
Learn more about the luthier