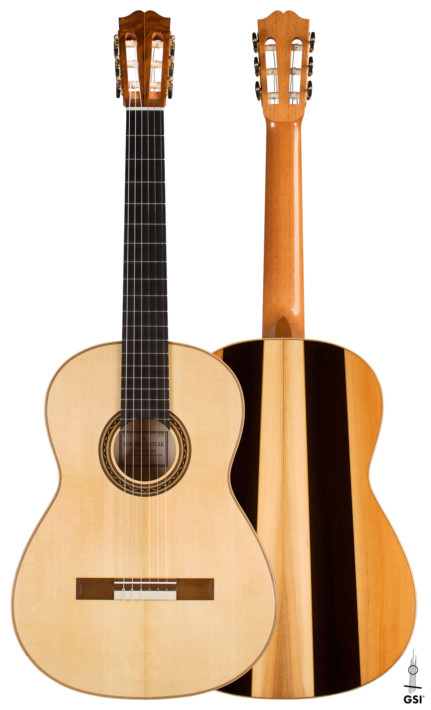 2021 Jake Fuller "Purnell" SP/YW
on hold - SKU: GUCLPUR-07844
Specifications
Year

2021
Top

Spruce
Back & Sides

Yew
Scale Length

650 mm
Nut width

52 mm
Finish

French Polish
Country

England
Condition

New
Exchange

ExchangePlus
Luthier
Background
British luthier Jake Fuller has been building guitars for nearly two decades. His passion for making classical guitars resulted from a combination of his early woodworking background (inherited from his father and grandfather), as well as being a guitarist himself. His Cornish grandfather was a wheelwright and made almost anything which could be built with wood such as carts, wheelbarrows, gates and furniture. Jake's workshop contains several of his grandfathers tools and even one of his tables that is used for the workbench. Jake sadly never met his grandfather for he lost a leg in WWI and died fairly young (he even built his own wooden leg!). Jake therefore uses his name – "Purnell" (which is also Jake's middle name) for his guitars as a tribute to this inspirational figure. Grandfather Purnell passed on his interest in woodworking to Jake's father who is a toy maker. It was growing up in the toymaking workshop where Jake learned his initial woodworking skills. Jake spent what would be essentially be his apprenticeship with him making toys in Suffolk.
Playing the guitar was something Jake had always done, and he is continues to play to this day. At 16 he started classical guitar studies which launched his fascination with the instrument itself. After graduating from the London Guildhall University (where he studied with David Rouse and David Whiteman), earning a BA in Musical Instrument Tech, Jake set up a workshop first in Laxfield and then in Reydon, Suffolk where he has been making guitars ever since.
Description
This is quite an instrument. Even at first glance, it is stunning, due to the unusual (but beautiful) materials used – all from his old stock – including his last piece of Italian spruce for the soundboard. For the back and,...
Learn more about the luthier