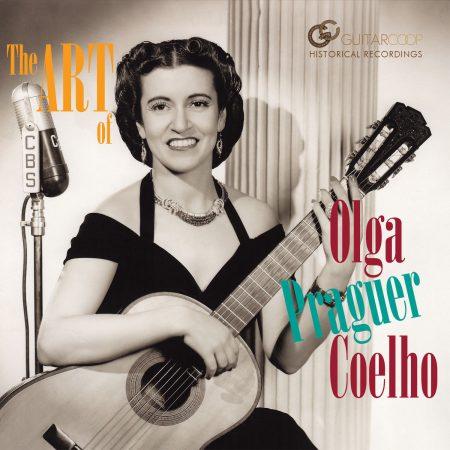 Olga Praguer Coelho - The Art of Olga Praguer Coelho
in stock - SKU: CDGCOOP-04396
Specifications
Performer

Olga Praguer Coelho
Composer last name

Various
Label

Guitar CoOp
Background
Olga Praguer Coelho organized many of her concert programs into categories reflecting her wide-ranging and eclectic musical interests. Rooted firmly in songs of her Brazilian homeland, her recitals embraced songs from all over the world. She sang fluently in many languages – Portuguese, Spanish, Italian, French, English, and even Maori.
The choice and arrangement of the songs in this CD, taken from her large discography, have been shaped to mimic a typical recital. We begin with a group of Brazilian songs recorded earlier in her career. There follow songs in Spanish waxed mid-career from Colombia, Mexico, and Spain, including works by Manuel de Falla (1876-1946) and Andrés Segovia (1893-1987). These are succeeded by
a return to Brazil. After a quick trip to Argentina, come several 15th to 18th century European songs from France, Spain, and Italy. The final grouping, from late-career, consists once again of Brazilian works, a sort of "greatest hits" of well-known folkloric classics.
The "recital" opens with the embolada A Mosca na Moça from the northeast of Brazil. With its rapid rhythms and tongue-twisting lyrics, it became Olga's first radio hit in Rio de Janeiro. The Imperial lundú Virgem do Rosário, from the 18th century, admirably captures its African origins. In 1939, Olga made a cameo appearance in the Portuguese film, Varanda dos Rouxinóis, singing this song in a Lisbon nightclub. The romantic Cantiga Ingênua ("When You Peer into My Heart") is a melody set by Olga to a poem by Gaspar Coelho (1898-1986) and commemorates their marriage. Bahiana, a typical folk song of Bahia, is followed by Roseas Flores, a 19th century modinha, a sentimental love song, the first typically Brazilian popular music that emerged with the arrival of the Portuguese Court.
The Spanish grouping commences with Agáchate el Sombrerito, a Colombian waltz-like bambuco. La Cucaracha, with its hidden political meaning, became popular among both rebel and government forces during the Mexican Revolution of the early 20th century. A folk melody takes us to Spain: Canción Andaluza, arranged for voice and guitar by Andrés Segovia, and dedicated to Olga. Then, two songs from Siete canciones populares españolas ("Seven Spanish Folksongs") by Manuel de Falla, also arranged by Segovia for Olga: Asturiana, a folk song of lament from Asturias in northern Spain, and Nana, an oriental-flavored Andalusian lullaby.
The next three songs return to Brazil. O Rei Mandou me Chamá was adapted by Heitor Villa-Lobos (1887-1959) in 1942, on themes of slaves of the Recôncavo Basin in northern Bahia. Meu Limão, Meu Limoeiro, a song of the "coco" genre, written by José Carlos Burle (1910-1983) in 1937, quickly achieved the status of a folk classic. Dança do Caboclo, music by Hekel Tavares (1896-1969) penned in 1934, is based on a popular text from the northeast of Brazil.
After a nod to Buenos Aires (where Olga had her first international success) with the Argentine folk song La Mulita, the story of a boy walking up the mountain with his little mule to meet his sweetheart, the program next moves back to old Europe. Opening this group is the 18th century C'est mon ami by Marie Antoinette (1755-1793). A pupil of Gluck, she set the music to lyrics by Jean-Pierre Claris de Florian (1755-1794). The 15th century Sephardic-flavored Ojos Morenicos, a villancico by Pedro de Escobar (1465-1535), is followed by Alessandro Scarlatti's (1660-1725) baroque aria Se Florindo è fedele, from his opera La donna ancora è fedele.
The program ends firmly back in Brazil. Casinha Pequenina is a 19th century modinha with guitar arrangement by Andrés Segovia. The toada Banzo, music by Hekel Tavares, text by Murilo Araújo (1894-1980), reflects the homesickness felt by Africans during the time of slavery in colonial Brazil. Next comes the famous song about a bluebird, Azulão, a poem by Manuel Bandeira (1886–1968) set by Jaime Ovalle (1894-1955). The penultimate is Brasílio Itiberê's (1896-1967) evocative choro Cordão de Prata. Finally, Xangô, a macumba chant of intense savagery, collected by Villa-Lobos, and powerfully sung by Olga, conveying a passionate, diabolical ferocity. She chants with her voice and strikes the dance rhythm on the guitar, building up to the moment when both the singer and listener fall into a trance.
Olga Coelho's artistry embodies a unique combination of a beautiful, trained and versatile voice, unmatched musicality and interpretive ability, and flawless accompaniments on the classical guitar. We invite you to experience, with the first release in nearly sixty years, the wonderful artistry of Olga Praguer Coelho.
Description
1) A Mosca na Moça 3:06
Popular Brazilian motif/Odeon 10514/December 29, 1929/Olga Praguer Coelho, guitar
2) Virgem do Rosário 2:17
Popular Brazilian motif, adapted by Olga P. Coelho/Victor 34042/April, 1936/R. Guimarães &;...