Berlin-based Guitarist, Max Müller, Records Five Videos During His First Visit To GSI.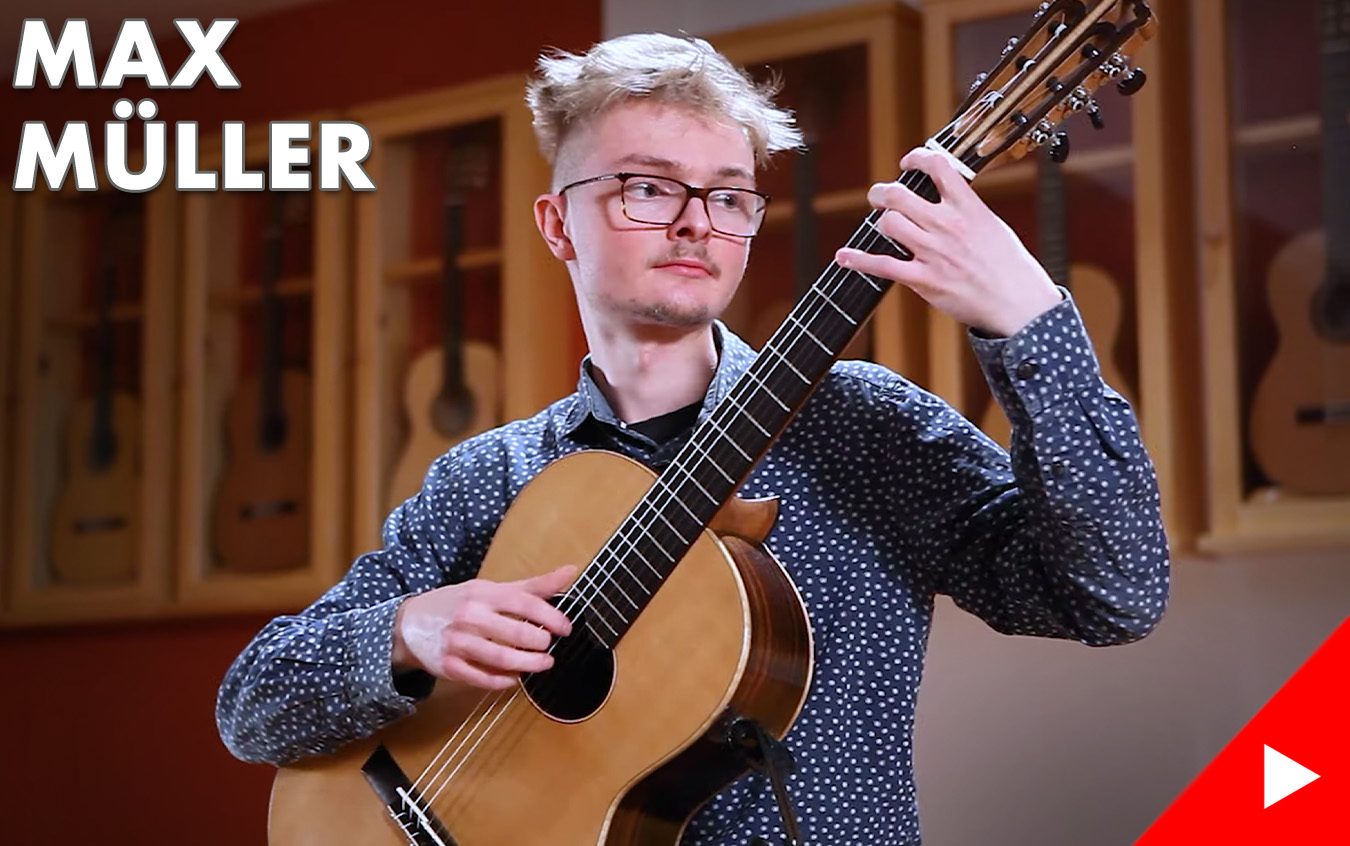 Recently, we had a new guest in our showroom. Berlin-based guitarist, Max Müller, studied guitar with Thomas Müller-Pering and now he is in the class of Marco Tamayo.
During his first visit to GSI, Max recorded five videos. His recording session started with Johann Sebastian Bach's famous Fugue from the "Violin Sonata BWV 1001" played on a beautiful 2021 Bertrand Ligier SP/CSAR - it's a very well-built guitar with a classy, old-world sound. Next, Max picked a guitar previously owned by Angel Romero, a 1982 Yamaha "Grand Concert GC50X" CD/CSAR, and recorded on it Andrew York's charming piece entitled "Andecy". In the third video, Max recorded "Prelude No. 2" by Heitor Villa-Lobos on a 2004 Tobias Braun "1912 Ramirez" SP/IN. Heitor Villa-Lobos' "Preludes" are probably best-known from Julian Bream's famous album "Julian Bream Plays Villa-Lobos" recorded in the early 1970s. For the fourth video with the second movement of Dušan Bogdanović's "Jazz Sonata", Max chose a very interesting-looking guitar, a 2019 Mario Gropp "Weissgerber" SP/EE - an homage to Weissgerber that features a dovetail-joint at the heel, "open" headstock, oval rosette, and V-joint (with relief) where the neck joins the head. Max finished his first recording session at GSI with the performance of Martin Schley's' "Etüde Nr. 9" played on another previously owned by Angel Romero guitar, a 1994 Gioachino Giussani SP/MP - This guitar name is "Elajed" and it was made with breathtaking flamed maple for the back and sides and spruce for the soundboard, and has Giussani's classic and unique aesthetic.
Check out all of Max's recent GSI videos below!
Leave a Comment