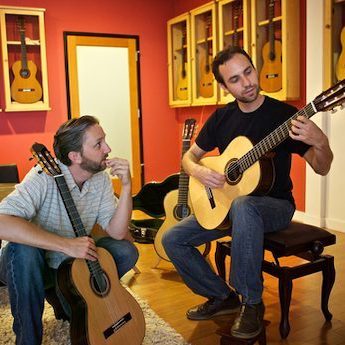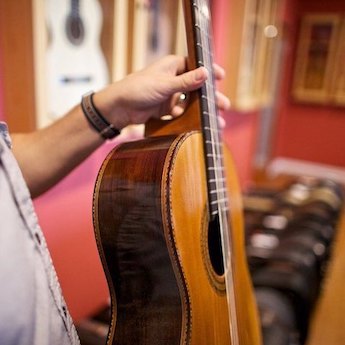 SELECTION: We offer the largest selection in the world of guitars that we believe are all "best in class" at their respective price points. We have been curating our selection since opening our doors in 1983, tirelessly seeking out the best living makers all around the world and sourcing the most desirable vintage and collectible instruments alike. If your dream guitar is something that you currently don't see on our site, it's always good to inquire with us anyway - we can oftentimes source "hard to find" guitars as we work with a large network of dealers and agents all over the globe. You can also sign-up to receive instant notifications on any previously-sold instruments in our museum that have become available again.
EXPERTISE: All GSI salesmen are university-trained classical guitarists with a deep love and passion for the instrument. This means you'll be getting meaningful, honest and accurate information about how any of our guitars play & sound - all from highly experienced players. The staff also have excellent relationships with all the luthiers we work with and are extremely knowledgeable about construction and personal details that go into the build of every instrument we carry. For vintage instruments, we have seen, played, bought and sold the most important historical guitars that have ever been built, and we are second to none in our collective knowledge of the history of the classical & flamenco guitar and its players over the past two centuries. Whoever you speak with here will leave no question unanswered!
PRICE-GUARANTEE: If you see the same guitar available elsewhere for cheaper… don't worry, we'll match any price! Just contact us with the details and we'll make sure you're taken care of!
RISK-FREE TRIAL: We offer a full 48-hour risk-free trial/approval period* which allows you to test out any guitar(s) in the privacy of your own home. This also gives you the opportunity to evaluate with your friends & family, teachers & students, and to hear the instruments in any recording/concert environment that you may be performing in. Risk-free overnight or ground shipments with FedEx or UPS are insured while en route either to you or back to us. Again, this is really meant to be "risk-free" to you!
EXCHANGE OPTIONS: We offer two very generous Exchange policies ("30 Day" and "Two-Year") so you can be confident that any final purchase you make is the right one!
EASY PAYMENT: The "purchasing experience" is easier than ever before – you can check out of our website if you're signed in to your Google Pay, Apple Pay or Amazon accounts. Of course we also accept debit and credit cards (American Express, Visa, Mastercard & Discover). You can also pay by wire transfer or ACH transfers, as well as by PayPal. We even have financing options through Affirm available for our clients in the United States.
We look forward to helping you find your dream guitar and to make it as easy, comfortable and enjoyable as it should be. There is nothing more satisfying to us than to see these amazing guitars find their new loving homes.
*48-hour approval period does not apply to in-store purchases
---
If you are from the USA we help you to avoid many inconveniences from buying overseas. Let us do all the work to bring these instruments to you, so that you don't have to:
Register with the Dept. of Agriculture in order to submit a Lacey document to clear customs
Pay exceedingly high International freight costs
Pay Import duties that are typically higher than local sales tax rates and will add to your cost
Worry about increased risk of damage due to longer transport time, oftentimes traveling through multiple international hubs
Worry about the very challenging and expensive issue of returning a guitar internationally if for any reason it doesn't meet your expectations or the seller's policies