7 New Videos! Aaron Haas in both Solo & Duo performances with special guest Anastasia Malliaras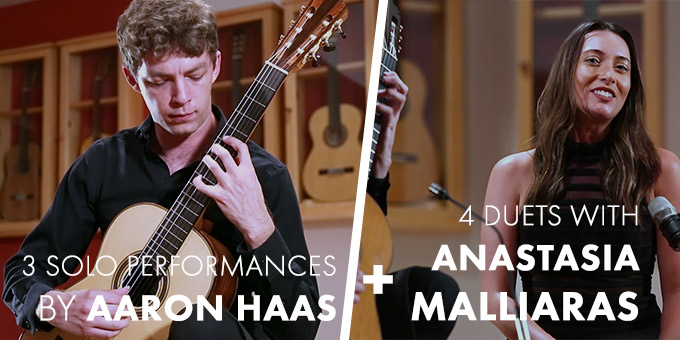 Aaron Haas recently visited the showroom again but this time along with vocalist Anastasia Malliaras, and the two delivered some stunning performances of some great gems in the repertoire.
Aaron selected several guitars from our selection in order to show off the variety of makers we carry, as well as to give each piece a different sonic character. In his solo performance of Federico Mompou's "Canción" from 'Suite Compostelana', Aaron played a fantastic 2019 Narongsak Visesnut with a gorgeous set of CSA rosewood back and sides. He also used this same guitar to accompany Anastasia on lovely performance of "Chanson de la Mariée" by Maurice Ravel. Aaron then moved on to a 2019 Michel Belair "Homage a Daniel Friederich" to play Mompou's "Prelude" (also from the 'Suite Compostelana') and again on Manuel de Falla's "Asturiana", accompanied by Anastasia.
For Aaron's final solo piece, he played the 2019 Kenneth Brögger "Polycentric Baroque Arch Head" guitar for a great performance of Mario Castelnuovo-Tedesco's "Tonadilla, Op. 107, No. 5".
The duo's final 2 performances included Benjamin Britten's "Sailor Boy" with Aaron playing a 2019 G.V. Rubio "Monarca Elite" – the flagship model from this fine maker. Lastly, we have a fantastic arrangement of Maurice Ravel's "Là-bas, vers l'église" with Aaron on a charming 1991 Miguel Rodriguez.
We hope you are able to watch and enjoy the variety of music and guitars found in these 7 videos, and look forward to seeing these two great musicians back for another round of videos in the future!
Leave a Comment