Duo Apollon Records New Videos At GSI!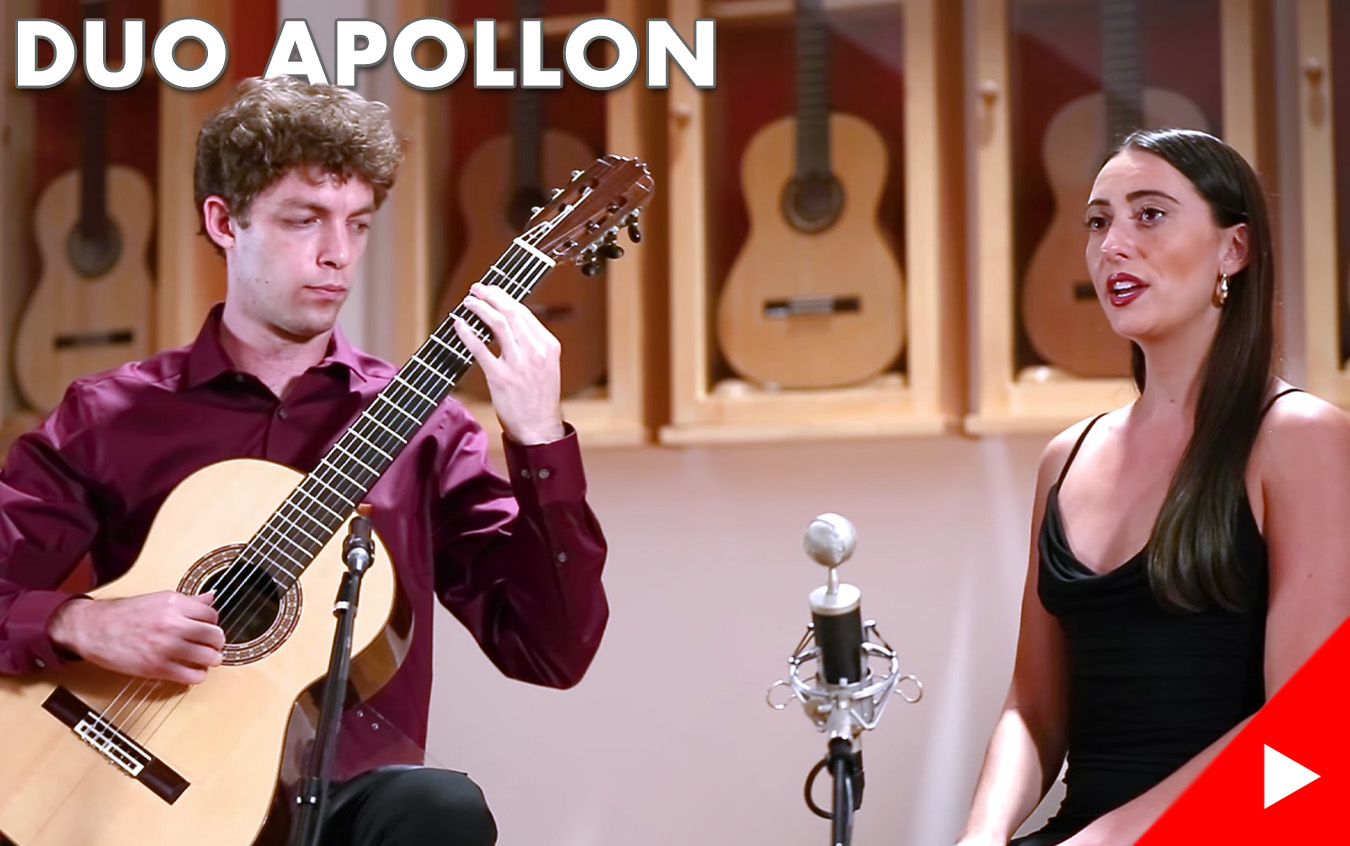 Anastasia Malliaras (Soprano) and Aaron Haas (Guitar) of Duo Apollon have recently stopped by GSI to record new videos in our showroom.
Anastasia and Aaron started playing as a duo while pursuing their degrees at the USC Thornton School of Music. Since then, they have performed in The Sundays Live series at LACMA, won the 2019 Beverly Hills National Auditions, and played numerous concerts in the greater Los Angeles area.
During their recent visit, the duo recorded three pieces together. Their recording session started with Mario Castelnuovo-Tedesco's "Ballata Dall'Esilio" composed to the words by Guido Cavalcenti. Aaron recorded this piece on a 2021 Stephen hill CD/EE guitar, a very interesting instrument with a fine cedar top, and a set of stunning exotic ebony for the sides and 4-piece back.
For the next piece, the duo recorded​ Tilman Hoppstock's arrangement "Winterreise: Der Lindenbaum" by Franz Schubert. Aaron decided to pick a 2020 Dominik Wurth SP/IN for this recording. It's a great guitar with an immediate attack and a lively, full sound behind it.
Duo Apollon has also recorded Aaron Haas' transcription of "O Waly, Waly" by British composer, Benjamin Britten. For this piece, Aaron picked a 1994 Rafael Moreno Rodriguez SP/IN. This guitar has a huge sound, yet with a rich traditional old-world Spanish tone.
Before leaving GSI, Aaron also recorded solo videos with two movements from Vicente Asencio's "Suite Mística" - Getsemaní on a 1980 Miguel Rodriguez CD/PR, and Pentecostés on a 2014 Teodoro Perez "Maestro" SP/MP. Check out all videos below!
Leave a Comment