Alexander Milovanov and Nikita Korshunov Visit GSI to Record Solo and Duet Videos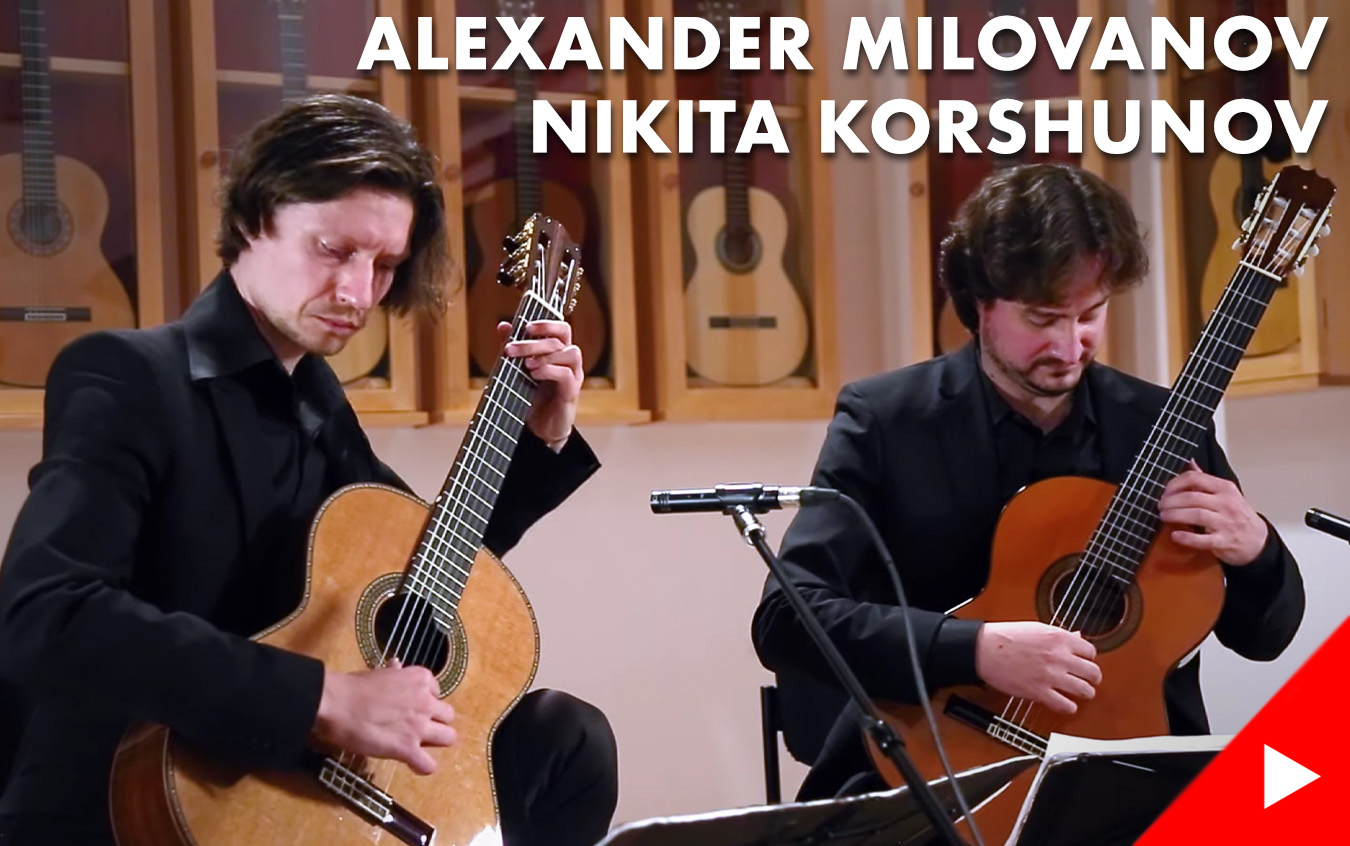 Classical guitarists, Alexander Milovanov and Nikita Korshunov have recently visited GSI again to record solo pieces and duets.
Alexander is originally from Belarus. He received his Bachelor's degree from the Glinka State College of Music. After moving to the United States, Alexander received his Master's degree from the Peabody Institute at John Hopkins University in Baltimore, where he studied with Ray Chester, Manuel Barrueco, and Julian Gray. Then, he pursued his Artist Diploma at the Yale University School of Music. Finally, he graduated with his doctorate degree from the University of Texas at Austin, where he studied with Adam Holzman. Currently, Alexander teaches classical guitar at the French Conservatory of Music in Beverly Hills, CA.
Nikita Korshunov is a classical guitarist, composer, and actor. He studied in Belarus at the Belarussian Academy of Music in Minsk where he took lessons with Evgeniy Gridzushko. In our showroom, Nikita recorded his original composition "Fog In A Valley" on a 1992 Hermann Hauser III SP/CSAR guitar.
During his visit to GSI, Alexander recorded four solo pieces. He started with Etudes No. 2 and No. 3 by Brazilian composer, Heitor Villa-Lobos. Alexander's technique is very impressive, especially his use of the a-m-i fingers to play scales and passages. For these videos, Alexander chose a 2021 Masaki Sakurai "PC" SP/CSAR guitar.
As the next guitar, Alexander picked a 2002 Edmund Blöchinger CD/CSAR previously owned by Angel Romero. This instrument records wonderfully, and on stage has a great volume, projection, and outstanding tone. Alexander recorded Isaac Albéniz's "Mallorca, Op. 202" on this guitar, as well as a very interesting transcription by Edson Lopes of J.S. Bach's organ masterpiece "Toccata and Fugue in D Minor, BWV 565". In this version, this piece is in the key of A Minor.
Together, Alexander and Nikita, recorded two arrangements by Y. Zyryanov - the famous 2nd movement, "Adagio" from the "Concierto de Aranjuez" by Joaquín Rodrigo, and "Brasileirinho" by Valdir Azevedo. The duet played these pieces on a 2005 Manuel Contreras II "Double Top" CD/CSAR, and a 1991 Jose Ramirez "1a Da Camara" CD/CSAR.
Leave a Comment