Apogee Digital and AEA Ribbon Mics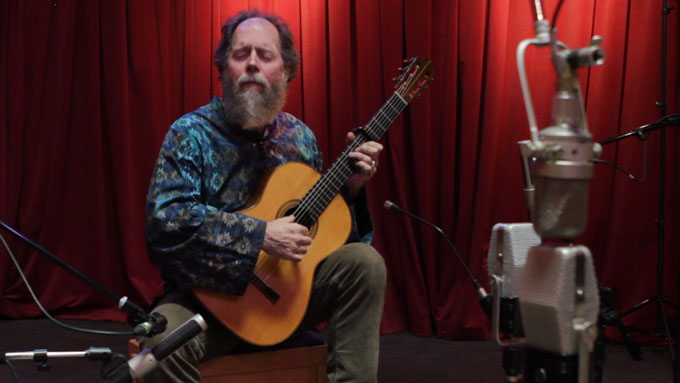 We wanted to take a minute to thank Apogee and AEA (Audio Engineering Associates) for all of their help recording the Cleveland Collection guitars. In addition to letting us use their Berkeley studio and the great gear there, Apogee have been letting us use one of their Ensemble interfaces. For the bulk of the GSI videos we use the Apogee Duet interface and mic pres (Andrew York's Yamour video, below, is a great example of what the Duet can do), and the Ensemble gives us more channels and more mic pres in a unit not quite as portable as the Duet but perfect for a live rig and definitely a few steps up in terms of features.
For most of the GSI videos we use a pair of vintage Neumann km84's, which are as close to industry-standard as it gets for recording guitars, but there's something that happens with ribbon microphones that can be kind of magical, so it's been amazing to be able to use some of the great AEA ribbon mics for Andrew York's 'Equations of Beauty' shoot as well as some shoots with Scott Tennant and Billy Arcila (coming very soon). As you'll hear, the ribbons capture what you might describe as the wood of the guitar in a unique and beautiful way. Their 44ce is an update of the classic RCA 44 – you'll have seen Sinatra, Bing Crosby and thousands more singing through these in movies – which is still considered one of the best microphones ever made. Their N22 is a modern phantom-powered design that somehow feels like a combination of the best qualities of the 44 and the Neumann km84. Check out the Fret-X video below to hear the N22s through the Apogee Duet mic pres recording a guitar duo.
Also be sure to check out Andrew York's new piece The Equations of Beauty, recorded at Apogee's Berkeley Street studio with their flagship Symphony interface (recorded just before the new Mk2 Symphony was launched) with AEA's 44ce and N22 microphones.
Leave a Comment