Recording Artist: Celedonio Romero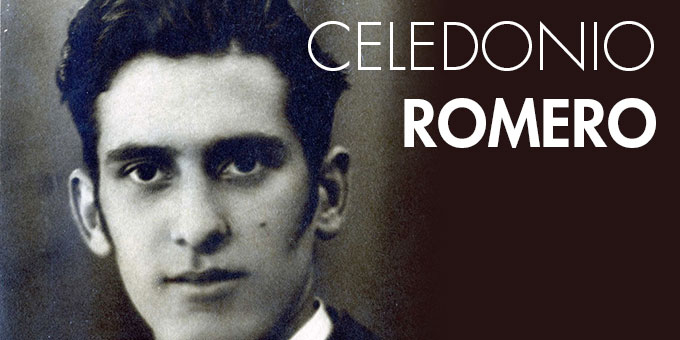 by Laurel Ornish
For me to write an article in memory of, in tribute to Celedonio Romero has been a labor of love, as well as a labor of joyful tears as I reminisce about a man who has such an impact on my life. I am not a guitarist, nor am I a Spaniard, but as a result of his influence, I am now both in my soul.
---
"An Extraordinary, Magical Life"
The story of Celedonio Romero is the stuff of a great novel or movie.
Imagine a scenario in which a man, born in Cuba in 1913, while his Spanish father was working on an engineering project there-and raised in Spain, becomes one of the greatest classical guitarists and composers for guitar in the world. He gives his first recital at age 10 and studies at the Conservatories of Málaga and Madrid with Joaquín Turina, giving his formal debut at age 20 and performing throughout Spain, France, and Italy.
One day, as he goes to the home of one of his guitar students for a lesson, her sister answers the door. He falls in love at first sight, embarks on a storybook romance, and marries her. Their union would last over 62 years.
Set the scene during the Spanish Civil War in Málaga on the southern Mediterranean coast of Andalucia, home of Picasso, gypsies, and flamenco. Their first child, a son, is born in 1936, not to the sound of guitar, but to bombs falling during a blackout.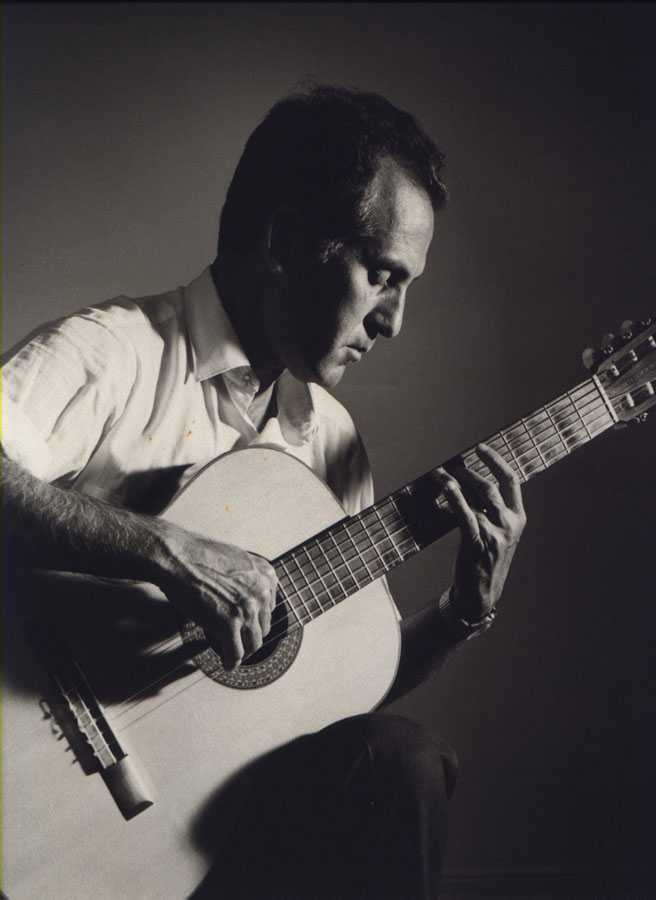 Imagine that the family grows to three children, all boys-Celin, Pepe Romero, and Angel Romero, all of whom are musically gifted, and all of whom, under his loving tutelage, become world-class, virtuoso guitarists themselves. For them, the guitar is not a family business; it's a calling.
The father is later jailed, as many artists were, by Franco's fascist dictatorship. He is finally freed by a military governor who had heard him perform. However, he is not allowed to leave the country or travel around Europe to earn a living. In 1957, his family eventually escapes in secret via Portugal to Southern California.
Imagine that while the boys are still in their teens, the four revolutionize the world of classical music with their creation of the first guitar quartet, giving thousands of concerts all over the world at the highest levels for a good part of the century. They are decorated by a king and a pope and perform for presidents and princes, as well.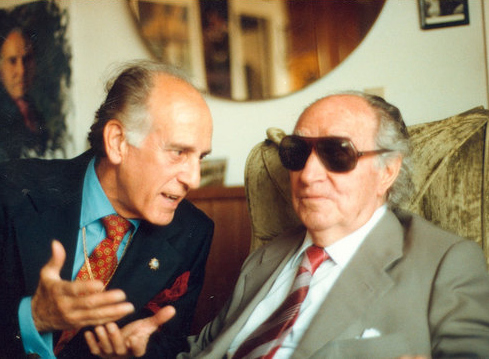 Their friendships with some of the greatest composers of the time-Spanish, North American, and Latin American result in numerous pieces composed especially for them and add significantly to the guitar repertoire. They further add to the repertoire via their discoveries of previously-undiscovered works, as well as their numerous transcriptions for various combinations of guitarists and guitarists-and-orchestra. Their countless, high-quality recordings span several centuries of guitar repertoire.
The patriarch himself is a gifted, prolific composer and poet, contributing over 200 compositions and recordings to the guitar repertoire, including 10 concertos, as well as lieder for guitar and voice, and pieces for solo and multiple guitars. Many evoke the soul and the literary traditions of Spain.
The quartet's level of virtuosity sets new standards. They become known as 'The Royal Family of the Guitar.'
Their concerts not only present to audiences world-wide the finest classical pieces for guitar, but they also succeed in elevating to respectability on the classical concert stage performances of the romantic and passionate flamenco music of their native Andaluc'a, southern Spain, long before 'world music' is fashionable.
The story does not end there, however. The plot thickens.
Imagine that after 30 years of performing, touring, and recording together, in 1990 the youngest son, Angel, decides to devote full time to his solo career and quits the quartet.
A miracle is needed to preserve the quartet as a family entity, and one manifests.
'Celino' Romero (Celedonio Romero, III), the then 23-year-old son of Cel'n, Celedonio's oldest son, senses destiny calling and steps forward to take his departing uncle's place. Not only has he become a virtuoso guitarist, he also has southern California charm, is a star athlete with Tom Cruise good looks, and is totally devoted to the love of music and family. He played his first solo concert when he was only six, and he had been learning the quartet's repertoire on his own, although he had mixed feelings about pursuing the guitar as his life's work… until now.
A star is born, and the phenomenal tradition continues… into the third generation!
The new quartet again delights audiences worldwide, with the extra, unique aspect of father- son and grandfather-grandson duets now as part of their concerts. Not only does the listener experience the power of four virtuoso musicians who have lived with the music and with each other since birth, the performance is enhanced by the Romeros' often intimate relationship with the composer and their impeccable sense of programming, further spiced with their obvious familial affection for each other.
The new quartet performs and records successfully for five years. Patriarch Celedonio is given the highest honors by the Vatican, by Spain, and by his adopted hometown of San Diego. He is still going strong at age 83, performing hundreds of concerts a year with the quartet, when he is unexpectedly diagnosed with terminal lung cancer. The diagnosis is especially shocking, given his healthful routine of vegetarian diet, exercise, and lack of smoking and alcohol.
Given only a few weeks to live by his physicians, he lives an entire year, as family members keep a constant vigil. He leaves behind an incredible legacy, both in the guitar repertoire, in the guitar dynasty he sired, and in the many lives he has touched, both on stage and off.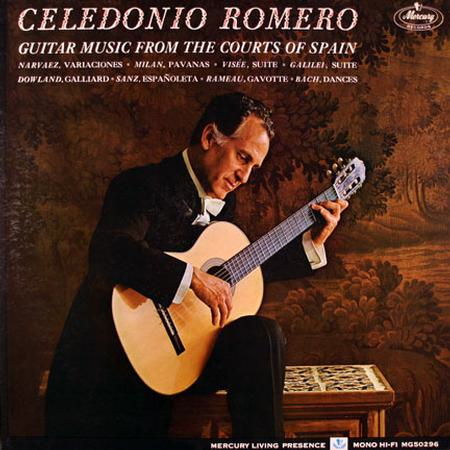 Following Celedonio's passing on May 8, 1996, The Romeros Quartet and the Celedonio Romero legacy live on, with Angel's son, Lito, 29, an accomplished guitarist who had been performing and recording with his father, taking up the mantle as the quartet's permanent fourth member. The re-formed quartet has had successful tours across the U.S., Europe, and Asia, performing both in recital and with orchestras. Reviewing their concert at the prestigious Gewandhaus in Leipzig, one critic referred to them as "the guardians of the holy grail of the guitar."
Two of Celedonio's grandchildren by Pepe; teenage Pepe, Jr. and Angelina also are carrying on the family tradition as guitarist/guitar craftsman and concert pianist, respectively. Angelina's son, Jacob, still a toddler, and daughter Tina's son, Bernardo, already are manifesting a talent and love for the guitar and for performing, perhaps carrying on the legacy into the fourth generation.
---
"Personal Reminiscences of Celedonio Romero"
I was privileged to know "Papa" Romero for only seven years, the last seven years of his life. There are so many who knew him so much better than I did, both personally and professionally, and I am honored to be able to share one small case history.
The Celedonio Romero I knew was not only a world–class virtuoso guitarist, a prolific composer of the highest order, and an inspiring and moving poet, he was, above all, a man of love: love of God, love of family, love of music, and love of the arts and literature. He talked constantly of love, and he embodied it.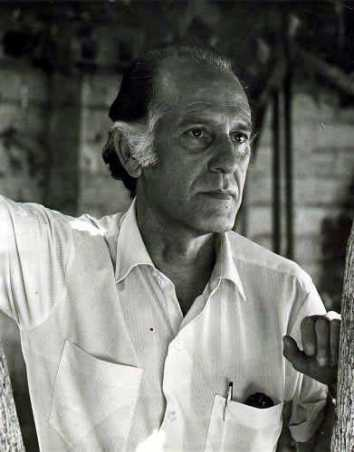 While he was undoubtedly aristocratic in his on-stage demeanor or when displaying the many medals and honors he received, off stage, he had a delightful, impish, energetic, youthful quality about him that was totally charming, always with a twinkle in his eye.
It was an auspicious day when I met "Papa" Romero: Valentine's Day, 1989. The quartet (then Celedonio, Angel, Cel'n, and Pepe) was playing a recital in Dallas, and I was an announcer and interviewer on Dallas-Fort Worth's classical music radio station, WRR-FM.
I had interviewed Angel once before, but this time Pepe came to the studio, and we hit it off as friends. I was invited to spend time with them during their stay in Dallas, and Papa Romero made me feel totally part of the family. They returned to Dallas in May, 1991, to perform with the Dallas Symphony Orchestra, another auspicious occasion: Celino's debut with the quartet and orchestra. (They played a Vivaldi concerto and the Concierto Andaluz, the four-guitar concerto that Rodrigo composed for them.) I later traveled with the family around the country and visited them on numerous occasions at their homes in San Diego, where one of my brothers and his family also live.
I feel very blessed that they 'adopted' me, dubbing me "hermanita". What was fascinating to me in being let into the Romeros' inner circle was experiencing not only so much sublime music, but also getting a chance to observe the incredible family dynamics.
I was totally "encantada", as they say in Spanish, by the unabashed love and affection that the family members display toward each other, both offstage and on, a tone set by Papa and Mama Romero. That affection extends to nearly everyone with whom they come in contact. The entire family lives within a few square miles of each other, and Papa and Mama's elegant, three-story home on El Amigo Road in suburban San Diego overlooking the Pacific is constantly filled with multi- generations of people, music, food, and love. A steady stream of friends of all ages, students, and family members parades in and out.
Coming myself from a family in which we have all set strong boundaries and have deliberately chosen to live thousands of miles away from each other, spread out across the U.S., I found the experience of being around the Romeros one of being swept up in familial bliss. Don't get me wrong: the family has its share of heartaches and craziness, and sometimes it feels like being in a 'Godfather' movie – except the family business is the guitar, rather than organized crime. Nevertheless, the overriding tone is truly amazing.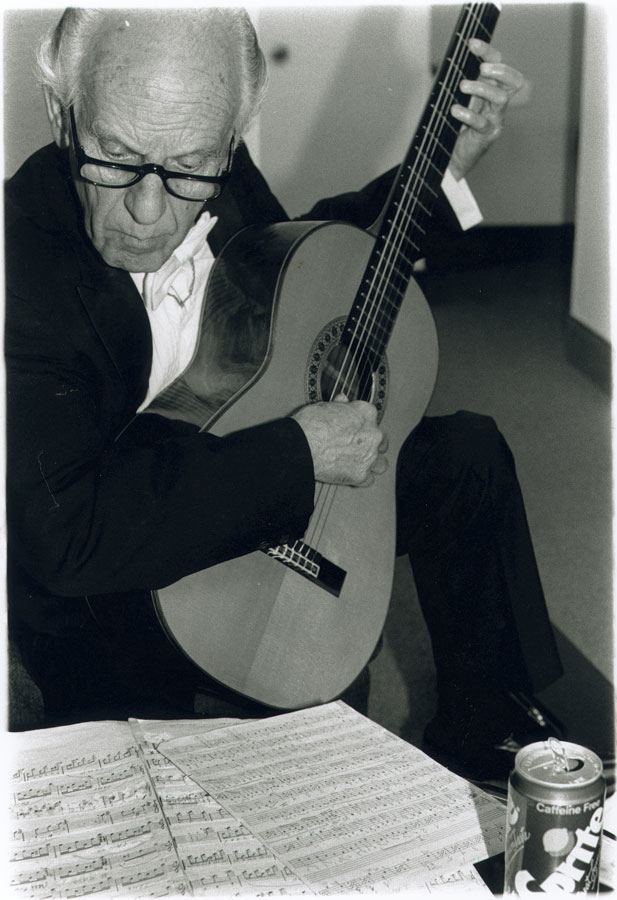 With Mama Romero's health also in question, the family still congregates there and keeps a constant vigil with their beloved matriarch.
Papa Romero's funeral was one of the most movingly beautiful experiences of my life. Prior to the actual service, for several days his body had lain in state for visitation. During that time, his children had each privately sat facing the casket, with Mama Romero at their side, playing the guitar for him, playing his favorites. This was repeated at the funeral. On the altar were his guitar, one of his musical compositions, and his book of poetry. Within the Catholic Mass format, there were beautiful readings of scripture by grandchildren, presentations of his favorite Lieder, and musical offerings to him as well by the five guitarists. Testimonials from each of the three sons spoke of having had a love affair with their father for over 50 years, of how he had inspired them from their earliest memories. A close family friend declaimed three of Celedonio's poems, and the service ended with Beethoven's 'Ode to Joy'.
Leave a Comment