Coming Soon: Ariel Ameijenda's Third "Confessional" Guitar Goes Back to the Roots of the Guitar Making Traditions in the Ameijenda Family.
Uruguayan luthier, Ariel Ameijenda, is currently in the process of building the third "Confessional" guitar for GSI. We've received some sneak peek photos from Ariel and on this occasion, we'd like to revisit the story behind Ariel's "Confessional" guitars.
Wood can tell many stories and it's amazing to imagine the journey that the materials used for our instruments went through before becoming a guitar. The wood used by Ariel in his "Confessional" guitars was recovered from a beautiful old wooden confessional made of CSA rosewood from a very old church in Río de Janeiro. Ariel received this confessional from a friend who knew that Ariel would be able to give this wood a second, more "sonorous" life. It is highly possible that if the wood hadn't been salvaged for some kind of repurposing, then it would most likely have ended up being burned or thrown away. However, by using it for one of his instruments, Ariel gave this confessional a new life. One can only imagine the secrets this wood has heard over the centuries. In this particular instrument, Ariel used this wood for the head plate, the middle wedge of the back, and the bridge.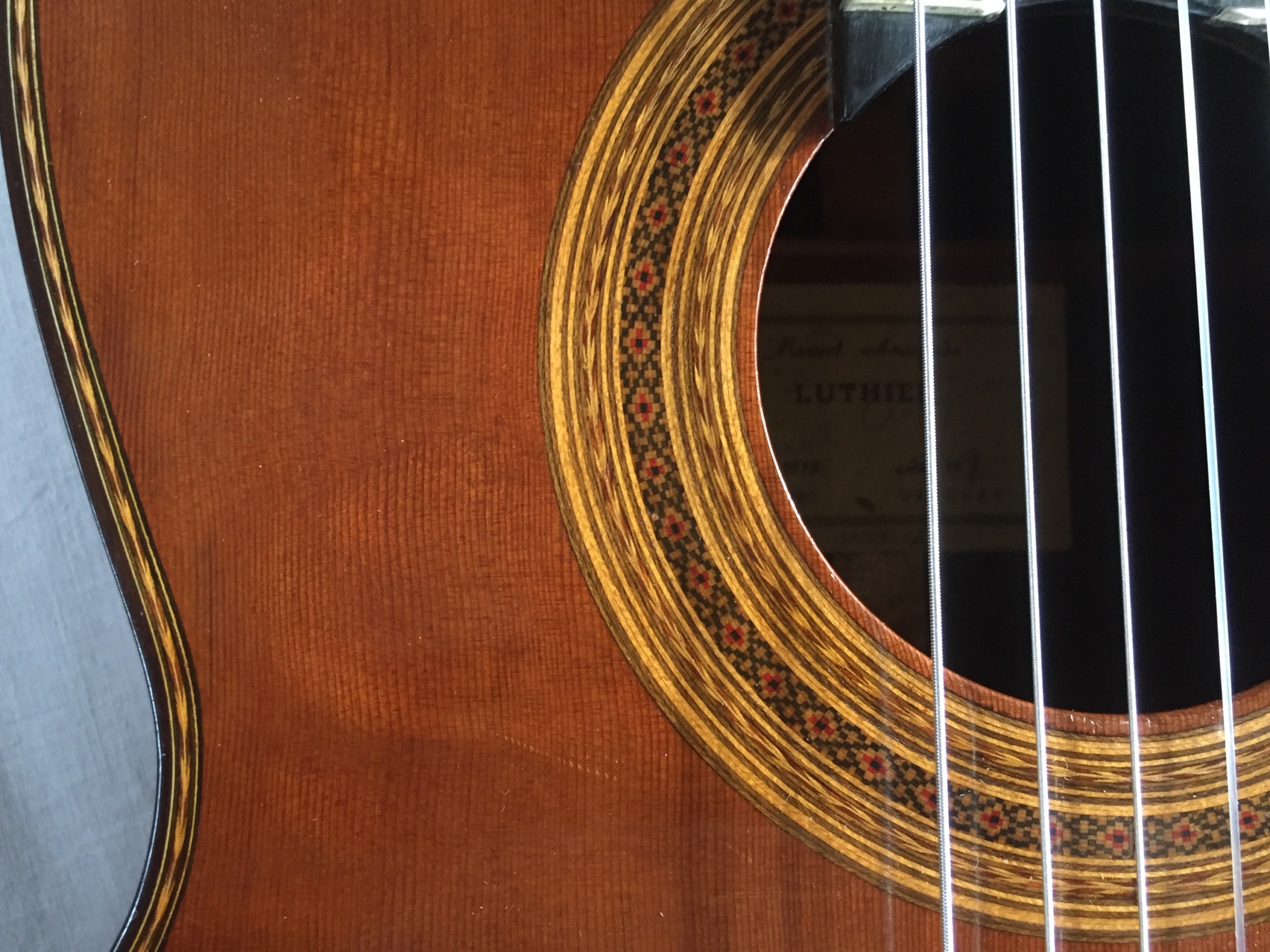 Stylistically, this new guitar is a comeback to the roots of guitar-making traditions in the Ameijenda family. The mosaic featured in the rosette is derived from the design of Ariel's father who used it in most of his guitars. Over the years, Ariel has modified this design by using different dyes to change colors. This guitar, on the other hand, brings back the original concept and features only natural colors of wood just like in the instruments made by Ariel's father, Manuel. Even though the difference might seem minor, Ariel told us that it is very meaningful to him.
Check and the sneak peek gallery below, and don't hesitate to reach out to us if you have any questions!