David Collett Visits Landmarks Pertaining to Classical Guitar in Almeria, Spain.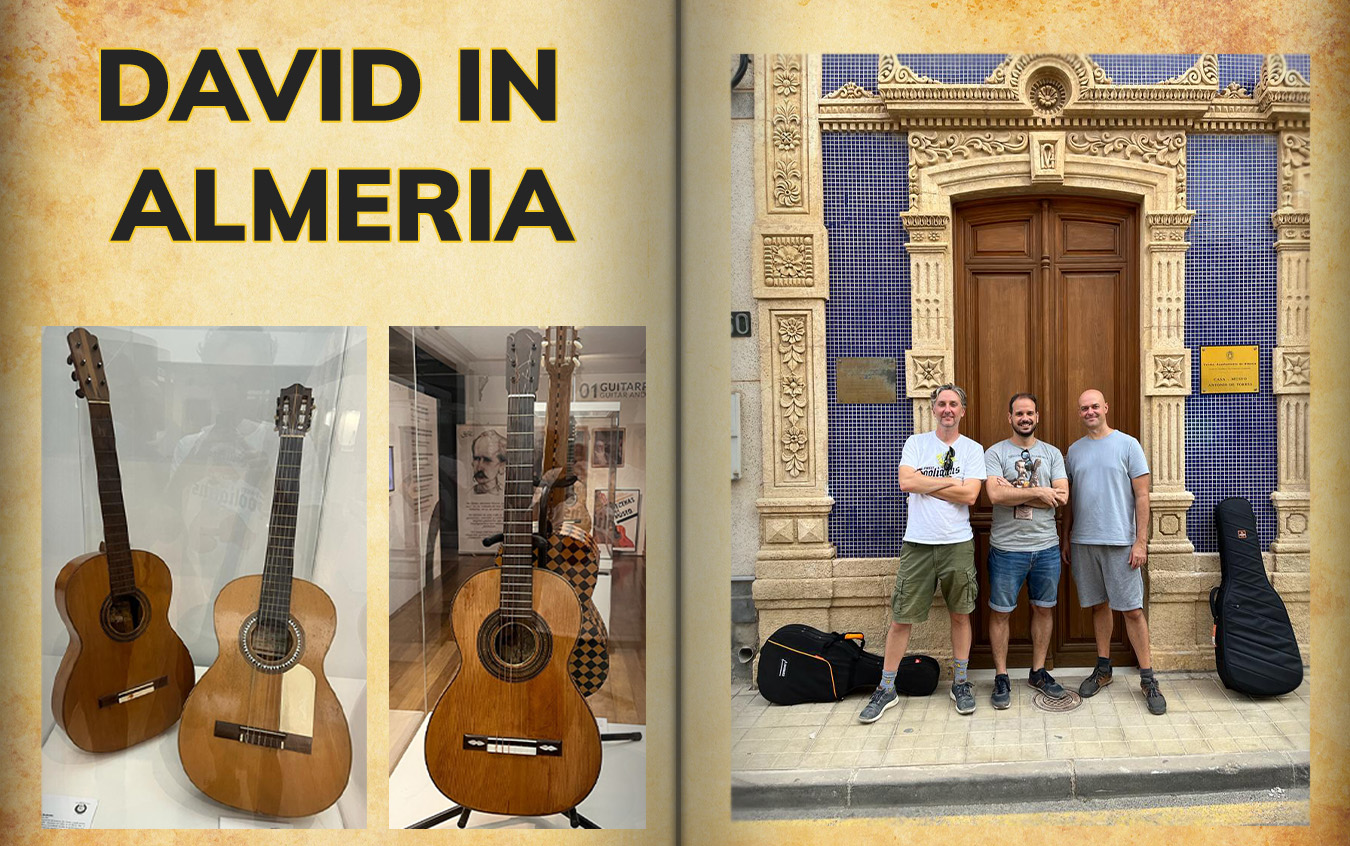 Our GSI President, David Collett, has returned from his recent trip to Spain. In addition to visiting Granada, David and Granada-based guitar maker, Jose Vigil, drove south to Almeria - another very important city for classical and flamenco guitar in Spain.
While in Almeria, David met with Francisco Lopez Montoro who is a great-great-great-grandson of Antonio de Torres. Francisco is also an excellent documentary filmmaker. David visited a few important landmarks pertaining to the guitar during his visit. He stopped by the beautiful house where Torres lived at 80 calle Real, in La Cañada, and he also paid a visit to the guitar museum in Almeria (Museo de la Guitarra Almeria), where in addition to Torres' exhibits, they also had a fantastic section dedicated to Melchor de Moya (1830-1891) and his sons, Andres and Juan. David took some photos, check them out!
Melchor de Moya was a friend and contemporary of Antonio de Torres and is likely the earliest luthier to adopt and transmit many of Torres' building techniques to the post-Torres guitar-making community. Moya established his shop in 1848. His two sons would apprentice with him and eventually take over after his passing, building instruments under the label "Hijos de Melchor de Moya". According to Domingo Prat, in his "Diccionario de Guitarristas" of 1934, the sons themselves (Andres and Juan) befriended Antonio de Torres during his break from guitar making (between his first and second epochs) while he was running a china and crystal shop in Almeria. The Moya brothers learned a great deal from Torres, which they applied in the construction of their guitars.
The younger brother of Melchor, Miguel Moya was also close to Torres and according to Jose Romanillos, may have assisted in the final construction of several Torres guitars left unfinished at the time of Torres' death. Indeed Miguel was purportedly allowed to use the title "disciple of Antonio de Torres" on the labels of his own guitars. Clearly, the singular importance of the Moya family in the early assimilation and transmission of Torres' building techniques cannot be overstated.
These guitars are VERY RARE, but we actually have one of them, an 1894 Hijos de Melchor de Moya SP/MP, in our stock right now. If you'd like to learn more about this guitar, check out the videos of Pepe Romero playing and discussing this guitar in our showroom. We also have videos of Chrystian Dozza and Bryan Fasola playing on this guitar. In the past, we also had an 1896 Hijos de Melchor de Moya SP/CSAR. If you're curious about the sound of this guitar, you can hear it in the hands of Tavi Jinariu.
Leave a Comment