Duo Apollon Gives The World Premiere Of "Frost Songs" By Brad Richter.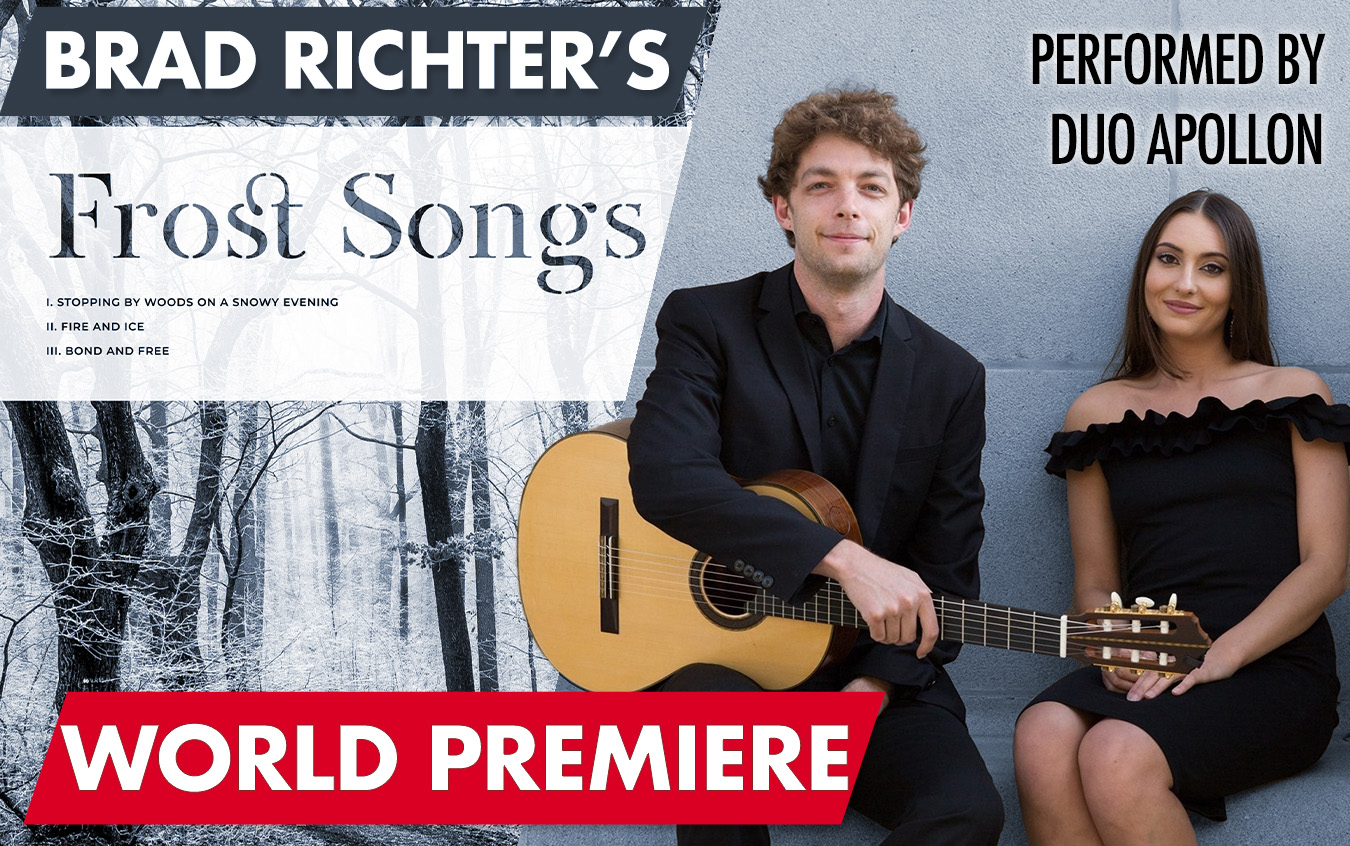 This January has been a month full of world premieres on our YouTube channel. Recently, we've released the world premiere of Leo Brouwer's newest piece for a guitar duo - "Blue Mountains", which was performed and comissioned by the Grigoryan Brothers. It hasn't been long since that event and now we have for you the World Premiere of Brad Richter's "Frost Songs" performed by Duo Apollon (Aaron Haas and Anastasia Malliaras).
"Frost Songs" is a setting of three poems by American poet Robert Frost (1874-1963) for High Voice and Guitar - "Stopping By Woods On A Snowy Evening", "Fire And Ice", and "Bond And Free". "Stopping By Woods On A Snowy Evening" is a poem from 1922 and it's among Frost's most iconic works. The closing refrain – the woods are lovey dark and deep but I have promise to keep, and miles to go before I sleep, and miles to go before I sleep – is among the most recognizable in American literature. Frost himself recited "Fire and Ice" at John F. Kennedy's Inauguration in 1961 and "Bond and Free" is a lesser known Frost gem that weighs the merits of Love vs Thought.
Guitarist Aaron Haas from Duo Apollon chose the following three guitars for these videos - 1900's Casa Gonzalez SP/CSAR, 2003 Manuel Contreras II "Double Top" CD/CSAR (ex Pepe Romero), and 2022 German Vazquez Rubio "Classic Estudio" SP/PE. Don't hesitate to reach out to us if you have more questions about these instruments.
If you like this piece, you can purchase a score on Brad Richter's official website (Score Available Here).
Leave a Comment