Federico Sheppard & Les Productions d'OZ Properly Commemorate Agustín Barrios Mangoré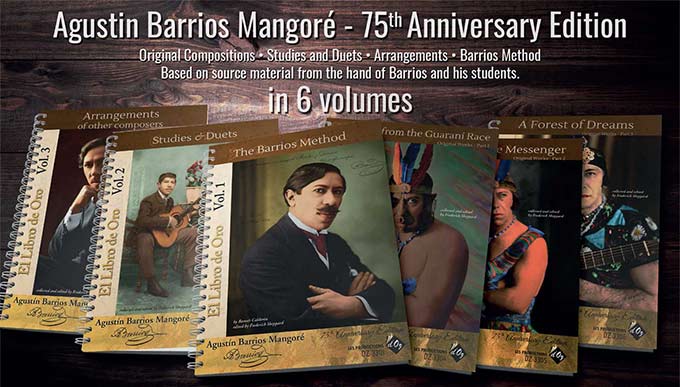 Luthier Federico Sheppard wears many hats other than building great guitars, which include his unique "Camino" models and replicas of the main concert guitars of Agustín Barrios Mangoré. He hosts guitar workshops and presents concerts (over 500 to date) in the north of Spain along the Camino de Santiago, where he also writes and publishes articles for the Guild of American Luthiers and Soundboard magazine. This is a short-list of all he does; however, it has been with Herculean effort that his current project is nearly complete: called "El Libro de Oro – The Book of Gold", this is a multi-volume and new edition of the works of Agustín Barrios Mangoré, commemorating the 75th anniversary of his passing. Acting as editor, contributing author and collector, Sheppard has included many hitherto unknown works, including the Barrios method, studies, duos, solos and arrangements of other composers. Published by Les Productions D'Oz, a very well-known publisher of sheet music for the guitar, with a release date set for June 2019.
The Barrios Renaissance (by Federico Sheppard)
In the 75 years since the death of Agustin Barrios, the English-speaking world has seen but a fraction of his lifetime output of compositions, arrangements of other composers, and teaching materials. This can be traced to many factors, among them the distance from the source material to the arms of researchers, and the number of locations where his works lay scattered to the wind. Political instability in Venezuela, where he had some of his greatest success, has not made things easier. Only a few Latin American countries have digitized their newspapers allowing study of them from a distance, and hundreds of pages of original Barrios materials lay in the hands of the families of the original students who stole much of his life's work from the house where his body lay cold awaiting a hero's burial on August 8, 1944. Other teaching materials from the students, copied directly from the original works of the master, when added to these constitute a treasure trove of the unseen works of a true musical genius.
Barrios, one of the first musical performers in South America to regularly fly to his concerts, was a very forward thinker, and apparently racially blind. Of the many faults of his homeland Paraguay, racial prejudice is not among them, and he went on to have some of his greatest successes in the company of his black wife Gloria and Jewish patron Tomas Salomoni. Seemingly overlooked by previous biographers, Barrios was in fact the last person of color to perform in Nazi Germany, just 2 days before the cultural ban that marked the end of cultural freedom in the Nazi era.
Despite this monumental achievement, in those following years when Andrés Segovia virtually ruled the guitar world, Barrios' legacy suffered for decades even after his death from racially motivated insensitivity. In hindsight, it is clear that destiny created Segovia in the guise of a Spanish Conquistador, while the humble Barrios was cloaked in the identity of the last chief of the Timbues Indians – "Mangoré" – revered by his people as the "Chief who died for love". In the bloody conflict that resulted from this early 16th century confrontation between conquistador and indigenous peoples, both leaders lie dead, as our Segovia and Barrios do now. History has repeated itself.
This racial insensitivity cut both ways. The students of Barrios and their descendants were very wary of the mostly white skinned investigators who entered El Salvador, where Barrios spent his last years, and held many of their treasured materials close to the vest. It took an indigenous person, in this case one Ramses Calderon, to engage the trust of the original students of Barrios and their clans to allow the original materials in their possession to be copied and assembled into the true and original method for guitar used by Barrios from 1940-1944. Thanks to the talented staff at Les Productions d'OZ, this original method is available, and with it 6 volumes of the work of this master covering every facet of his enigmatic career. A sneak preview is available below of the six-volume "El Libro de Oro" that will be released this June.
The good people at GSI have entered into a landmark agreement to produce video lessons to accompany this first ever publication of the Barrios method and allow the legacy of this humble man to live on and spread his light to every corner of the world.
Speaking on behalf of the students of Barrios, Dr. Roberto Bracamonte wrote after the maestro's death:
"Mangoré, as an artist, used to be a crying and feeling heart; as a composer a genius; as a master, a patient and true apostle; as a man, unique and one of those who God sends only once in centuries for them to guide their fellows with their light along the rough path of life; as a friend, for his friendship equals faithfulness turned into a person, and for his subordinates a loving father. There will be no one like him and his loss will never be repaired. When undertaking the eternal journey to the place of perfection that corresponds to select spirits, our master and friend leaves us drowning in the deepest sorrow; but we know he has not abandoned us and he still lives among us; his image of peace, nobility and sweetness will always be beating in our hearts. God, by receiving him into his bosom, has felt an immense joy, and choirs of angels have played celestial marches of triumph."
A "Mangoreano" is a follower of the art and teachings of Barrios. As a Mangoreano, I have done my best to honor my responsibilities to the master.
Che anga Oi Mangorendi
(Guarani for "My soul is with Mangoré")
May 5, 2019
Frederick Sheppard
Perales, Spain
Leave a Comment