Former GSI Foundation Scholar, Mircea Gogoncea, Visits GSI to Record Music by Tarrega, Granados, Brouwer and Rojas.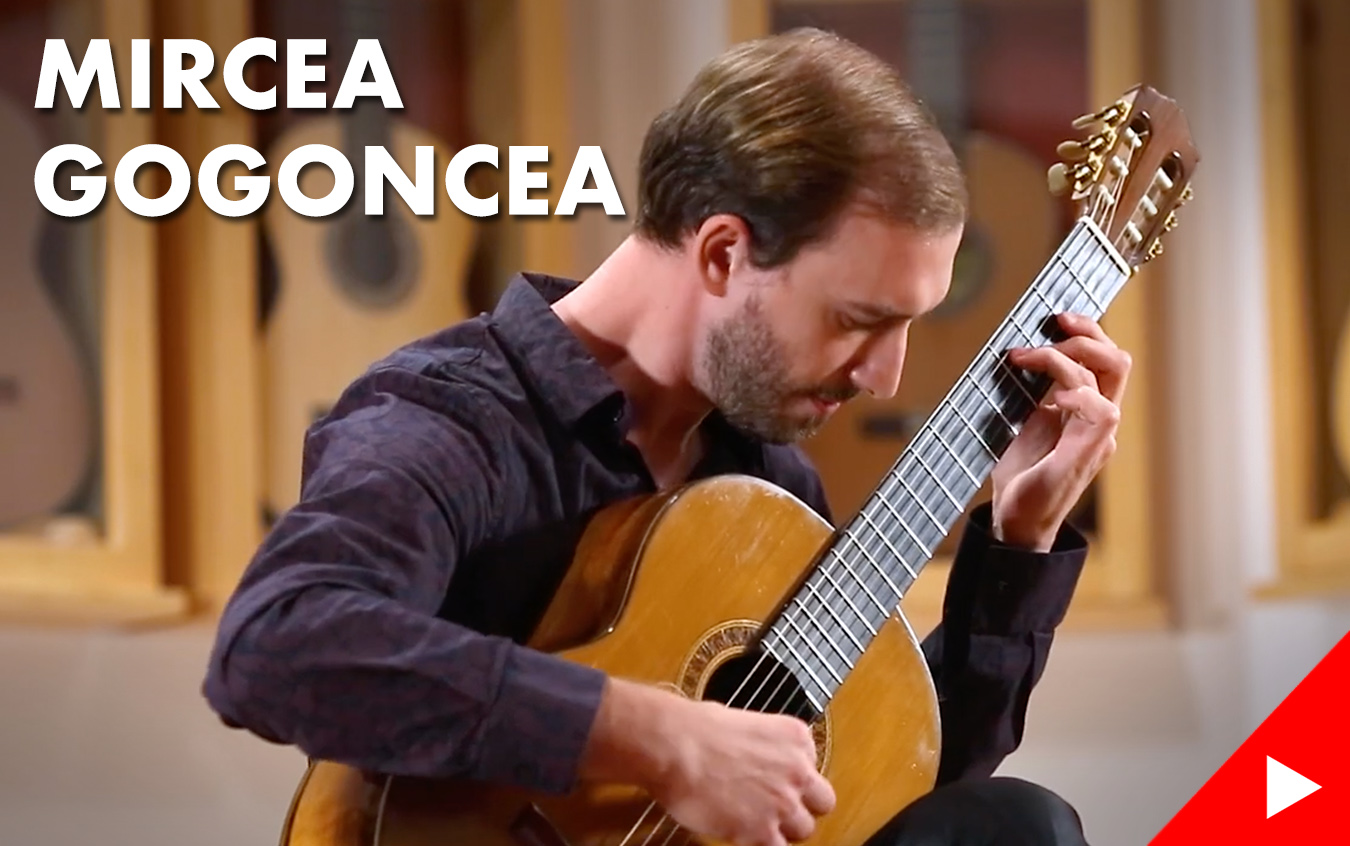 Romanian-German guitarist and our former GSI Foundation scholar, Mircea Gogoncea, has recorded five new videos in our showroom. Mircea moved to Los Angeles in 2018 to pursue his doctorate degree at the USC Thornton School of Music. In his career, he has performed over 350 concerts on five different continents and has also been awarded over 160 prizes at various guitar competitions around the world. Among the most prestigious of these are the 1st prize at the 2018 Havana International Guitar Competition in Cuba, the 1st prize at the Julián Arcas Guitar Competition in Almería, Spain, the 1st prize at the GFA Youth Solo Competition in Los Angeles, and the Audience Prize at the F. Tárrega Competition in Benicassim, Spain.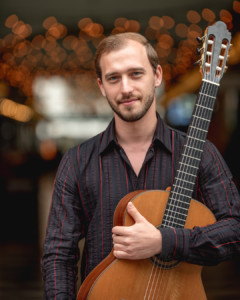 Recently, Mircea has been known for his online workshops published for tonebase, as well as his charity work which resulted in an international tour to India and Nigeria. Mircea even recorded a self-published film that documented the entire trip (Watch it here).
During his most recent visit to GSI, Mircea recorded five pieces on five different guitars. His recording session started with Francisco Tárrega's "Estudio Brillante de Alard", which is a very virtuosic transcription of a solo violin piece, "Etude No. 2" Op. 19 by French composer, Jean-Delphin Alard (1815-1888). Tárrega's transcription maintains Alard's original key and texture while modifying the rhythmical values of most notes, encouraging a much higher tempo than the violin original. Mircea recorded this piece on a 1969 Jose Ramirez 1a MT CD/CSAR, a guitar with a classic, identifiable Ramirez tone from this era. The sound of this instrument is very rich, thick, and yet has a nice clear voice throughout. It also has that mysterious warm and moody quality that made Ramirez famous.
Mircea's second recorded piece was "Danza Del Altiplano" (from Tres piezas latinoamericanas). This is one of Leo Brouwer's early, and most well-known compositions. The introduction that Mircea performs in his recording is unpublished, and was passed down orally directly from the composer. Brouwer showed it to his Cuban mentee Joaquin Clerch, who in turn taught it to his student Michalis Kontaxakis, who passed it onto Mircea when Mircea was only 11 years old. The introduction to the dance has an improvisatory character and utilizes a broad spectrum of articulation techniques and colors that the guitar has to offer. Mircea decided to record this piece on a 2018 Michael O'Leary CD/CO – a guitar with great power and piano-like sustain, like Smallman guitars.
The next piece recorded by Mircea was "Guajira A Mi Madre" (Guajira for my mother) by Cuban composer, Nico Rojas (1921-2008). Guajira, as a style derived from Punto Cubano, a sung genre of Cuban music and poetic art with music. The piece was written for and dedicated to the composer's mother, Angela Beoto. Following Mircea's recording of this piece at GSI, Nico Rojas' third son, Jesús Alfonso Rojas Montes, personally wrote to Mircea to express his appreciation for his interpretation. For this incredibly expressive composition, Mircea chose a 2020 Jose Ramirez 1a CD/IN, the highest model from the Jose Ramirez workshop. It has the color and the warmth associated with the great classic Jose Ramirez guitars.
Mircea finished his recording session with two waltzes by Spanish piano composer, Enrique Granados (1867-1916). The transcriptions of both cycles of waltzes recorded here were published by Mircea's professor, Joaquin Clerch, at the time of Mircea's studies with Clerch in Düsseldorf, and subsequently adapted by the performer. "Sentimentale" comes from the set of Valses Sentimentales. It's a short, beautiful, and very delicate composition that possesses the passion and tenderness reminiscent of Chopin's style. Mircea recorded this piece on a 2020 Woonsun Lee "Limited" CD/CSAR. The soundboard of this guitar is made with a dark, almost reddish-colored piece of western cedar which gives this instrument a full, rich sound but retains great clarity and separation between voices. It has the loose, quick response found in the guitars made by the southern Spanish makers of Granada and Cordoba. "Valses Poéticos" (Vivace Molto – Melódico – Vivo – Presto, Coda) are one of Granados' early masterpieces and are considered one of his most important pieces. These waltzes are extremely technically challenging for guitarists, but still, they attract performers. Mircea recorded the set of "Valses Poéticos" on a guitar previously owned by Angel Romero –  1976 Miguel Rodriguez "Churchdoor" CD/CSAR. This gorgeous instrument sounds as majestic as it looks. It has a big, broad, and lush sound with a flamenco-like response and an entirely southern Spanish character to it.
Leave a Comment