Guitar by Masters - The Newest Platform With Interactive Guitar Tutorials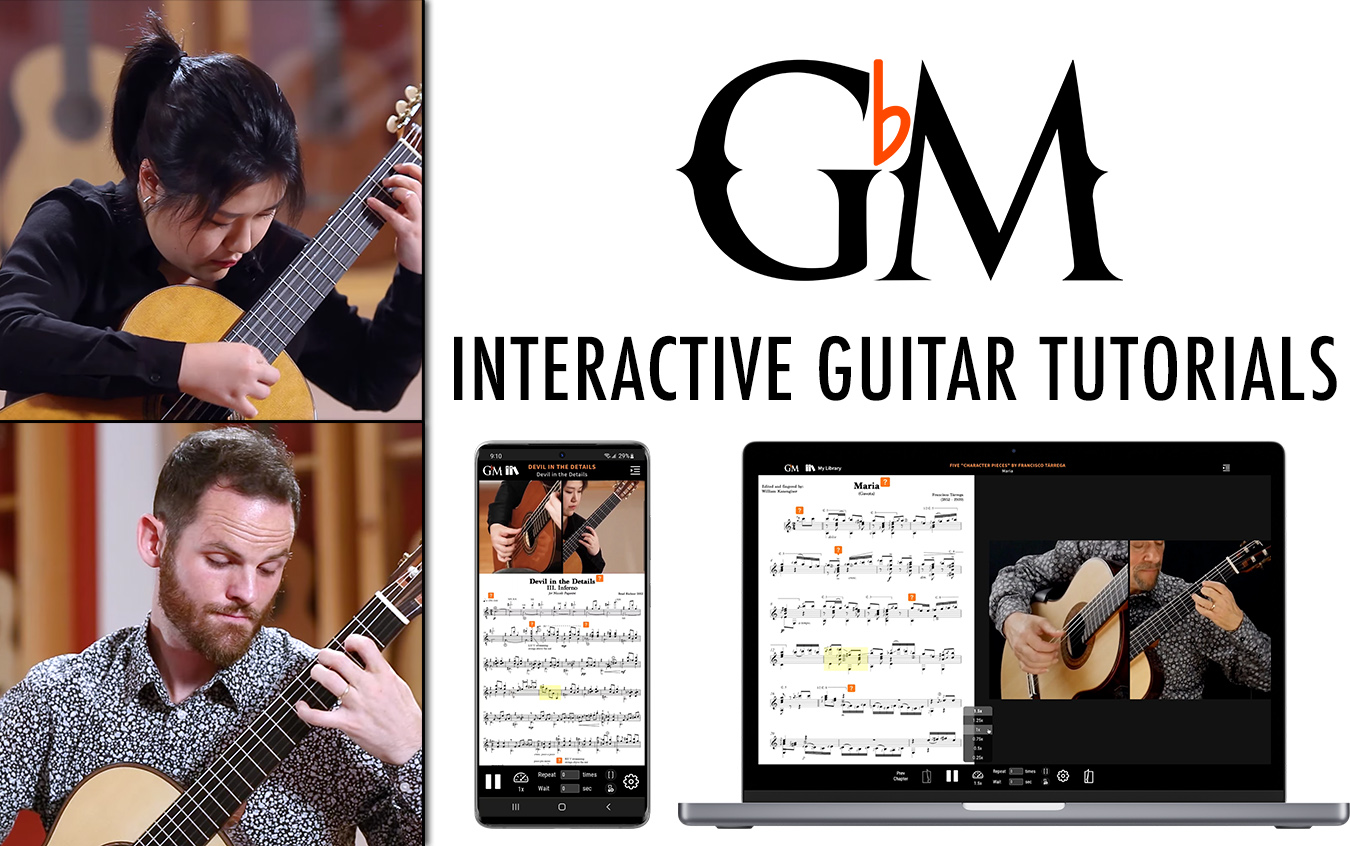 Guitar by Masters (GbM) is the newest platform dedicated to online classical guitar tutorials. GbM publishes music composed or arranged by renowned guitar musicians and performed by master performers from around the world. Whether they are composers, arrangers, performers, or teachers, these musicians are masters of their trade who are willing to share their art, knowledge, and talent. Guitar by Masters is very innovative thanks to their technology of interactive scores which work very well on desktop computers, tablets, and mobile phones.
Among GbM's selection of interactive tutorials, you'll find lessons for pieces recorded at GSI by the recent GFA winner, Bokyung Byun, and Jaxon Williams.
How Does It Work?
Powering all Guitar by Masters music scores is Practice Pal, GbM's patented interactive platform designed to transform how sheet music is published and used. Practice Pal's innovative learning method integrates music scores with synchronized video or audio playback, as well as tips, comments, and instructions from the composer, performer, or teacher in multiple languages. You can navigate the playback by touching each measure in the score, loop a certain section, and even create a call-and-response experience with adjustable pauses between each repetition.

Among the featured artists, you'll find David Russell, Yamandu Costa, Marco Pereira, William Kanengiser, Denis Azabagic, Sergio Assad, Edson Lopes, Dusan Bogdanovic, Stephanie Jones, Peppino D'Agostino, and more!
Learn More
Below you'll find videos with compositions by Brad Richter, Enrique Granados, and Federico Moreno Torroba played by Bokyung Byun and Jaxon Williams. Interactive tutorials for all these pieces are or will soon be available at GbM.
Leave a Comment