Just In!: New Vicente Carrillo models & "Canizares" flamencas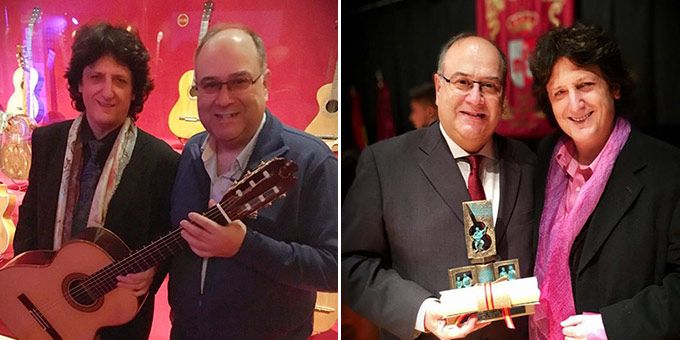 We have a big batch of exciting new releases for you at the GSI Store this week – that is, apart from our weekly New Arrivals. A total of 7 new guitars are now available from which you can choose: four new models from Vicente Carrillo's line of concert-quality classical guitars – the "Primera Especial" available with a spruce top or a cedar top and the "India Estudio" also with your choice of a cedar or spruce top.
Beyond these, we're also thrilled to introduce three new concert flamenco guitars that will fit right at home here in our showroom: the Cañizares line featuring the "Estudio-1", "Estudio-2" and "Estudio-3" in spruce/granadillo, spruce/cypress and spruce/Indian rosewood, respectively. This special line of flamencas are named after the all-time great flamenco guitarist Juan Manuel Cañizares who, after wanting a custom line of guitars onto which he could pour his years of guitar wisdom, decided to work with Vicente Carrillo in order to create the highest quality flamenco instruments for the broadest audience possible with demanding standards.

Each new Carrillo model, from the "Primera Especial", "India Estudio" to the three flamenco "Cañizares" models have a big, deep and powerful quality much like the best guitars from the top Madrid shops, yet they still retain a lyrical charm found in the southern Spanish instruments.
Learn more about each new model below, and be sure to schedule an appointment at the showroom to try them out or watch for new videos with these guitars!
VICENTE CARRILLO MODELS


---
CAÑIZARES MODELS

Leave a Comment