Knobloch Strings now at the GSI Store!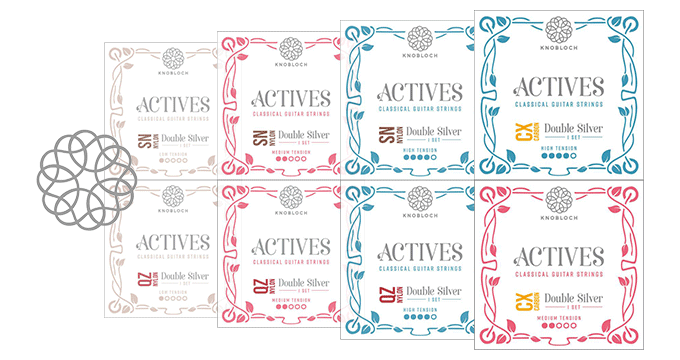 You may have seen – but surely heard – Knobloch Strings played by many great guitarists, including the artists and instructors on EliteGuitarist.com. Well, we're thrilled to announce that Knobloch Strings are now available at the GSI Store, which means you can grab your own set to use on your guitar starting now! Knobloch classical guitar strings are strings of the highest order with several models and tensions to choose from.
(tensions – low, medium, high)
You'll get a traditional sound without sacrificing volume. Material is old generation nylon, and with a slightly thicker string diameter, they bring a sweetness and a smooth, comfortable feel under the fingers. For the warm and familiar classical guitar sound, these Knobloch SN strings give just that with rounded tone and impeccable intonation.
(tensions – low, medium, high)
This set's nylon trebles offer a more refined and lyrical sound. The newest generation of nylon has a slightly thinner diameter and produces a warm, sweet sound. The thinner diameter of the string doesn't affect volume and still offers a round tone. The Knobloch QZ nylons have a velvety smoothness and perfect balance, designed for players aiming for an elegant sound.
(tensions – low, medium)
For guitarists wanting to add punch and volume to their playing the Knobloch CX Carbon trebles are ideal. They add brilliance and clarity with an added bite, but not overly "pingy". Made from high-density material, the CX Carbon have the thinnest diameter of Knobloch trebles and have a crystalline sound. In this set you'll get Double Silver basses, which are designed for the musician who needs a well-balanced string with big resonance and beautiful tone.
Leave a Comment